French Quarter Festival, a free four-day long festival throughout New Orleans' iconic French Quarter and Downtown area, tested a new "Geauxing Green" program in partnership with the Barataria-Terrebonne National Estuary Program (BTNEP).
Festivals & live music in general make up the cultural backbone of New Orleans, but it's important to recognize the negative environmental impacts they have. Enter: the state-wide Geauxing Green program. The creation of this new initiative "came from the understanding that producing a large-scale event like French Quarter Fest creates a lot of waste – much of which could be better diverted into organic or recyclable waste streams, therefore lessening the impact on coastal waterways."
Louisiana works hard to protect our waterways, and Geauxing Green focuses on marine debris prevention by implementing reusable, recyclable, and compostable food and drink products ONLY. The program also includes efforts to recycle all throw-away materials including t-shirts and chloroplast.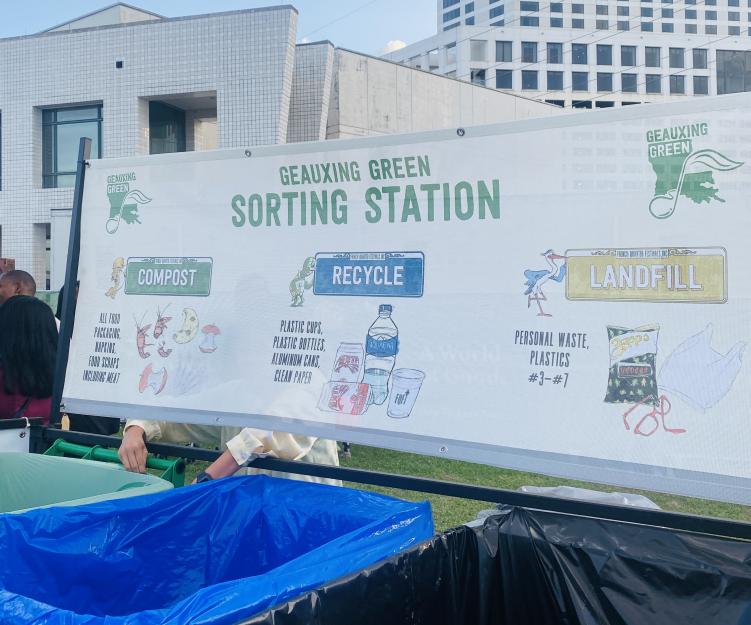 French Quarter Festival presented by Chevron is produced by French Quarter Festivals, Inc., (FQFI) the 501(c)3 nonprofit organization, which also produces Satchmo SummerFest presented by Chevron in August and Holidays New Orleans Style in December. FQFI's mission is to promote the Vieux Carré and the City of New Orleans through high quality special events and activities
that showcase the culture and heritage of this unique city, contribute to the economic well-being of the community, and instill increased pride in the people of New Orleans.
Featured image via Zack Smith Photography.