Atlanta's very own local festival, Music Midtown, comes out of nowhere to release one of the best lineups the South has seen in years. This year, the 2-day festival will be held on September 16-17th, in Atlanta, Georgia. And, trust me, this lineup is not lacking a single ounce of star power. Headlining performers include Bruno Mars, Mumford & Sons, Future, & Blink-182…and that's just the beginning.
Check out the full lineup poster below: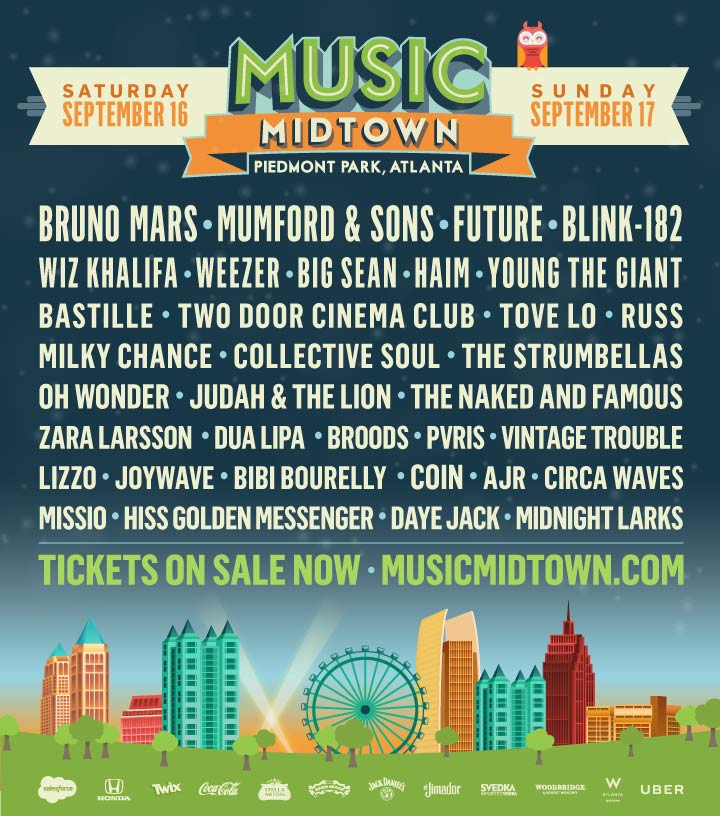 No genre will go unnoticed at Music Midtown 2017.
Taking place at Piedmont Park, fans will be treated to sets from great bands like Weezer, Young the Giant, and the sister-trio, HAIM. Music Midtown will also feature great hip-hop/R&B artists like Big Sean, Wiz Khalifa, and Lizzo. Honestly, I'd individually name all the talent traveling down to Atlanta on September 16-17th, but I'm sure you can see that for yourselves.
Need any more convincing? Take a look at the recap video from Music Midtown 2016:
This 2-day festival is bound to be a blast. And, with a lineup like this, you can't go wrong. Tickets are available for purchase online here.
Don't miss out! We hope to see you there!
---
All images and media provided by Music Midtown.