Electronic music label Monstercat celebrates their 10 year anniversary this week and next with a series of events to release the nostalgia. Yesterday, they shared the release of a full-length album with 16 tracks from artists across all three of their brands: Uncaged, Instinct, and Silk. This included tracks from Pegboard Nerds, WRLD, Rogue, Lazlo and more. Including songs from genres across the board, the compilation showcases their diverse sound and some of the many fan-favorite releases from over the years.
Monstercat has established themselves as a label to be reckoned with throughout the last decade. Supporting releases for over 1,000 artists and over 4 billion listens, the label's capacity stretches across Los Angeles, Vancouver, and even Singapore.
"It's almost surreal celebrating 10 years of Monstercat today. The last decade has been an incredible journey – from our humble beginnings as a Canadian start-up, to supporting over 1,000 artists worldwide. I'm proud of our team for constantly pushing the boundaries of innovation and creating a sustainable platform for artists to thrive. […]"
– Monstercat CEO & Co-Founder Mike Darlington
In addition to the 10 year anniversary album, Monstercar also pioneered the first record label 3D influencer in partnership with Canadian company Animism Studios. The new 3D Monstercat avatar "enhances the look, feel, and personality of the brand's previously 2D character, with the ability to join live events, appear on streams, interact with Monstercat artists in the digital space, and more."
Continuing the celebration…
Tomorrow, July 3, at 12pm PT, join Monstercat for a celebratory worldwide livestream event on Twitch. "Bringing 10 artists together from all over the globe to perform across different time zones and regions including Justin OH in Korea, A.M.R in Qatar, Mazare in Italy, and Throttle in Australia, the 5-hour journey achieves Monstercat's vision to connect diverse communities through music, culture, and innovation."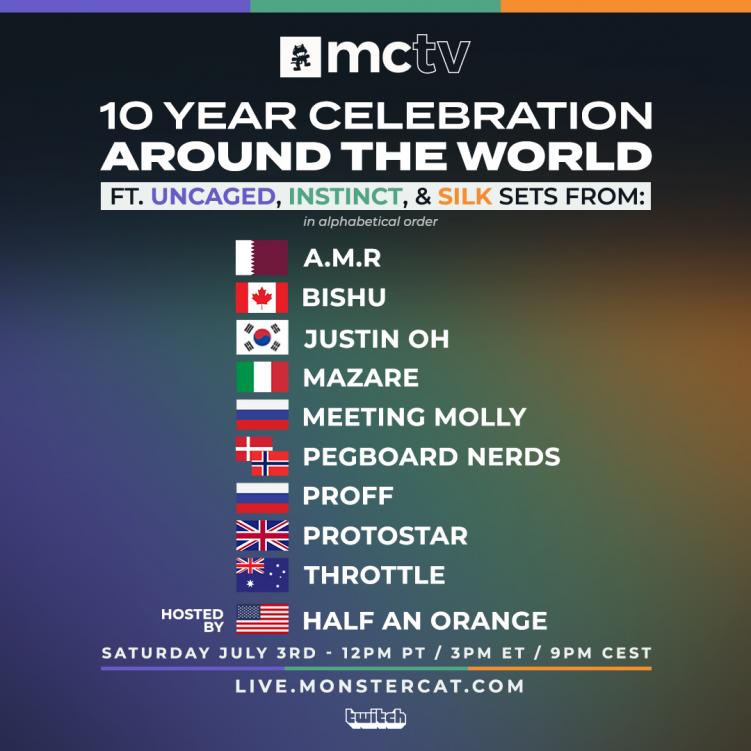 On July 5, Monstercat will head to the gaming space with award-wining video game Rocket League. They will be launching the 10 year Fan Pack, featuring nine new player anthems of the label's biggest certified hits including Marshmello's "Alone" and SLANDER + Said the Sky's "Potions."
Check out the full list of Player Anthems, Monstercat's Player Banner, and more, here.
On July 6, Monstercat is launching "Lost Civilization" in Roblox, marking it the FIRST EVER GAME designed around a record label. You can play in the game and complete Monstercat quests, buy merch, and discover songs. Pretty cool feat to celebrate such a milestone anniversary!
Stay tuned for more happenings around the anniversary this month!
---
Follow Monstercat