At a time when music festival choices are abundant and the drive to create a unique and special event is high, Insomniac is on the cusp of debuting its initial year of Middlelands, a renaissance themed festival to take place in Mission Todd, Texas on May 5-7, 2017. The festival, which will take place on the grounds of the Texas Renaissance Festival, features an impressive lineup of electronic and hip hop acts including Bassnectar, Zhu, Kaskade and Rae Sremmurd. The lineup alone is enough to catch any music lover's attention and the funky fresh Middle Ages concept is creating tons of buzz and excitement among Insomniac headliners.
To fully prepare festival goers for the Middle Ages experience that awaits, Insomniac proposes Middlelands to be a whole new Insomniac experience and describes the world of Middlelands as..
"a distant realm, where enchanted echoes from days of yore meet breathtaking visions from a world yet unseen! Within these gates, fanciful creatures roam the kingdoms while mesmerizing sounds give forth from futuristic castles. In this festive celebration of epic proportions, imagination rules the land."
The festival is set to feature 5 curated stages: Middlelands Arena, Castle Northwood, The Stronghold, Trinity Vale and The Wench's Bay, each with its own specific theme and vibe. No matter your musical taste, this festival is set to deliver finely crafted experiences with each stage musically and with its various themes.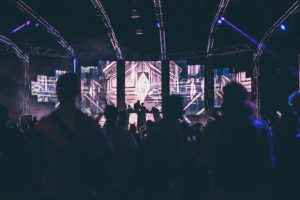 The Stronghold stage has unofficially been dubbed the "Bass Stage" with a stacked lineup of bass-heavy acts like 12th Planet, TroyBoi, Space Jesus, and Datsik. Hopefully Insomniac can discover a way to drill the rail down into the center of the Earth because bass fans will surely shake this stage to its core.
Trinity Vale will be busting with house vibes and will certainly serve as a haven for all house music junkies and dance party lovers. The lineup features Bijou, Christian Martin, J. Phlip and Kill Frenzy.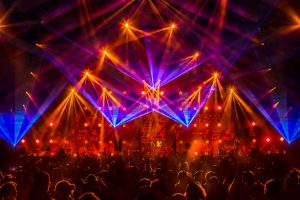 The Castle Northwood and Middlelands Arena seem to be the headlining stages featuring larger, more diverse acts. Heavy hitters like Bassnectar, Bonobo, JOYRYDE, Falcons and Tokimonsta are set to play. These stages will undoubtedly be the main focus of the festival featuring the dynamite production Insomniac is known for.
Insomniac has completely infused the Middlelands theme into the entire festival experience not only within the festival but also throughout the camping grounds. Titled Conqueror's Court, this central space within the campgrounds will be open to all festival goers and will have a farmers market, campsite competitions and after hours activities.
What stage will you spend most of your time?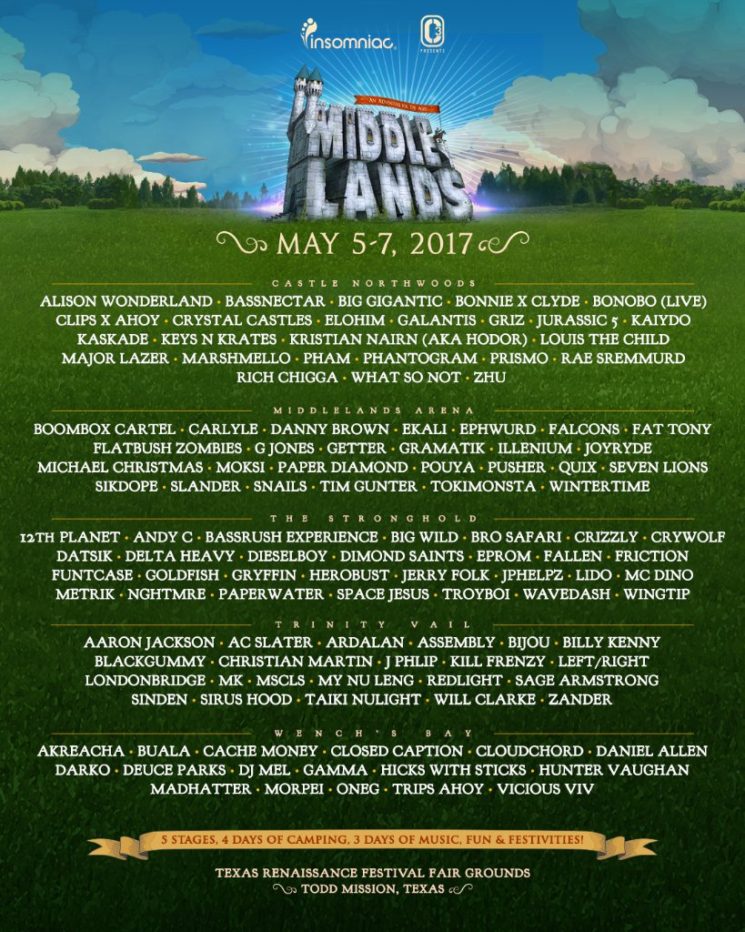 Snag your tickets to Middlelands here and join in the medieval turn up.