STEP INTO THE VORTEX: DENVER'S GATEWAY TO AN IMMERSIVE MUSIC FESTIVAL EXPERIENCE LIKE NO OTHER, WHERE THE DANCE FLOOR BECOMES A CAPTIVATING REALM. Meow Wolf has partnered with Live Nation once again for its second year of Vortex Festival. This dynamic event is set to take place at The JunkYard, nestled in the heart of Denver, where Meow Wolf's distinct arts and entertainment approach will work its magic, radically transforming the venue into a serene and multi-stage dreamlike environment.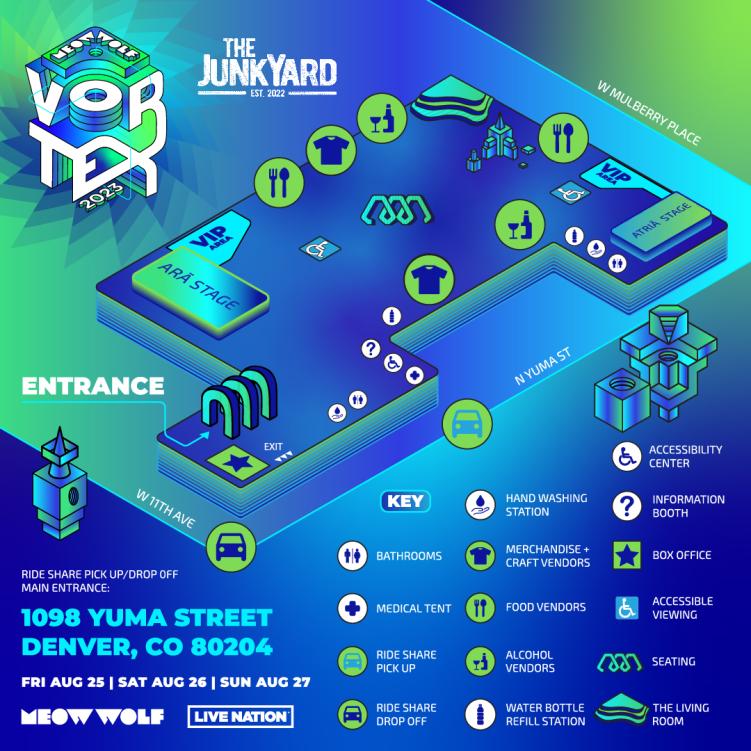 Overflowing with eccentric performers, relaxation zones, interactive art, and a diverse selection of the hottest artists spanning various genres, this festival is bound to embody the essence of every Meow Wolf exhibition: ineffable, yet stirring up quite the buzz. The main acts include headliners GRiZ and Remi Wolf, plus other talented performers including Claude Vonstroke, Ford., The Funk Hunters, Justin Martin, and more. Check out the full lineup below.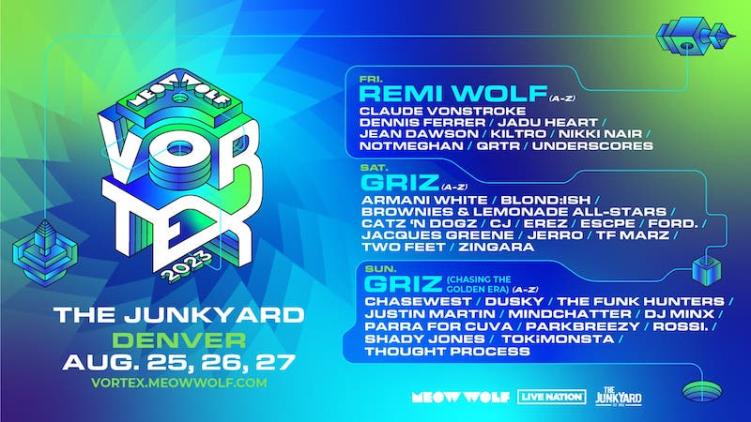 Beyond the music is the larger-than-life art activations and interactive experiences that Meow Wolf is known for. Vortex welcomes musicians and artists who design community-driven spaces full of color, acceptance, and love.
Step into a vibrant world redefined by artist Andrea Fischer, where conventional notions fall away. Through her Denver-based creations, Fischer crafts resplendent sculptures using recycled materials, infusing life with color and embracing all who enter. By channeling her art as a coping mechanism against the shadows of bipolar disorder, Fischer carves a path of resilience, unapologetically shedding gendered perceptions. Her yarn haven offers solace to all, inviting guests to immerse themselves in a cozy realm of personal escape.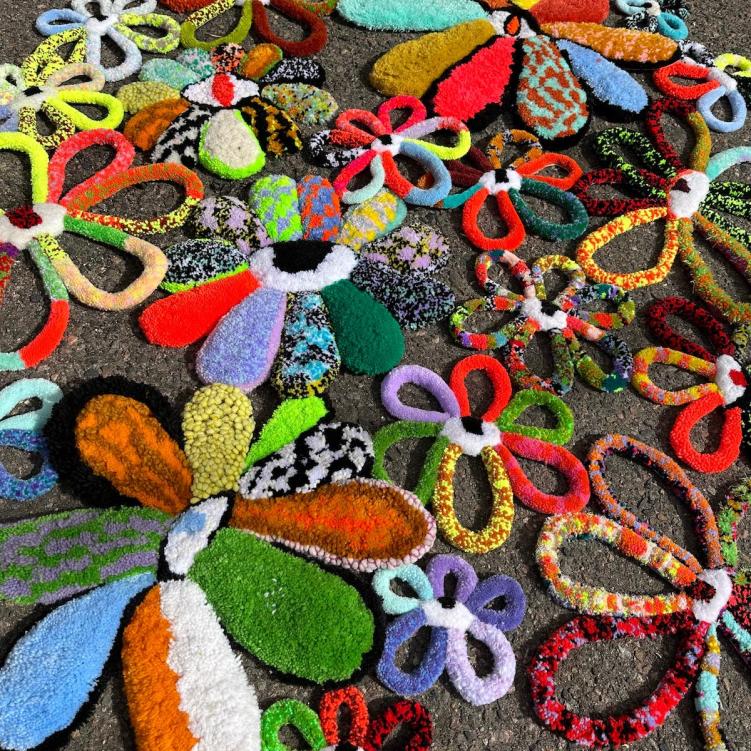 Enter a room like never before with Bob's Dance Shop. Their magnetic flash mob energy and irresistible allure promise to captivate you. Through the combined artistry of Malia, Lucas, Lito, Kameron, and Coco, a vibrant realm of empowerment unfolds, seamlessly fusing fashion, choreography, and uninhibited expression. Bob's Dance Shop isn't just a spectacle to behold; it's an immersive journey where audiences become an integral part of the vibrant tapestry.
Established in 2014 by Matt Muller, Levi Bedall, and Augie Lehreck, Pneuhaus epitomizes artistic experimentation. Based in Rhode Island, their inflatable art installations invite exploration, creating immersive spaces rooted in physics, biology, and craft. Nature's lessons echo in their forms and functions, crafting an art that speaks to shared experiences.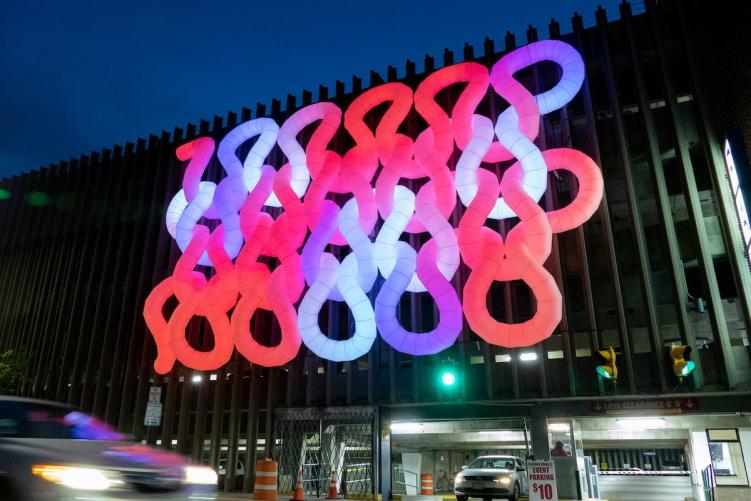 Rainbow Dome radiates as a beacon of inclusivity, passionately dedicated to crafting an immersive haven that nurtures artistic camaraderie. Spearheaded by the visionary partnership of Frankie Toan and Therin Zimmerman, this creative sanctuary has been an integral part of the city's dynamic artistic evolution since 2016. With an astute awareness of the burgeoning roller skating community, Rainbow Dome skillfully weaves this local passion into its vibrant tapestry. It doesn't stop at mere visual delights—Rainbow Dome aspires to curate an all-encompassing experience, extending an open-hearted invitation to everyone who graces its presence.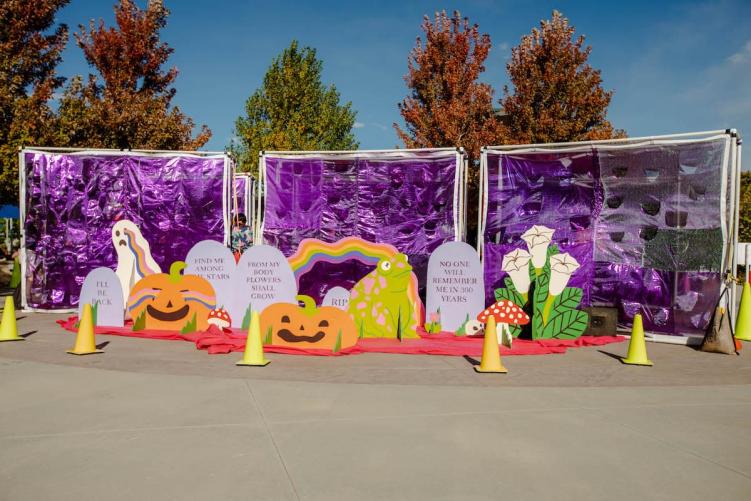 Drawing from a wealth of 25 years spent honing their ballet skills, twins Elizabeth and Melissa Castañeda created Sister Magic. The dynamic duo seamlessly harmonize as a collective force, giving life to a multidisciplinary production powerhouse that encompasses dance, drag, circus, and theater. At the helm of this creative venture is Elizabeth, lending her directorial prowess and choreographic finesse, while Melissa takes the reins of costume design and craftsmanship. Together, their fusion results in the captivating entity known as Sister Magic. Collaborating alongside an ensemble of accomplished circus virtuosos, dancers, and actors, Sister Magic astonishes audiences.