Two years since the funky flow master released his last album, Manic Focus announces that the wait is almost over…
To accompany a number of additional tour dates, Manic Focus returns to producing with a full LP–called Minds Rising—expected to continue pushing the boundaries and defy genres through his innate production ability (official release on April 21st). As the first single from the album, "Stronger" features Late Night Radio, Jennifer Hartswick and and Adam Deitch of Lettuce; so, it's hardly a surprise that the track (released on Feb. 24) is already sitting at a combined 100k plays:
As a pioneer in the constantly evolving genre of "livetronica," Manic Focus has elevated the standard for live performance. Habitually incorporating diverse musical guests ranging from The Floozies to Russ Liquid–or if you're lucky enough to witness the rare fusion with Break Science (a.k.a. Manic Science) live–each and every Manic Focus show cultivates a unique musical experience for fans and attendees.
We were able to catch up with Manic Focus and ask a few questions regarding his upcoming album, production differences, as well as a sneak peak of who he's collab'd with so far.
When was the concept for this album created and what was the inspiration?
"The name 'Minds Rising' is largely based off of the nickname for my fans/family in this corner of the music scene; the 'Minds'. In many ways, these songs were crafted and perfected on the road, with the 'Minds' acting as my test subjects for the new sounds. 'Minds Rising' is a tip of the hat to all the 'Minds' doing what they love and coming up in the world."
What are some of the differences between creating this album and past releases?
"This is my first album that is completely sample-free. All of the instruments and vocals were written and recorded for these tracks. There's more live instrumentation on this record than on my past releases, and it's all blended with electronic production & virtual instruments. Having control over what was being played during the recording process has definitely lead me to take a different approach to my writing and producing. "
Did you make use of any experimental recording or miking techniques when recording this album?
"For many of the tracks on 'Minds Rising', I actually went into a studio with my friends to record the parts that were used on the album. Some of the studio time we even did live tracking, where multiple instruments recorded at the same time and then certain takes/instruments/sections were kept. After doing all of the recording work, I was able to take each instrument/vocal part and chop, arrange, or effect it to fit the song. A good portion of the songs were written on the spot in the studio, and then I was able to take them into the lab and perfect them."
Is there any overall mood or theme you're trying to capture on 'Minds Rising'?
"The overall message is one of positivity. No matter how crazy, or scary, or weird the world can get, you can always find that one thing that makes you rise above."
Who have you collaborated with for this album?
"I'm stoked to have some of my favorite artists in the game on this record. The homie Russ Liquid appears playing trumpet on a few tracks. I've also got Chicago-based MC's ProbCause and Psalm One laying down the verses. Marvel Years rocked some guitar and helped produce one of the songs."
"On the first single off the album, 'Stronger', I worked with Late Night Radio on the production side, got Jennifer Hartswick to record amazing vocal tracks, and chopped in a drum beat from Adam Deitch. There are many more collabs on the album, but I want to leave some of them a surprise. You'll have to wait for it to drop!"
And wait we shall. There is so much intrigue surrounding this upcoming album, it's clear that the accompanying tour and collaborative performances are not going to anything less than amazing.
One thing is abundantly clear: a live show from Manic Focus is not one to be missed.

Again, this highly-anticipated album release is just around the corner on April 21st. But, The Minds Rising Tour Part 2 has already started, with nationwide stops continuing through May 28th. Mark your calendars!
With the new album and the accompanying tour dates, it's bound to be a great year for funk!
NEW ORLEANS, LA: don't miss out on Manic Focus performing with a live band and special guests Russ Liquid, Marvel Years featuring Colby Buckler, at Republic NOLA on April 27th! As the proud hosts of this event, River Beats invites you to join us for these incredible performers, along with support from beloved local talents Daily Bread and Dino Brawl.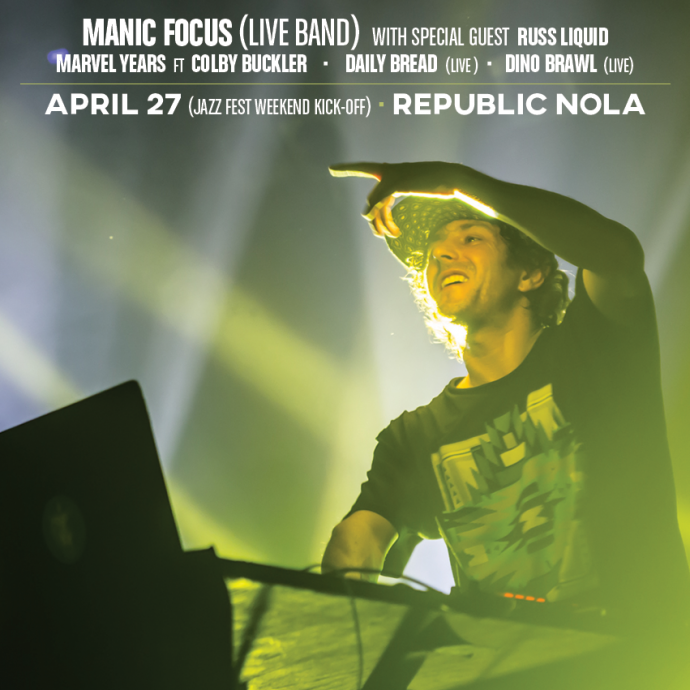 Tickets for the show are available online here.
More info can be found on the official event page. We at River Beats hope that you'll join us, Manic Focus, and the many special guests on April 27th to properly kick-off the legendary New Orleans Jazz & Heritage Festival for 2017.