With calculated randomness to his tracks reminiscent of Flume and Quiet Bison, Dutch producer by-way-of New Zealand Malvae combines world music influence and a bass-driven sound. His newest single "Slash & Burn" with MAY BBY, with its moody vocals and mystifying dark production, follows his curious creative process of sampling sounds from around the world, manipulating and crafting them into otherworldly productions.
Having set out on a trip through the Amazon rainforest in 2019, the producer (real name Jim Van der Breggen) returned to Amsterdam with a fresh palette of sound. Now, in 2020, he's reaching his next evolution, building on a strong catalog of tracks that have led him to earn a spot on Spotify's Viral Top 50 charts and releases with CloudKid.
This month, we caught up with the budding producer to chat about his creative process and the new single "Slash & Burn" from his forthcoming project.
Check out the interview and new single from Malvae below!
RB: Malvae! Welcome to River Beats. You recently released "Slash & Burn" with MAY BBY as the second track from your upcoming full length. Can you tell us more about the upcoming project?
M: "Thank you! Definitely, I traveled 2000km through the Amazon rainforest last year to create an album out of the samples I recorded there. It holds my best work yet and I am very excited to share it very soon."
RB: The single's title, "Slash & Burn", is clearly a reference to the rapid deforestation of the Amazon, where the sounds for the track were sampled. What was the experience like traveling through the rainforest?
M: "Slash & Burn really hold that feeling of trying to control and tame an uncontrollable fire. When I started my journey in Coca, Ecuador, (which has only been accessible by road for the last 30 years) I first had to get through hours of oil pipelines going like roads through what used to be pristine first-growth rainforest to get to the border of Yasuni national park, where I started the adventure. You have to imagine these industrial pipes sticking up through the trees with fires burning on top. Once I got to Yasuni, I was in awe. it was like looking through a window back in time. You cannot imagine the beauty of this place."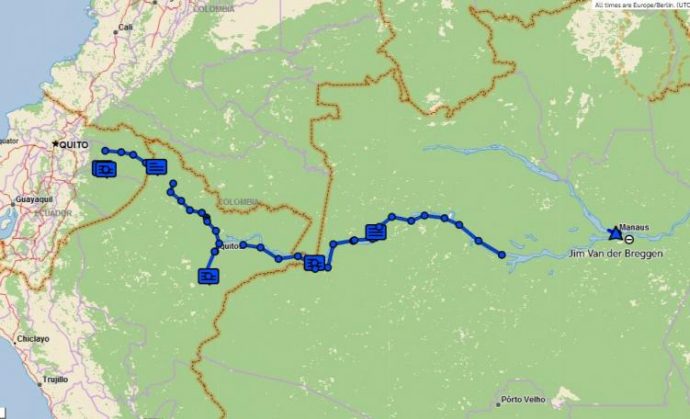 RB: You also set out on your trip with camera equipment and a drone to document your journey. Beyond the audio you sampled, are you sitting on a lot of visual content from the trip?
M: "I wanted to visualize the project as much as possible. I even made the artworks from the material I have gathered. I am creating a lot of behind the scenes stuff which I will be sharing with the rest of the project."
RB: The topic of environmentalism also seems to pop up in your music and content fairly often. Is there anything you'd want to say to listeners out there based on what you've seen during your travels?
M: "I think that we all have a choice in our life, to be a part of the problem, or be a part of the solution. There is not really an in-between in the end — you just see the catastrophic results less in our western part of the world. I am not trying to force people to change how they live but rather try to inspire them through my music and by showcasing the beauty of Rainforest."
RB: When you're searching for samples out in the world, is there anything, in particular, you look for? Or do you think every sound potentially has a purpose?
M:  "For this album, I tried to include everything that lives in the rainforest; I have even sampled a gigantic 500-year-old tree. There would sometimes be something specific like a bird call I was trying to capture — there were so many beautiful calls. Often, I would hear a sound that I wish I had captured, then I would patiently wait until I heard it again but this time ready with my field-recorder. At other times, I would just record everything and leave the recorder running."
"I think every sound has a purpose, I manipulate them to the extent you sometimes don't recognize them anymore. For me, the meaning and story behind the sounds I record are what drives the concept. I can relate to the recording because I was there when it was recorded and this inspires me in the studio."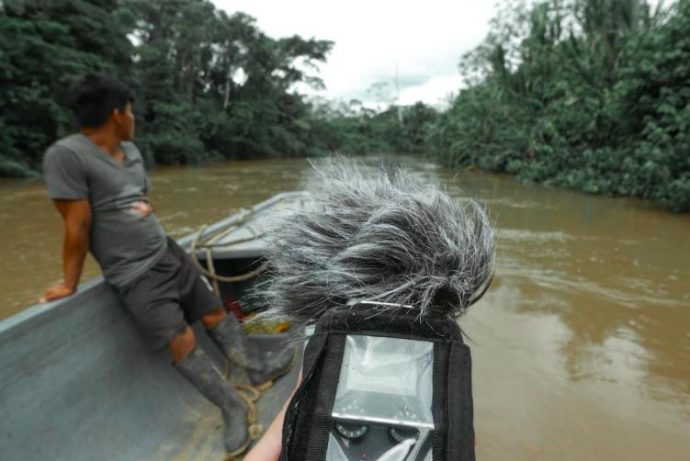 RB: Once you've collected enough audio to chop up into samples, what does your creative process look like?
M: "I would usually throw an entire field recording in Ableton's sampler and slice it so that all the fragments are divided over the notes of a keyboard or my Ableton Push. Then I hear the fragments individually and can adjust the sensitivity based on the volume of the sound fragments so that only the louder parts come through. I can pitch the fragments individually and add effects to inspire me for a drum layer or a melody layer which I would then render to audio and manipulate further. This way I get a different character of sound for every little detail which makes it sound very organic and warm."
"For synths, my go-to synth is the granulator 2 from max 4 life. I would use a bird or my voice as the source, for this project I also used the voices of the indigenous people I visited. I then have layers playing different melodies and chords for the parts of the song. I also just listen to the field recordings and cut out parts that I find interesting and then stretch these or manipulate them into what I want it to be, a kick, a snare, I can make anything out of these sounds."
RB: Do the time and place during which they were recorded influence the direction of the track? If so, what are some of your favorite memories from recording samples for the new project?
M:  "Yes for sure. The recordings let me connect with the moment of recording which I can then directly use as inspiration. Some of my favorite memories are sitting with the Huaorani and recording them singing or being deep in the rainforest in the middle of the night when most animals are awake. Moments like these all inspired tracks on the album."
RB: Obviously we're in an unusual time with COVID, as travel has been limited for folks in a lot of parts of the world. Since that serves as the inspiration for a lot of your music, how has that affected you? Have you been doing anything, in particular, to keep active and stay inspired?
M:  "I was in the middle of creating the album while the pandemic unfolded, so up until now I had a lot to focus on. Before traveling through the Amazon I also visited other parts of Central and South-America which I am turning into a project. I have enough to continue working on for the time being. I will also re-approach the samples I have already used for new songs. The current situation makes it hard to travel but I see it as a challenge to stay creative. I recently moved to Amsterdam and have just set up my new studio here. The change of scenery helps but I hope the situation changes soon."
RB: Looking ahead to the release of your newest project, is there anything else you'd like to share?
M: "There is a lot to look forward to on the album because all the tracks are unique as it reflects all the different experiences I had in the Amazon rainforest. I hope that there may be a song that everyone can relate to."
---
Featured photo courtesy of artist
Connect with Malvae: Facebook| Twitter | Instagram