Orlando-based Lucii has been on our radar since late 2017. Lucii brings a promising blend of gauzy, otherworldly vocals and a punchy production style, informed by weird bass peers EAZYBAKED and sfam. Now, she is the first woman to release on Liquid Stranger's Wakaan label with the hypnotic "Neptune."
The track is a rare case for introspection in a heavy bass tune thanks to Lucii's voice and sense of inward reflection. The rattling bassline clears away to chilling swirls of piano and forlorn murmurs.
Speaking on "Neptune," Lucii said:
"Neptune' is about my personal struggle with feeling really alone. It was written to try and work myself out of a dark place. Many people battle with depression and don't know how to rid themselves of their demons. For me- the best way to cleanse myself is to write and because of my love for space – the idea that being left on a planet away from everyone seemed like a far enough distance away to get my point across."
We asked her a few questions about crash-landing into the electronic scene so quickly, her inspirations, and her very well-received opening slot for Liquid Stranger and company on the Infinity Tour.
River Beats: Your voice finds its way into a lot of your tracks, including "Neptune." Who influences your vocal style? Do you implement your vocals differently onstage?
Lucii: Amy Winehouse has always been a big influence of mine. I have looked up to her since I was young because of her tone, lyrics and how honest she was! She was an amazing songwriter, someone that possessed raw talent.
You opened for Liquid Stranger months before this debut on his Wakaan label, what does it feel like to release music now through the popular collective? Your music seems like such a perfect thematic fit.
"It has always been a goal of mine to release on Wakaan. They have a unique perceptive on what it takes to grow an artist, which has really helped me in my development. I have looked up to Liquid Stranger for years and to be able to release on the label is an absolute honor."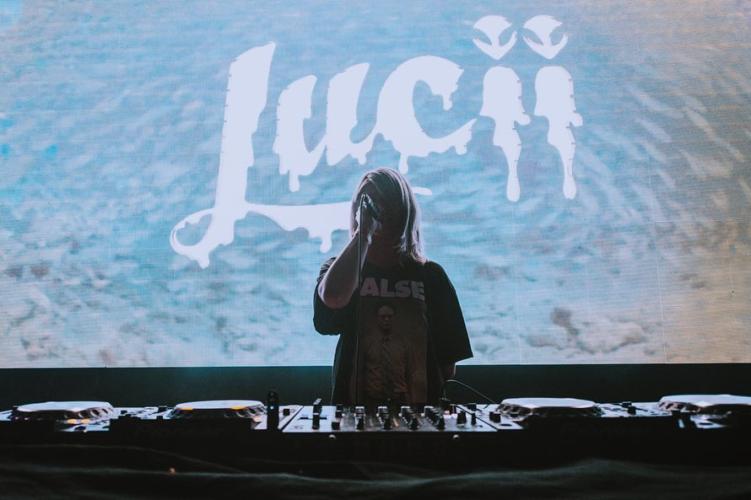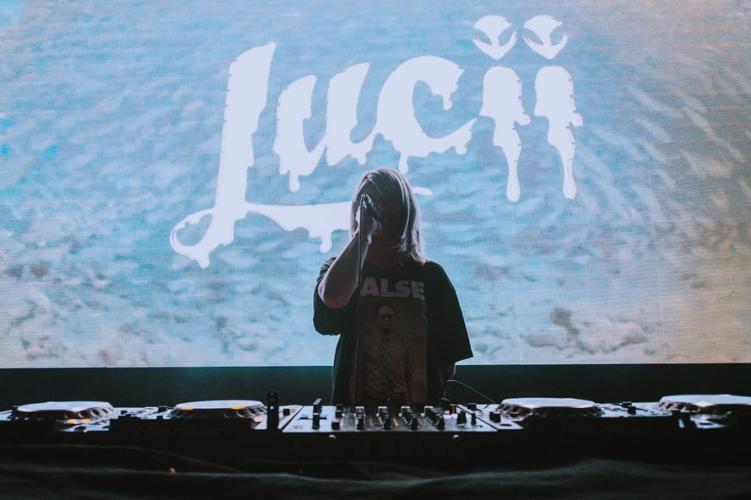 You started appearing in high-profile shows as recently as 2017, from Pass the Good to Fractal Beach to the Warped Horizon NYE pre-party for Bassnectar that year. How long had you been producing music before you appeared on the festival circuit?
"I have been writing and producing for almost 2 years. I'm still learning and growing- trying to get better daily, which is all I can do. I actually started DJing first and then started networking, going out to shows and ended up meeting a few people that added me to random events. From there I just kept playing and trying to be the best performer I could be."
There's a fantastic video of you receiving a stand-up ovation in Spokane, WA last week on tour with Liquid Stranger, G-Rex, LSDream and Champagne Drip. What were you feeling from such a warm crowd reception? They were chanting your name!
"Honestly I haven't felt anything like that in my life. The crowd was so pure and it was absolutely beautiful, and made me tear up a bit.  It made me feel loved and welcomed as I had never played the market before."
What's been surprising and exciting about the Infinity Tour with those guys? It seems relentless!
The entire tour gets along really well- they are like my family. Everyone has been kind, caring and supportive. Being able to be around such a talented group of producers and has taught me so much- not to mention that every single person on the tour is amazing at what they do. It honestly is overwhelming that I am on a bus with some of my favorite artists – they are all legends. Just last year I was attending festivals watching them in the crowd, now I'm opening the tour and getting to hang out with them.
Let's talk about "Neptune." It's my favorite song of yours, what did you set out to accomplish with this track?
I wanted to have a track that featured my vocals. I really love writing lyrics so getting able to mix that in with producing has been ideal. I really tried to create a track thats heavy but still maintains balance and melody. I loved being able to play this out on tour as its given me more confidence in writing more vocal tunes.
You affectionately call your fans "aliens" and seem to really appreciate extraterrestrial life forms, what does the potential presence of otherworldly beings mean to your music?
Yeah, everyone has their thing- mine happens to be space, aliens, and who else is out there. My fans, "aliens," mean the world to me. I love that we are all very different but can come together to appreciate and listen to music. I don't want to take that for granted…
What are you looking forward to in 2019 on tour, with Wakaan, and beyond? 
2019 has been the best year of my career and we are only 3 months in! I have more releases coming out, I'm playing some great festivals and shows. I just want to enjoy the journey and be myself. I get paid to play music and hang out with people, which is the greatest job in the world. Some people will get it, some people won't- all I can do is keep it weird and spread the love.
---
Featured image courtesy of Tessa Paisan Photography @tessapaisan