LouFest will be returning to Forest Park in St. Louis, Missouri. More than 30 acts will perform at the 2-day festival comes September 9-10, 2017!
While the full lineup should be revealed on May 30th, for now LouFest gives us a taste with the announcement of the "first wave" of artists (below):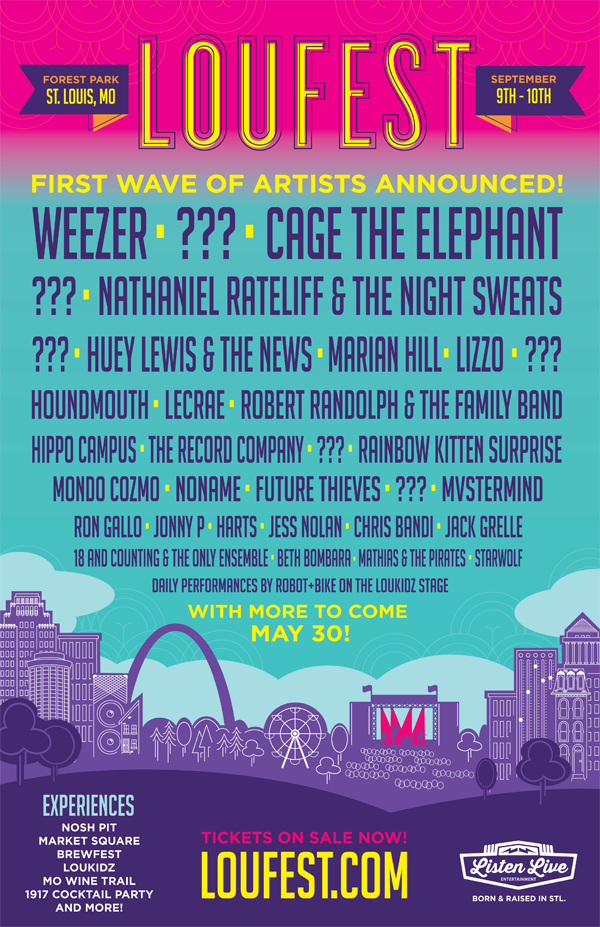 Rock bands are heavily represented as LouFest's headlining acts.
Both bands, Weezer and Cage the Elephant will be headlining the festival–and we're still waiting for a third headliner to be revealed.
These Rock bands are refreshing headliners in 2017, considering the dominance of EDM and Hip-Hop/Rap on the festival lineups nowadays. Other performers announced include Nathaniel Rateliff & the Night Sweats, Houndmouth, Rainbow Kitten Surprise and more.
This initial lineup has a handful of noteworthy bookings that are deserving of a spotlight.
Marian Hill achieved instant, viral success after their lead-single, "Down," was featured in a number of Apple commercials.
Alternative hip-hop artist, Lizzo toured for a lot of 2016 while celebrating the success of her breakout anthem, "Good as Hell." The high-caliber artistry, raw talent, and ecelectic stylings throughout her Coconut Oil EP was met with widespread critical acclaim.
A huge talent hiding in the small font is Noname–the American poet and rapper catapulted to stardom by Chance the Rapper. It was on Coloring Book that Noname seemed to come alive with her verse on "Finish Line / Drown," which they even performed on SNL:
Her mixtape Telefone provided a voice for Black women in America, with an honest lyricism and authentic perspective matched only by Solange Knowles, herself.
Remember: that's only some of those announced…and only the first wave of artists on the lineup.
Keep your eye out for LouFest's full lineup on May 30th. If the first wave has already convinced you, tickets for the festival are available online here.
Additional information can be found on LouFest's website. Stay tuned for more!
---
Featured Image: LouFest 2016 / via Facebook