The Lost Lands 2018 lineup dropped yesterday to well-deserved praise and fanfare. The man behind one of 2017's most highly-praised festival debuts—Excision—has clearly done it again. Lost Lands organizers jam-packed the lineup with a similar quantity and quality of artists as the year before. But again something was missing. Or rather, someone.
Where are all the female bass and dubstep producers?
This year brings the welcomed, unsurprising addition of REZZ, one of EDM's fastest-rising artists (and not just among female producers). In addition to REZZ is the female-duo Akylla. But having REZZ and Akylla alone means that women make up only 8% (1 of 12) of the fest's top-billed artists. Take the total names on the current lineup, and that number drops to 1.5% (2 of 67).
It's a disappointing percentage, to be sure, especially given the number of laudable female producers across EDM genres. Not only are these women actively recording and performing music. But many female Lost Lands fans—and journalists—yearn to see more representation on festival lineups in general.
At the end of the day, we are not hating on the Lost Lands lineup itself. Excision and his team put substantial thought into the styles and artists that fans most want to see—and they delivered. But the 15 women in the following list deserve just as much recognition and the same chance of being featured in festival lineups and fit within the Lost Lands ethos. Where and when will their opportunity arise?
Peep the playlist at the end of this article with unique tracks and remixes from all of these talented ladies.
CloZee
The lovely CloZee automatically stands out in the world of music due to her French background; she is internationally-known because of her experimental, yet instrumental take on bass music.
CloZee attributes her art as her "special magic" that she manifests at shows across the world. Her melting pot of experiences gives her the skills of different talents and instrumentation that others don't utilize, making her noticeable in a sea of oversaturated dubstep.
CRAY
Coined the "Canadian Trap Queen," Cheney Ray is no stranger to the electronic music scene. Not only does she produce her own music, she sings on almost all of her tracks.
The first track she experimented with this on, "Infinity Signs" is featured in the playlist at the bottom of this article. Because she sings on her own tracks, she is able to experiment more genre-wise by producing and playing everything from trap to future bass, feeling out the crowd.
Ducky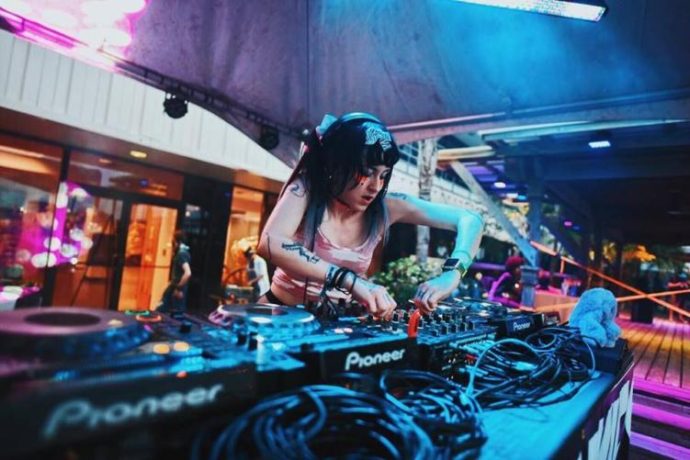 Young LA producer Ducky, aka Morgan, began DJing at the ripe age of 13 ("via fake ID vibes"). She quickly took over the scene thanks to her unique experimental sound and to top it all off, she knows how to throw down.
Most recently, she played for the first time in New Orleans during BUKU, plus at the sold-out Buygore afterparty. Catch Ducky taking over Red Rocks Amphitheatre this month as the only female opener for Kayzo's headlining show.
Whipped Cream
If Whipped Cream isn't on your radar, she needs to be. Caroline Cecil breaks boundaries with her dark bass infused with trap/hip-hop. Her epic stage presence is enough for a spot on the Lost Lands lineup, as any crowd can feel her energy from front to back. She successfully transcends genres through her own produced music and live sets.
Ultimately, she deserves a lot more recognition. She is featured on Noiseprn's "Five (Female) Producers you should know" and we wholeheartedly agree with them.
GG Magree
As one of the latest additions to the infamous Deadbeats label, GG Magree's claim to fame is not only her gold grill but the fact that she is the girl "that plays hard trap like the boys." Hailing from Australia, she continues to impress with sold-out shows throughout the United States and her home country, plus various collaborations and releases.
Not only does she manage to do all this, she also owns her own company, YEAH PUSSY, "a creative hub that embodies music and streetwear to promote and celebrate people in creative fields." She's a producer, singer, entrepreneur, and bad bitch all in one!
Don't miss GG taking over the River Beats Instagram (@riverbeats1) this Sunday 4/8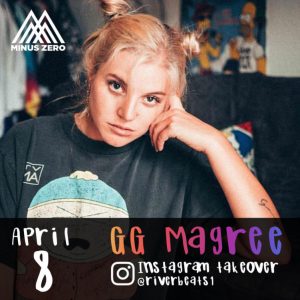 TOKiMONSTA
River Beats artist favorite TOKiMONSTA deserves all the love. Just last year fellow RB writer Samiul Haque did an entire feature on the ever-talented Jennifer Lee. In January of 2016, Lee underwent two brain surgeries due to a fatal disease.
After this tortuous experience, she completely relearned everything about making music, which resulted in her feeling off for quite some time. It wasn't long though before she came back; just three months after her surgery she played Coachella. 
"If I can do something like this, anyone can." – TOKiMONSTA
Mija
Amber Giles [Mija] experienced a distinct career-defining moment which led her to where she is now: an impromptu performance on Burning Man's Kalliope car in 2015. After that and a spontaneous b2b with Skrillex, her eruption into electronic music began. What makes Mija different from the rest is her different styles between what she produces and what she plays live. She heavily cross-mixes genres and manages to match tempos one wouldn't dare try.
HARD Founder and all-around dad Destructo even gives her high praise: "I think that she's really versatile […] She can play house. She can play trap, dubstep, the more bangin' stuff all together and make it work." Not many people have the ability to do this epic feat.
*Update: Since writing this, Mija informed us that she was offered to play, but had to deny due to previous engagements.
i got an offer! just wasn't able to make it work with my schedule

— mija (@hi_mija) April 5, 2018
Huxley Anne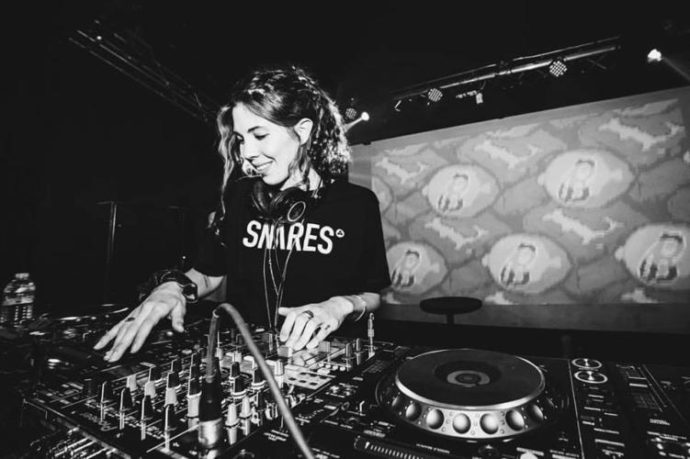 The multitalented Utah-bred, L.A.-based producer and graphic designer Gina Crow, aka Huxley Anne, has a knack for adding gritty, grimy textures to her mind-mangling productions. In addition to penning and recording a follow-up to her debut album Ilium (2017), she's also touring the states this spring. Notably, she'll perform as one-half of PAINT with PIC Tsuruda in support for Ivy Lab at New Orleans's Sunday bass weekly Church*, and as a solo artist at the Lunar Tide Music & Art Festival after-party at Bourbon on Division.
episcool
Under the stage moniker episcool, producer Emily Patterson of Bellingham, WA, has already impressed big names in bass with her ear-perking wielding of beats, stabs, and generally welcomed weirdness. Her track "Perp Walk" deservedly opens—Read: blasts open—ThazDope Records' recent compilation of female artists, Doyenne (2018). episcool's set on the ThazDope stage will be one not-to-miss at this year's The Untz Festival in early June.
Danky
California native Cori Memorie Benedict, aka Danky, produced the second track on ThazDope's Doyenne comp: "Drab," a massive, senses-tingling masterpiece that'll elate many a jungle and bass music fan. Her growing discography demonstrates her versatility and thoughtfulness as a producer while proving without a doubt that women can knock out bangers right alongside the next producer—gender distinctions unnecessary.
Reid Speed
Producer and record label founder Reid Rosson, aka Reid Speed, represents one of the more long-established artists appearing on this list of female bass artists. 
As a founder of the Play Me Records and Play Me Too labels, she has already spent a fast-paced career blazing trails and building a viable platform for a future generation of producers, female and male alike. But it's tracks like "Animal" featuring Burnheart that lambaste eardrums in proper Lost Lands fashion and solidify Reid Speed's eligibility for a lineup slot. 
Lucy Luxe
Minneapolis bass maven Jordan Osten has wooed and wowed crowds for nearly a decade under her solo stage name Lucy Luxe and as part of the female dubstep duo Dirty Talk with DJ Monica Farr.
If outright bangers like "Grime" and "Maldito" don't have you convinced she's Lost Lands material, consider this. She's already shared the stage with several artists on this and last year's lineup. And those artists range from Zeds Dead, Feed Me, and Kill the Noise to the man Excision himself. 
Miss Beltran
Bostonite Miss Beltran remains grounded in her teenage singer/songwriting roots but has since branched out across the music industry. Her fortes now also include music production, engineering, and mixing via her studies at Berklee College of Music.
Her track "Move" not only bangs but also features the slick, luscious rhymes and fierce chants of Shani B. Together, the duo transforms their collab's track title into an inescapable crowd-commanding reality.
AViVA
Denver producer AViVA has a knack for crafting hard-hitting dark house (but still bass-centric) tunes that would feel right at home on Lost Lands stages. She recently earned the title of Colorado's best producer in 2017 from Electronic Colorado, but her music speaks for itself.
The title of her latest track "Liquor Good" may inspire knowing grins and winks. But it's the manic, frenzied drop following Treyy G's vocal contributions that best showcases AViVA's talents as a badass producer.
VIRTUE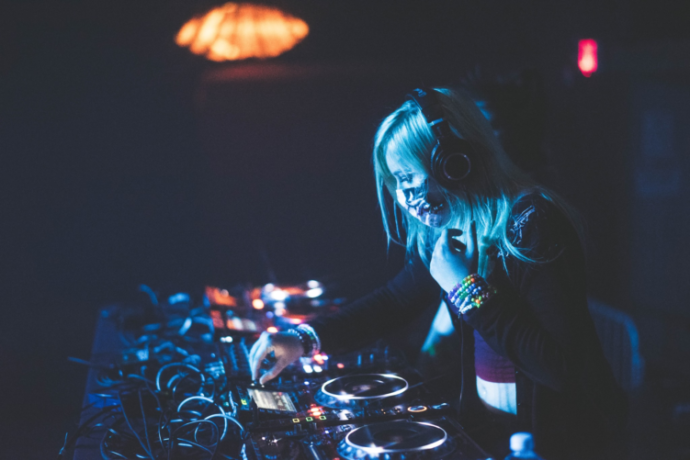 Crystal Dean, aka VIRTUE, is a veritable riddim queen. With tracks like "I Want to Melt Into a Pink Cloud," this West Coaster takes a tongue-in-cheek approach to the light, airy delicateness expected from many female artists. Just when you've settled into the glittery "pink cloud" of an intro, VIRTUE slams listeners back down to Planet Earth. These soul-piercing laser blasts of gnarly wubs and yuh-yuhs would attract, if not entrance, any riddim or basshead in earshot.
Special thanks to expertly curated playlists and compilations from SISTER, Megan Hamilton, and ThazDope Records. You've helped us (and the rest of the world) discover many of these exciting artists and more!
---
Featured image via OhDagYo.
Co-written by: Kelsey James and Carolyn Heneghan