The long-standing international music festival, Lollapalooza, released its daily set times earlier today for the Chicago dates. No matter what kind of music you're into there is something for everyone on this lineup year after year. This year is no different but with a heavy-hitting lineup like this, you know there is going to be some major conflicts in everyone's schedule.
With eight stages blasting out music all day and a mix of rising talent, established artists, and no-name "you have to hear these guys they're amazing" performances, how does one choose where to be? Take a look below for some of the thoughts and breakdown on some of the gut-wrenching conflicts that occur throughout the weekend.
For a more in-depth look and to decide your own conflicts, check out the full schedule here!
Thursday, August 3rd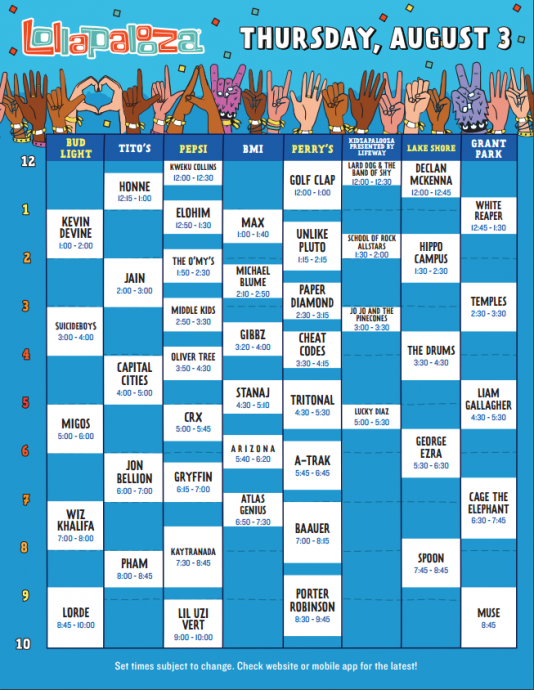 Well, go big or go home should be the slogan of the event because these conflicts blow. I mean seriously, its day 1 and you're making me choose between Tritonal at 4:30-5:30pm and Migos at5:00-6:00 pm slots. If you're a diehard fan of either I guess that's a no brainer but for most people, these are acts that should at least be experienced. It doesn't even come close to stopping there, Thursday is riddled with conflicts like Wiz Khalifa and Cage the Elephant both playing around the 7-8 pm time slots.
The main headliners are just as bad with Porter Robinson Live playing alongside Lorde and then against Muse. That's three acts anyone would love to see at a festival, but you're going to have to choose which one appeals to you most.
Friday, August 4th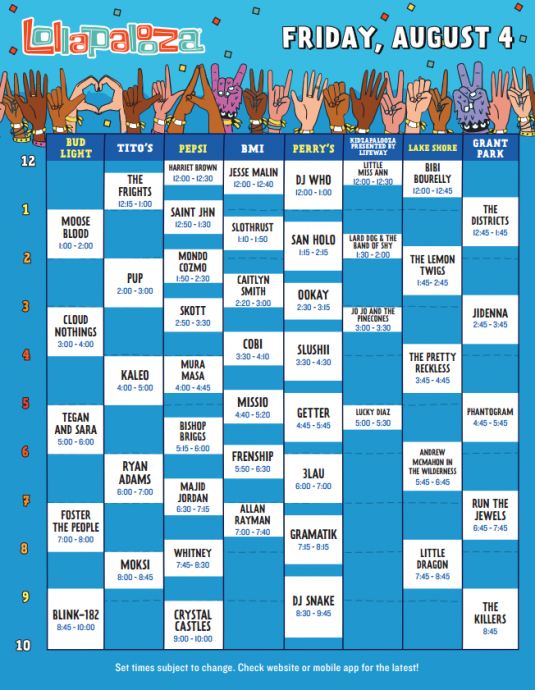 Daytime slots here aren't too bad but come 6:45 pm that lineup is throwing out Foster The People, Gramatik, and Run the Jewels. The earliest of the three starts at 6:45, Run the Jewels, and then each other slot opens an additional 15 minutes later (7 pm for Foster and 7:15 pm for Gramatik). For me, I'd probably go with Run the Jewels for the first 45 minutes and then catch the last 45 minutes of Gramatik, but if you're a huge Foster fan that won't work for you.
Once again, your closers are going to be difficult to choose between. Should you go with the legendary punk rockers Blink-182, the heavy hitting bass dropping DJ Snake, or the fun energetic sounds of The Killers? I can't even begin to wrap my brain around missing one of those acts.
Saturday, August 5th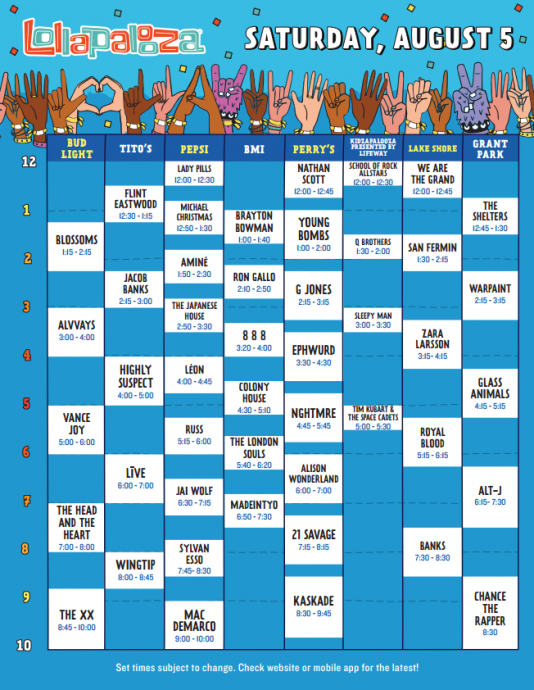 Too much of a good thing can be a bad thing, but I guess there are worse problems to have. Saturdays for most festivals tend to be the biggest days drawing the biggest crowds.
Conflicts run rampant here all day. They begin early on around the 3:30 pm mark with Glass Animals, Vance Joy, and NGHTMRE. Three very different sounds, so it may not be too hard if you have a preferred genre. With that said, you can find me in the pit in front of the speakers at Perry's Stage all day breaking my neck and closing off the day with the emotional feels of Kaskade. Also, I'm sure Jai Wolf and Alison Wonderland at the 6 pm slots and Mac Demarco, Chance the Rapper, and Kaskade for the closers is sure to present a problem in choosing which ones to catch.
Sunday, August 6th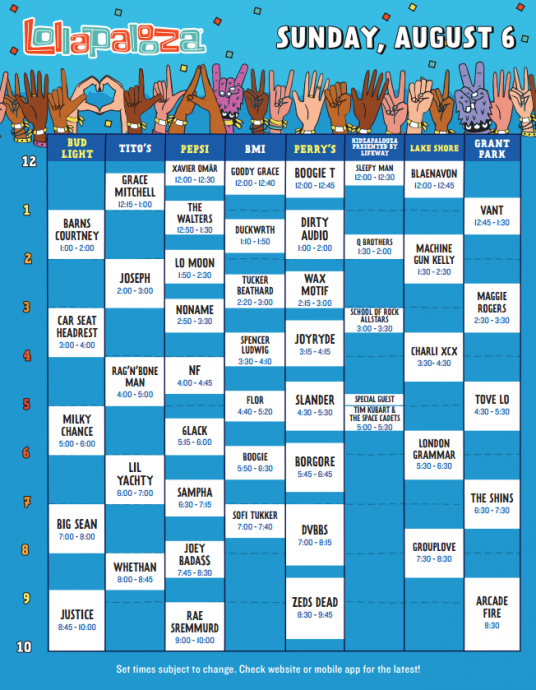 And finally, Sunday. I know by now you've probably heard a million times from people "hey, did you catch so and so? It was the best show I've ever seen!!!" Then you proceed to kick yourself asking why you chose not to watch them. And now with those comments stuck in your head, you can't help but wonder who is playing that "Legendary Unforgettable" set tonight and are you going to make it to the show. Get ready because in the 5-7 pm range you've got to choose between Milky Chance, Lil Yachty, 6lack, Borgore, and Tove Lo. That's an extremely stacked 2 hours of music spanning a huge selection of styles and featuring huge name artists that shouldn't be missed.
Closing acts start at 8:30 pm and all will be done by 10 pm. They will pretty much overlap the entire time but fortunately for you have the bad luck of choosing between Justice, Rae Sremmurd, Arcade Fire, and Zeds Dead.
You might as well come to terms with the fact that you're going to be choosing and losing a set every night for the closing. There will definitely be some acts that you're going to walk away from this festival wishing you got to catch and some you wish you didn't. Unfortunately, that's the life we live as festival goers, it's that bittersweet taste at the end that leaves you in withdrawal and hungry for more.
So what are your thoughts? Who are you most conflicted about missing or not getting to see because another person is playing the same time slot? We'd love to hear from you and get your opinions. Leave us a comment with your biggest conflicts for each day.