Written by Kendall Potts.
Prepare for an unforgettable night at the iconic Red Rocks Amphitheatre as Liquid Stranger makes his long-anticipated debut for WAKAAN Rocks, accompanied by a handpicked lineup of some of your favorite WAKAAN artists. Kicking off the evening is TVBOO's heavy bass hitters, Ravenscoon's fusion of death metal, hip-hop, and punk rock with experimental bass music, Canabliss' dynamic sound, and Drinkurwater's avant-garde, glitchy creations. Liquid Stranger's vision for this monumental event is to offer an unmatched sonic journey, and with these talented artists as openers, they're bound to set the night on fire.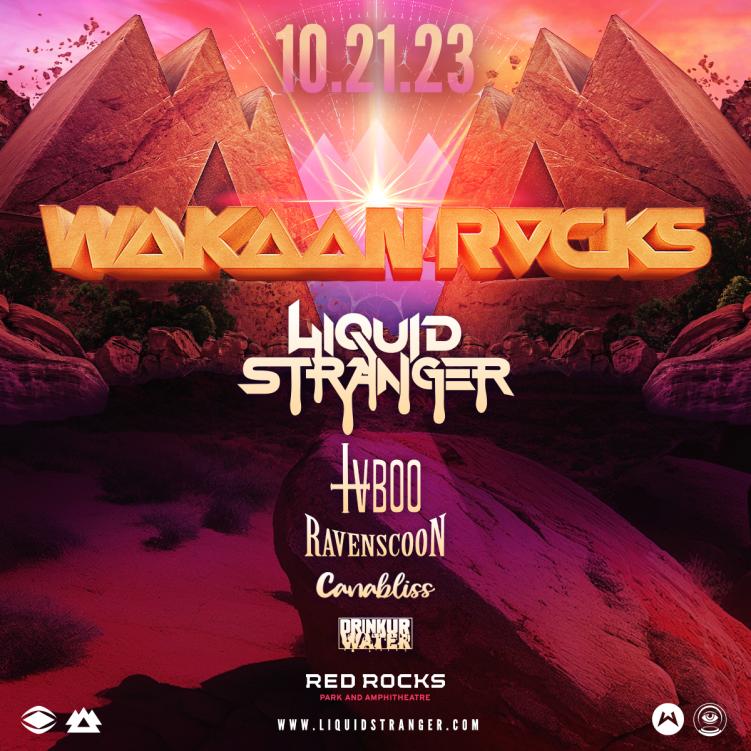 The mastermind behind WAKAAN, Liquid Stranger has taken the electronic dance music scene by storm with his innovative sounds and boundary-pushing productions. Surprisingly, despite his sensational rise to fame, this marks the first time he'll be headlining the legendary venue, promising an unforgettable night of sonic exploration.
For years, Liquid Stranger has been a trailblazer in the EDM industry, leaving a permanent mark with his distinctive blend of dubstep, trap, and experimental bass music. As the founder of WAKAAN, he has become a curator of cutting-edge sounds, providing a platform for emerging artists and pushing the boundaries of what is possible in electronic music.