On Lil Yachty's latest album Teenage Emotions, his song "Peek a Boo" has gained quite a bit of attention with his use of somewhat confusing lyrics. Recently during an interview with Lil Yachty, Genius asked the artist to break down the lyrics "My new bitch yellow / she blow that **** like a cello".
Lil Yachty confesses that he perhaps didn't realize what a cello was and blames his A&R for letting him rap those lyrics.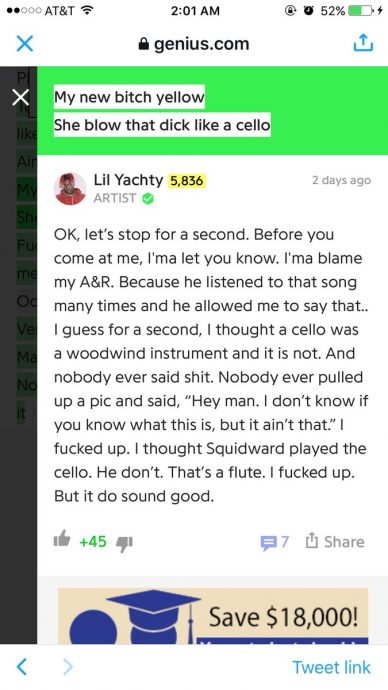 Spongebob Squarepants fans also point out that Squidward didn't even play the flute, he played the clarinet. Wrong again, lil boat kot.
Squid ward plays clarinet… I got it world lmao.

— lil boat kot 5.26.17 (@lilyachty) May 28, 2017

Watch the full interview below:
H/t:
The Fader