Don't ask me about my favorite set at Lightning in a Bottle. I don't have one. 
Instead, ask me about my favorite moments. Ask your other friends who were there. If you ask 100 different people what they loved about Lightning in a Bottle, you're going to get 100 different answers. Lightning in a Bottle is a beautifully unique experience for everyone that attends.
DoLab's annual crowning achievement was bigger than ever this year, but for veterans of festivals like Coachella and Electric Forest, it's still a tiny, beautiful community. This was my first year, so I can't speak for how it changed, all I know is that it's one of the best festivals I've ever been to.
Lightning in a Bottle prides itself on being "the most fun you'll have in your life" and they aren't lying.
LiB is an immersive experience. It's whatever you make it. A learning experience or a place to discover yourself, but most importantly, it's a big, beautiful fucking party. Some days I woke up early, got my yoga in, went to a couple workshops, and didn't even start drinking until early evening. Other days I took shots of tequila with my breakfast and was hammered at the lake on a pizza floatie by noon. At Lightning in a Bottle, you choose your own adventure.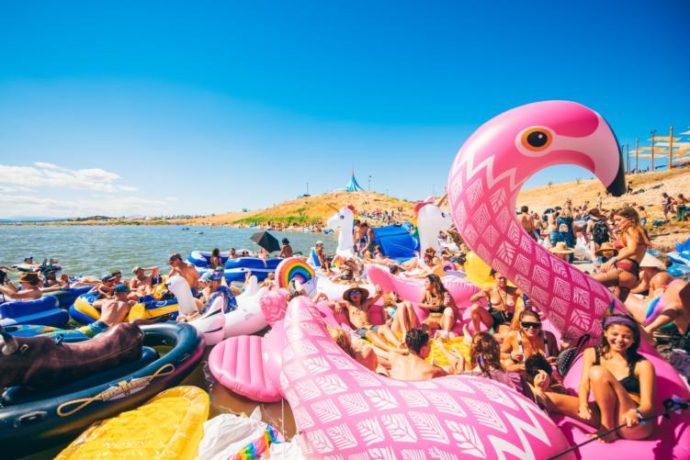 Once you're through the gates of Lightning in a Bottle, you're the free-est you've ever been. The campgrounds pepper the entire festival grounds, with nothing separating your home base from the music, art, and exhibitions. Wanna bring your lawn chairs, blankets, and dinner in a wagon and camp out at Lightning Stage all day? Go for it. Want to bring an entire box of wine with you to the lake and have a beach day? Have fun and make new friends, just don't drown.
If you're going there for just the music, you're missing the point of the festival. And frankly, there are a lot more comfortable places to listen to artists like Tipper and GriZ, although that's not meant to rip on the festival grounds. The sprawling mecca of tents, art exhibitions, and pop-up stages couldn't have found a better home than Lake San Antonio. All I'm saying is that if you're only showing up for the music, I would pick somewhere indoors, or at least with some grass.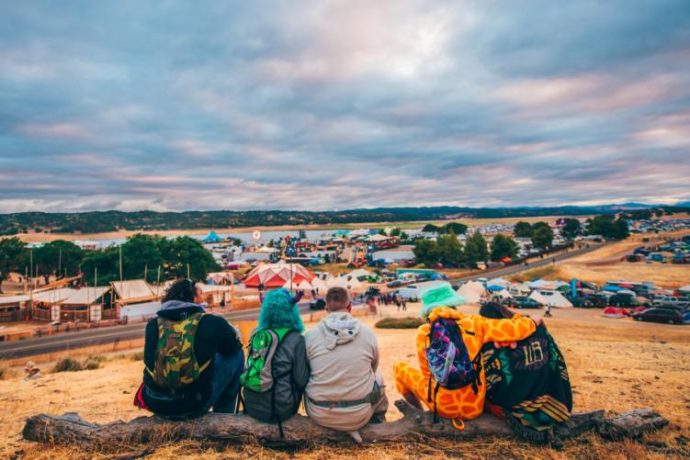 Leave your schedule at home. You're not going to follow it anyways.
Friday night, we followed our already loose music schedule for exactly one set, making it to Walker & Royce right when we had planned. However, the instant we got there any semblance of time and space floated away like the millions of dust particles that I inhaled over the weekend. The Woogie stage swallows you, and what's meant to be an hour of dancing turns into an entire evening of adventures with new friends.
At Lightning in a Bottle, it didn't matter what time it was, what stage we were at, or who was playing. All that mattered was embracing every moment as it happened.  At one point on that Friday night, I was cuddled up with my friend on a pile of floaties and blankets in our campsite, tequila in hand. Suddenly, I heard GriZ in the distance. GriZ had been on my schedule since day one, yet in that moment, the music didn't matter. We looked at each other, both with the same thought, and stayed at camp, soaking in the moment from afar.  
Explore everything, love everyone.
In my four days at Lightning in a Bottle, I wandered the festival grounds aimlessly at least once every day. I stumbled on a 5k Dash on Friday morning and witnessed the most bizarre beauty salon ever constructed.
I centered myself on top of meditation mountain and lost myself all over again at interactive stages like Jive Joint and The Grand Artique. Yet I still didn't even see half of what the festival had to offer. I listened to talks, observed workshops, and learned massage techniques at the yoga tent, all before the music had even started.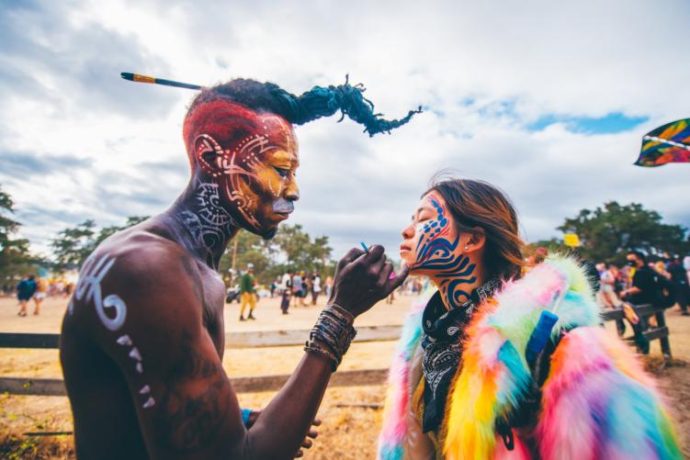 Lightning in a Bottle truly wins the award for the best festival crowd. A festival of 30,000 people should feel crowded, but it never did. From the endless stream of hugs and high fives to the impromptu dance parties, I felt nothing but love at LiB. Every moment is beautiful and fleeting. Nobody concerns themselves with exchanging social media info or scheduling meetups. All that matters is who you're surrounded by at that exact moment. I didn't concern myself with trying to find my friends, and I always stumbled (sometimes literally) into them exactly when I needed to. You don't need to find love at Lightning in a Bottle, love finds you.
Okay, we can talk about the music too.
As much as I've talked about how the music shouldn't be your main focus, it's still an essential part of the Lightning in a Bottle experience.
Every stage is meticulously curated to fit a certain niche. The Woogie is the sanctuary of house, where the Thunder, as the name would imply, brings the bass. Smaller stages like Favela and Pagoda catered to fans of deep house and heavy bass and trap. Lightning Stage served as the main stage, and hosted most of the live acts, such as Sofi Tukker, Fever Ray, and ZHU, who closed out the Lightning stage in grand fashion.
Because each stage hosts similar acts, it's easy to get lost in the music, especially if you're already lost in the sauce. On one particularly ratchet night, my friends and I found ourselves headbanging at Thunder stage for hours as Bleep Bloop, Mad Zach, X&G, and Zeke Beats threw down weird bass. As Tipper closed out the stage and the music faded, I turned to my friends and asked when Tipper was going on. I was so lost in the music that I didn't even realize I had been dancing to Tipper for the past hour.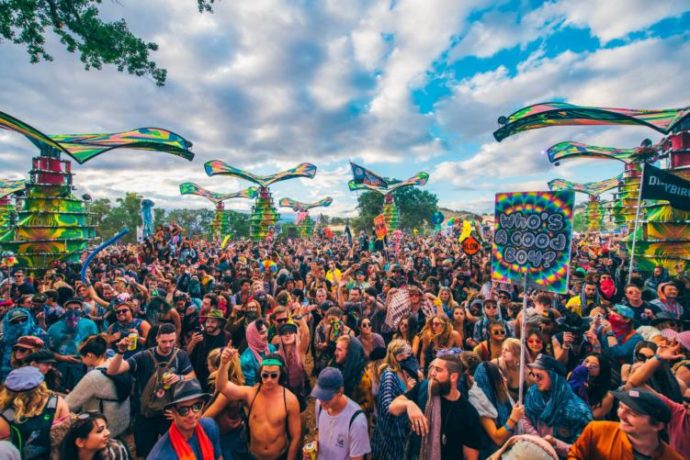 Ask anyone what the best stage is, and 9 times out of 10 they'll say Woogie. The Woogie stage is hallowed ground at Lightning in a Bottle. It's a church where house music is worshiped, and it's parishioners never miss a service. All weekend, legends like MK, Nicole Moudaber, and Rodriguez Jr. manned the decks at Woogie. If you were lost and trying to find your friends, head to Woogie and dance, and you'll either find them or make new friends.
Terms like transformative and boutique festivals often come across as pretentious. A way to sell more tickets because you have a yoga tent. However, Lightning in a Bottle is a transformative, boutique festival in the best way possible. 
It's boutique in the sense that you're not going to find any other festival like this anywhere else. And it's transformative in the sense that if you leave this festival the same person that you were coming into it, then you didn't experience it right.
Monday morning we packed up our stuff, tired and hungover, and drove the dusty minivan back to Los Angeles. As we quietly rolled down the road, my friend turned to me and said "I wish we could stay there forever". That's really all you need to know about Lightning in a Bottle. Most festivals, by the last day you're more than ready to be back to reality. At Lightning in a Bottle, you leave a piece of your heart, and the only way to find it is to come back every year. You'll see me there in 2019, and every year after that.
All photos by Get Tiny Photography via Lightning in a Bottle's Facebook page.