Atlanta to North Hollywood Based producer Leah Culver sat down with us upon her return to Her hometown fest: Imagine Music Festival.
Leah, formerly known as MK Ultra, is a singer/songwriter/and producer. Known for her incorporation of vocals on all her tracks, she has also been featured with big-time artists such as Adventure Club. She entered the scene in 2011 and since her debut, grew tremendously in a short period of time.
Known for setting herself apart from other electronic producers, Leah incorporates live singing and live instruments into her sets. Her set was one you didn't want to miss at Imagine, as she kicked off the weekend on Friday with the Atlanta Kids Choir, a full band, and dancers.
The mind of Leah Culver 
Born and raised in Atlanta, Leah began her career in 2011 as MK Ultra. She started playing at various venues around the Atlanta area prior to her finding her home at Atlanta electronic venue IRIS. IRIS is the brand behind Imagine Music Festival, and the mastermind behind many electronic shows in Atlanta.
When asked a little more about the IRIS family, Leah explains that IRIS was a huge part in helping her evolve as an artist. "They have definitely helped me grow in a massive way," she explains. The founders of IRIS, Maddy and Glenn, will always be family to her.
"I'm so proud of what they've [Maddy and Glenn – IRIS founders] done. Every year at the end with the big fireworks, I tear up. I get chills to see their vision come to life. I remember when they first said: "We're thinking about starting a monthly, we're going to call it IRIS."
She's seen it all: growing the staff and the team and trial and error, she's seen the entire thing. When talking about day one to now, Leah began to get chills and teary eyed. "I'm so proud of them. It's so inspiring to see people… I'm getting teary eyed." *She did get teary-eyed.*
"It's inspiration to me because I have big dreams and visions and to watch them [Maddy and Glenn] do it. If someone else can, why not me? It's good to know people that are just as hungry. It's good to surround yourself with people who are just as hungry."
They are a big part of who she is to this day, she explains. No matter where her career goes, she intends to make Imagine Festival her biggest show.
Life after MK Ulta
While the IRIS family helped jump start her career, Leah still dreamed of a fresh start in which she could grow as an artist, beginning with the change to re-brand under her name. The MK Ultra moniker was originally created "because it was a wall between her and everything else." No one knew she was a girl, so there was no room for judgement from the start. If you don't know what "MK ultra" is, it is an idea revolving around "mind control" and the illuminati. Once people began to get "culty," she made the decision to play as Leah Culver.
"Me as a person, I want to put out positivity. MK Ultra was not that."
After the transition to Leah Culver, she made a huge move to North Hollywood. The move, according to her, "was really just to expand." She moved with the mindset of creating something brand new in California. Living in North Hollywood has opened tons of new doors for her, and collaborations/opportunities that would be difficult to attain in Atlanta.
"I've been here [Atlanta] my whole life, so it was really time for me to try a different city. Ever since I was a little kid, I wanted to live in California. So I had to try. My attitude was I could always come back if I didn't like it. I went over there and started going to school at Icon Collective, which is a music production school, and that's been an incredible experience, making the move well worth it."
Being one of a handful of girls at Icon Collective Production School has given her the opportunity to shine. Moving across the country has allowed Leah to stay true to her dreams. "I just want to do it all," she said.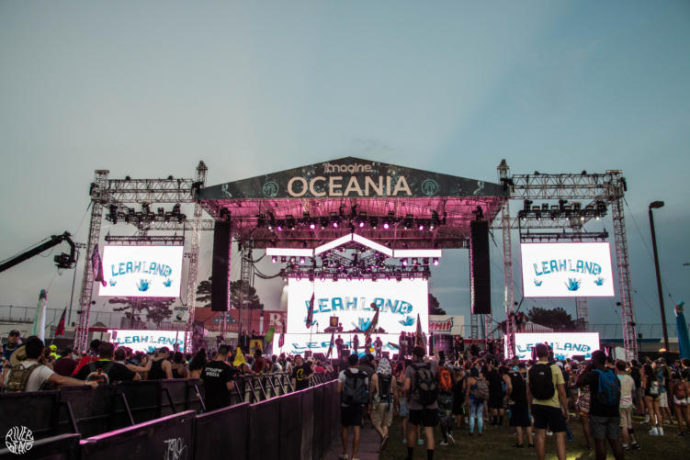 What's next for Leah? 
One thing you might not know about Leah: she loves rapping. Writing and doing. Below, she talks about a song she made with Waka:
"Actually, I have a song – this song is never going to come out. – We did a song with Waka, and we're from Atlanta, no one's too out of reach. I appreciate that, and it's a lot of fun. Totally in the back of my mind, I am touching the idea of having an alias as a rapper."
If she were to pursue the rapper dream, it would be a completely different project. "I definitely have 10 songs that are ready," she says. However, branding is important to her, something that she "nerds out on." Right now, Leah Land is her main focus: the animations and the project itself.
So maybe a possible Leah Land tour is in the works?  During her set at Imagine Music Festival, "Leah Land" flashed on the bright LED screens. She explains that they are "working on that kind of stuff," so hopefully a tour announcement is not too far away. When asked if New Orleans would be an option: "New Orleans will always be an option."
You can listen to Leah's "Leah Land Vol. 1 mix" via Soundcloud below.
---
All photos by Kelsey James.