In an exclusive interview with Billboard on Tuesday, June 27th, organizers for Karoondinha Festival confirmed rumors that the festival has been canceled. Karoondinha was originally scheduled to take place June 21-23 at Penn's Cave & Wildlife Park in Centre Hall, PA.
The festival was another first-year entrant attempting to carve its niche in this volatile market. This news comes on the heels of an inexplicable purge of the Karoondinha web page and social media accounts only hours prior.
2017 has not been a good year for music festival organizers.
With Fyre Festival's disastrous mismanagement and subsequent social media cover-up still fresh in everyone's minds, this purge raised red flags for many observers. Industry insider Festive Owl surmised that this was another case of a festival "gone rogue", and it seems they were correct.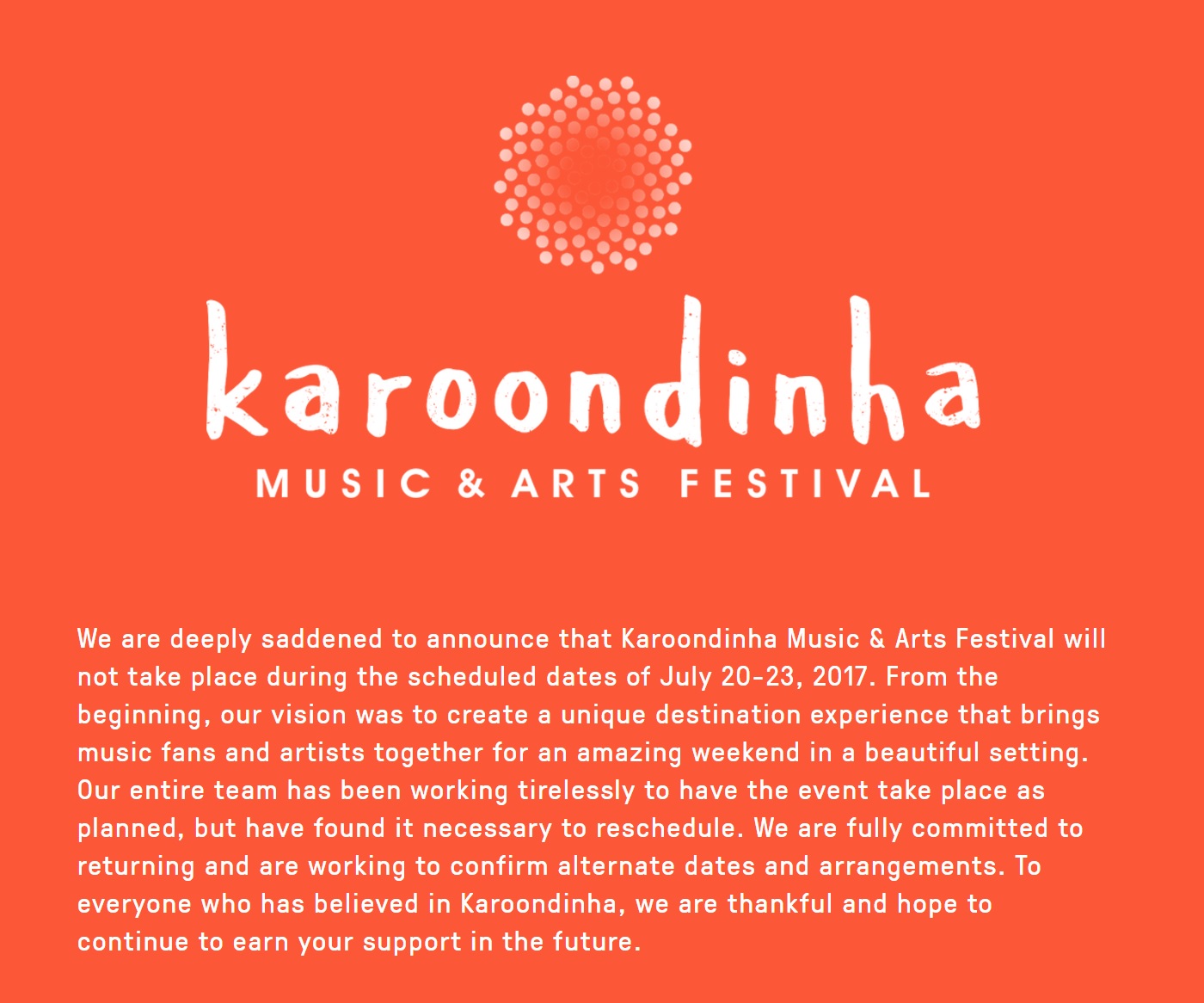 From the Billboard interview, head organizers Kaleena and Paul Rallis cited out-of-control costs, along with sub-par ticket sales as the primary catalysts for the cancellation. The costs mainly stemmed from an ambitious media and promotional budget, which did not yield the expected returns in ticket sales.
Although this year's iteration has been canceled, Paul Rallis expressed that they are "looking at other options at the moment", and that they are "not walking away from the vision of the idea in any way".
As of Tuesday evening, full refunds are available for customers that purchased tickets via JusCollege. For Eventbrite customers, news on refunds remains inconclusive.
Prior to the cancellation, the festival promised a deep and diverse lineup with impressive headliners.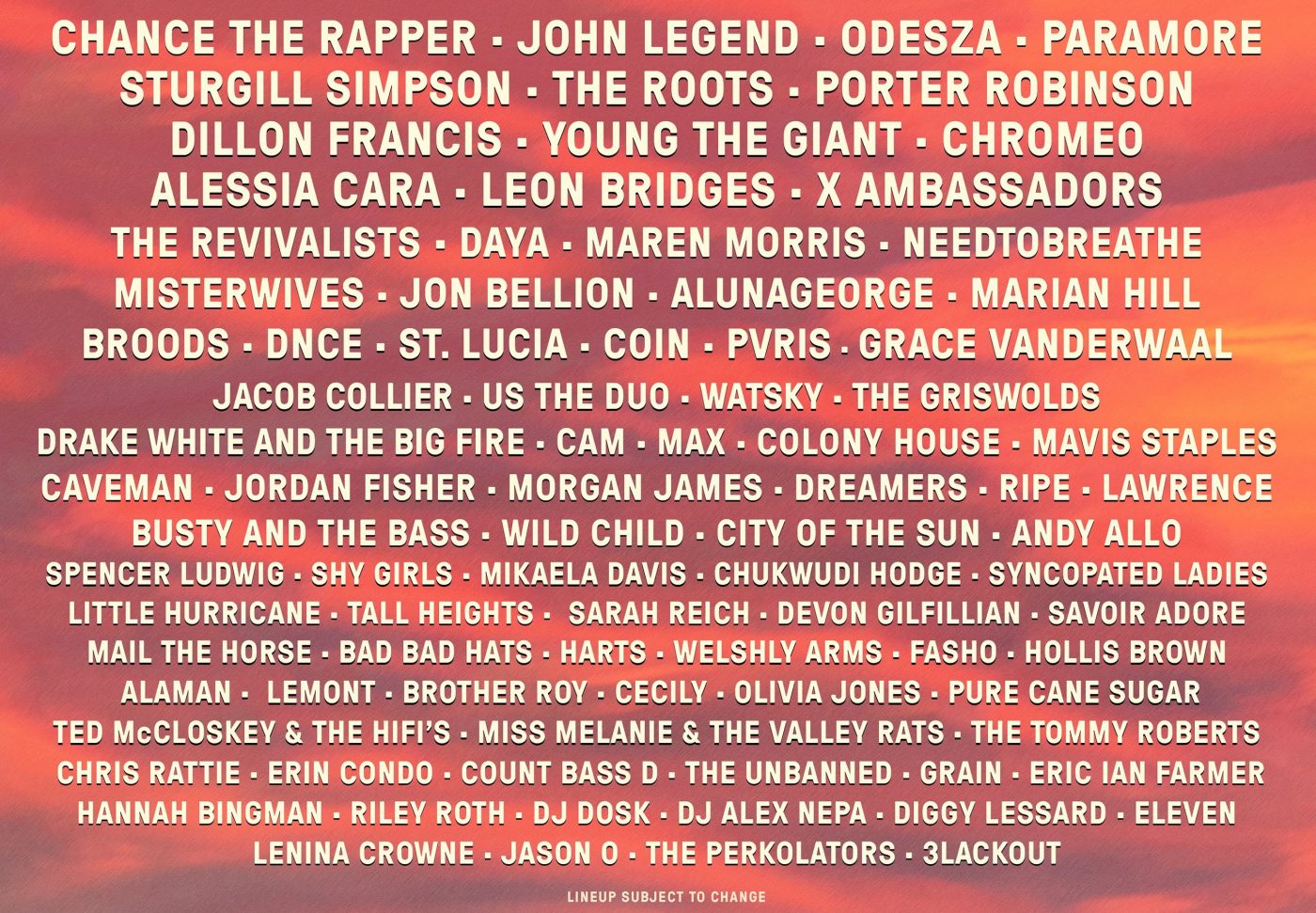 Highlights included many of the top names in the 2017 festival circuit such as Chance the Rapper, Odesza, and Porter Robinson. However, talent agencies noted some concerning signs several weeks ago, when Karoondinha organizers suddenly dropped communications.
Karoondinha joins the infamous ranks of Pemberton, Mysteryland, and of course, Fyre Festival.
These festivals, among several others, have all been canceled this year with their futures in serious jeopardy. Even Middlelands, a well-organized festival that enjoyed remarkable success in its first iteration, has an uncertain future. It will not return to the same location in 2018 due to noise complaints from locals residing in Todd Mission, TX.
On the other end of the spectrum, Fyre Festival remains fresh in the minds of festival-goers as an extreme example of mismanagement gone unchecked. As a result of its grossly underwhelming end product, opacity in communication, and attempts to cover up any negative news, it was the subject of countless memes.
Does this spell the end of the "music festival bubble"?
We'll hold off on any alarmist hot takes, but River Beats will continue to keep a keen eye on emerging trends. Until then, we advise a healthy dose of skepticism when it comes to first-year music festivals, especially ones that seem too good to be true.
---
Feature image courtesy of Karoondinha Festival and Hawk Eye.