This past weekend, Kanye West and Kid Cudi debuted their artist collaboration Kids See Ghosts at Camp Flog Knaw Carnival. And their stage design looked very, very similar. The two were seen suspended above air in a floating glass box, one that resembled Lorde's from her 2017 tour. Check out the video below featuring Kids See Ghosts.
After footage of the event came to light, Lorde took to her Instagram story to share photos of her stage, followed by Kanye and Kid Cudi's stage. After the photos, she says:
"I'm proud of the work I do and it's flattering when other artists feel inspired by it, to the extent that they choose to try it on themselves. But don't steal – not from women, or anyone else – not in 2018 or ever." – Lorde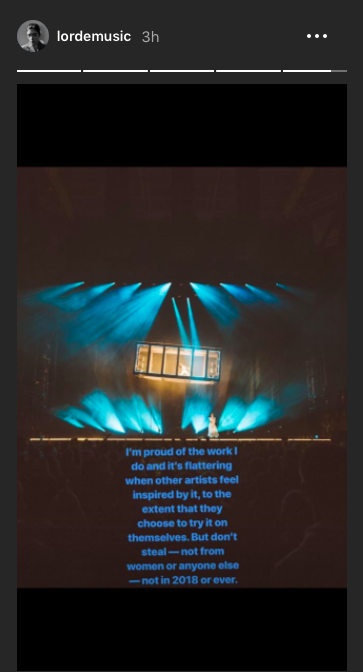 it appears Lorde has seen Kanye's new Kids See Ghosts stage 👀👁👀 pic.twitter.com/mqpFvn4nls

— Joe Coscarelli (@joecoscarelli) November 12, 2018
i can't believe this happened. i feel 11 again and im losing my shit 😭💞

KIDS SEE GHOSTS – Reborn pic.twitter.com/7jqwvP1bUu

— internet diego (@DiegoMillers) November 12, 2018
No comment from Kanye or Kid Cudi's camp regarding this accusation, yet. But the photos are pretty damning.
Featured image via Kevin Winter/Getty Images for Coachella.