Hailing from London, Jimmy Deer has once again proven his knack for complex producing with his second EP release under the moniker Jimmy Right Now.
Released yesterday, the five-track album, titled All Who Do Not Wander Are Lost, takes the listener on a journey through multiple genres. Utilizing sounds from house, deep house, techno and more, each track tells it's own intricate story. Typical of Deer's new-found sound, the EP features airy vocal samples, elaborate guitar work, and opulent basslines to create a downright groovy release.
Read what Deer had to say about the EP below:
"How I produced this EP and found the name is a reflection on how I live life in general. The process is best summed up in one of my favorite passages from my all-time favorite book–The Tao Te Ching, Stephen Mitchell translation:

'A good traveler has no fixed plans and is not intent upon arriving.'"
With his life-long experience as an audio engineer, musician, and producer, this multi-faceted EP comes at no surprise. From his many years within the music business, Deer has racked up a pretty impressive resume. He has graced the lineups of some of the world's leading events and venues such as SXSW, WMC, Sun City Music Festival and legendary Tokyo club Yellow. Also notable, he has had the opportunity to work alongside esteemed artists including Indie.Aria, Three Six Mafia, Seal and more.
Stream the EP on Spotify Below:
Purchase the EP here.
---
About Jimmy Deer: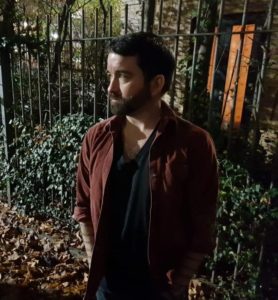 Having signed early onto TVT with Chicago downtempo/hip-hop group The Baldwin Brothers, Deer quickly found himself enveloped into the city's bustling music scene. This led to him contributing his signature bass and guitar work to many records by house legend Roy Davis Jr., including several #1 Billboard Dance remixes. But up until recently, the UK-based artist and multi-instrumentalist made a career outside of the electronic music realm.
In fact, he earned a living supporting other artists, whether it be on screen, in a band or with production. To date, his work across many genres has earned him placement in over 150 films and TV shows. His gritty, guitar-driven licks and complex composition are featured on various shows and movies, including the 1970's Lionsgate feature "Knock Knock," and the Brawler Films' cult flick "The 60 Yard Line."
After years of behind-the-scenes work, in 2016 Deer made the decision to turn his focus to his long-time passion – house music. Operating under his alias Jimmy Right Now, Deer has spent the last two years developing a funky new sound. He also created his own imprint – Subcutaneous Records. With a plethora of varied experience and an overabundance of talent, we are excited to follow Deer as he voyages further into the scene.
---
Connect with Jimmy Deer:
Facebook | Twitter | Instagram | Soundcloud | Website