Good things come to those who wait. Hulaween attendees have received a lot of good news this week. Festival planners have confirmed that the Spirit of the Suwannee Music Park withstood Irma's wrath and reopened to campers today.
And the moment we've all be waiting for…
The Suwannee Hulaween phase two lineup is finally here. Cries to bring more jam and funk in the second wave of artist announcements have indeed been heard. Jam heavyweights Mike Gordon of Phish, Lotus, and Perpetual Groove to name a few will join the roster down in Live Oak this Halloweekend.
Damian "Jr. Gong" Marley, youngest son of Reggae legend Bob Marley, secures a wild-card headlining slot. However, the most celebrated addition must go to Umphrey's McGee. Many fans doubted that the band would squeeze in the hike to Florida outside their previously scheduled two-night run in St. Paul, MN the Friday and Saturday of Hulaween. Fortunately for us, the Umph love with be flowing with not one, but two sets at the Thursday pre-party.
Phase 2 Additions
Damian "Jr. Gong" Marley
Mike Gordon
Lotus
Noname
David Shaw (of The Revivalists)
The New Mastersounds
Goldfish
Perpetual Groove
ProbCause
Andy Frasco & The U.N
Diamond Saints
The Heavy Pets
Jonathan Scale Fourchestra
Yellowhammer
Stokeswood
Voodoo Visionary
Jaden Carson Band
Parker Urban Band
Universal Green
AND MORE
Thursday, October 26 Pre-Party
The Thursday pre-party additions include 2 Sets by Umphrey's McGee, Luthi, SoDown, Evanoff, Psychedelic Monks, and Yamadeo.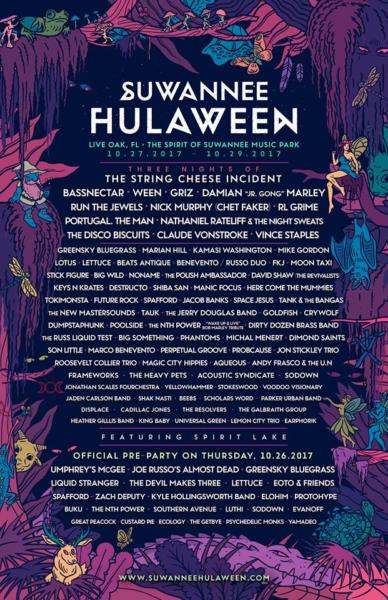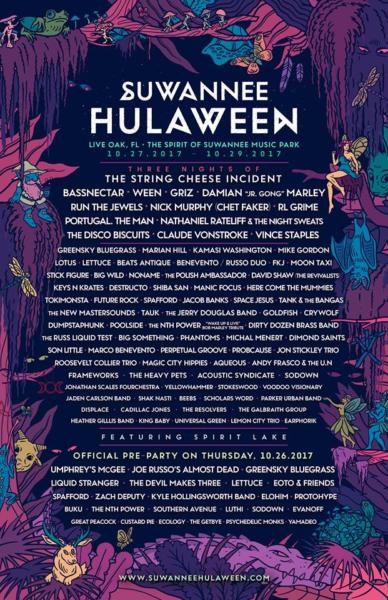 Tickets are still available, but we don't anticipate this will last for very long.
Be sure to secure your tickets now so you don't miss out on another unforgettable year in Suwannee.
Featured Photo Credit: Dave Vann
---
Connect with Suwannee Hulaween:
Website | Facebook | Twitter | Instagram