If you're looking for electronic music, pool parties, and more all underneath the Florida sun, then look no further! Home Bass is for you.
For those that are unfamiliar, Home Bass is the ultimate EDM summer party resort takeover happening in Orlando, Florida June 7th through June 10th. Throughout the 3 days is a jam-packed schedule complete with Dirtybird takeovers, Wakaan pool parties, workshops, activation and more, all right outside your room.
Music Festival Trips, the company behind Home Bass, started out by providing travel services to and from major festivals across the country. Since then, they've evolved to unique events, pre-game parties, and lots more! Last year in Florida for EDC Orlando was the first official "Home Bass" party. And now, they only have plans to keep on growing.
River Beats had the opportunity to chat with Brian Thomas, the mastermind behind Music Festival Trips and Home Bass. Check out what he has to say about this summer's event below, along with what more is in the pipeline.
River Beats: Hi Brian! How about you introduce yourself for those that might not know who you are?
Brian: "Hello fellow music lovers! My name is Brian Thomas [and] I am the owner and founder of Music Festival Trips LLC, a travel experience production company based out of Tampa, FL and parent company of our newest production Home Bass Orlando."
How did Home Bass come to fruition?
"Home Bass is designed around the concept of exclusivity and opportunity.
It has been built on the idea of bringing the community together to an exclusive space where you are surrounded by other music lovers and people who just want to let loose and have a good time. It's their opportunity to meet someone new, the opportunity of exploring new music, and the opportunity to have a home away from home for the weekend.
It was designed from when I attended EDC Orlando in 2013. I planned my friends weekend by arranging a cool place to stay, planned their travel arrangements, and booked a DJ where we were staying. From there, I had the idea of what if we could have this entire resort for everyone attending the festival, arrange shuttles for the weekend and maybe have some exclusive acts? At that point, MFT was born! We were a travel company for music festivals as we went in the direction of booking room packages and shuttles. We needed to grow to that point of exclusivity, so I built on that idea for years:
1st trip in 2014 we had 185 people – 35 rooms
2nd trip in 2015 we had 285 people – 28 townhouses
3rd trip in 2016 we hit 689 people – closer to 85 townhouses
4th trip in 2017 we hit 1200 people – 154 townhouses – sold out
5th trip in 2018 we had 4000 people – 718 rooms sold out – our first Home Bass"
Home Bass was a brand that needed to become a production more than just a travel option; it was a necessity for growth and to catch the eyes of travelers.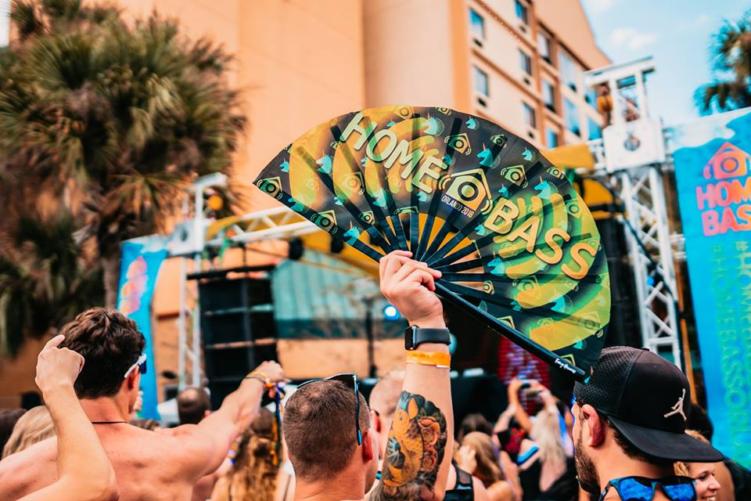 What was your inspiration for Home Bass?
"My inspiration for Home Bass was a mix between summer camp, cruises, and music festivals. I have always been about putting together unique experiences, networking, and throwing an awesome party."
Was it always branded "Home Bass," or did it experience some changes along the way?
"Music Festival Trips is the backbone and the root where it all began.  We started out by planning 24 hour bus trips from Florida to Electric Forest, then started doing bus packages with hotels to festivals like Spring Weekend, Life In Color Festival, TomorrowWorld, and more. We branded the resort experience on as the MFT Resort but when we switched to an exclusive resort we wanted to get something that made sense.
After a couple days of brainstorming we landed upon the idea of a "Home base" then with throwing in a twist we switched for "Home Bass" and built on the concept from there."
What's the biggest accomplishment so far across Home Bass' timeline?
"Our footprint this year with Home Bass was huge. From never attaining a sponsor in our life, we worked together as a team and efforts of people who believed in what we were doing and attracted massive sponsors like: Bud Light, Deep Eddy, Pedialyte, Lucien Albrecht, and Panera Bread. We had hit record numbers for our event of over 4,000 attendees staying onsite throughout the entire 4 day weekend. […]"
I remember last year some of the profits from Home Bass during EDCO went to a local-non profit. Do you always partner up your events with non-profits?
"Our next biggest accomplishment was raising over $3,500 for a non-profit organization called Give Kids the World Village: an organization that provides cost-free vacations to theme parks with lodging and transportation all taken care of.
Fun story: I graduated out of high school with over 700 hours of community service and received an award for "Student Athlete Who Gave Back Most to the Community" award. […] I have been a firm believer of being involved in giving back time and effort in making this world a better place."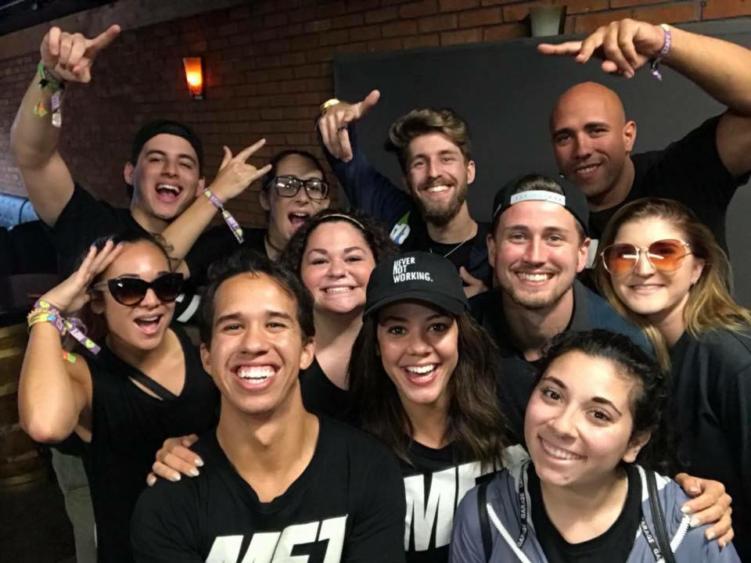 Any tips for first-timers experiencing the Dirtybird summer Home Bass event? 
"One of our key players came up with 10 tips for the weekend but here are the top 5. Shoutout to Demi Diaz for getting these together! She is one of the most creative and hard working people I know <3″
Expect to get wet! Cool down in the giant pool and dance to the movement to the water. Bird baths will be happening all day, don't forget your towel!

No one likes getting water in their eyes. Protect your eyes from the water and UV sun rays! We want to see who can bring the flyest sunglasses.

Two words. Inflatable Floaties. One of the best ways to get this pool party rocking is by bringing your favorite floatie! Everyone knows pool floats serve as great photo ops, make sure you get the perfect picture. Bonus points for repping the floaties that hold your beer.

Don't forget your yellow bikini! For the dudes, speedos are welcome too. Bring out your best swimsuits for this event. Get creative with your outfits and get yourself glitz up.

Leave your worries at home! We are coming together for a weekend to let go and relax. You deserve to give yourself this time to enjoy life surrounded by like-minded people and intoxicating music.

What's next for Home Bass?
"Home Bass is taking a couple more steps up on expanding across 4 different weekends next year and hopefully expanding out of state.  We will see exactly after this next event to give you an update! 🙂 "