After remaining relatively quiet for two years, Hi This Is Flume reaffirms the 27-year-old artist's standing as one of the most ingenious and capable creatives in the game who continues to push the boundaries of expression.
Harley last released music in 2017 with two Skin Companion EPs. And for two years, fans eagerly awaited his next gem. Now, three years after Skin, Harley gives us 17 new songs accompanied by an absolutely beautiful trip of a video created by Jonathan Zawada.
How often do you see an album-length music video? Do yourself a favor and watch the video if you haven't heard the album yet. Even if you've already listened, go back and watch. Not to discount the music as it stands alone, but the visual mixtape is a wholly superior experience, one that I think the Australian artist intended us to indulge in.
"Hi, this is Flume…"
The introduction is a thirty-second disorientating repetitive greeting of Harley saying, "Hi, this is Flume." "Ecdysis" follows with a barrage of bass drums guided by majestic synths sprinkled with intoxicating high-pitched chimes. The term ecdysis is a noun which means the process of shedding old skin; a rebirth. This first musical track on the album begs for answers without selling itself out and without making an insincere display of itself, resulting in a mysterious aura of pretty sounds that leave us begging for more.
The 38-minute long mix proceeds in a similar manner. It's a trip, especially when paired with the visual accompaniment. Flume takes us high above clouds and deep below oceans. We traverse mountains and arrive at walls of water; we drive day and night through a barren desert in a 1980s Nissan 300ZX and then on a dirtbike to arrive at a lush rainforest; we follow Harley as he prances through a forest of decaying trees. It's a psychedelic, introspective experiment driven by strange, shimmering sounds and aggressive, empowering basses. It's pure sublimity.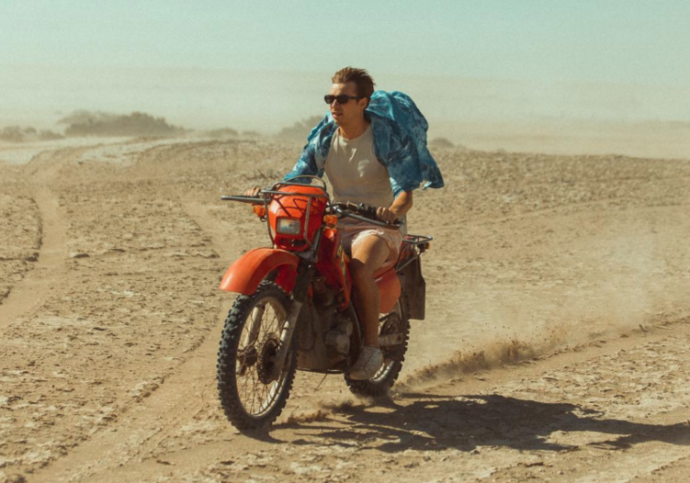 I've always been impressed by Flume's pace management, both in regards to individual songs and whole albums. This project rises and falls as naturally as the moon commands the tide. The upbeat feistiness of "High Beam," which features English rapper slowthai, is immediately mitigated by the ethereal, dreamy, calming tones of "Jewel." The house/techno pace of "Wormhole" is followed and balanced with the slower, angelic, dignifying arrangement of "Voices." On an individual song level, look to "Vitality" or "Amber." Both tracks incorporate graceful elements of future-bass and grimy elements experimental trap.
My favorite progression of the album is the entire second half, beginning with "Voices" and ending with "Spring," which features Eprom, the king of experimental computer music. (Appropriately, Flume released the album on the first day of spring in the northern hemisphere.) The eight short to average length tracks flow together seamlessly. They impart feelings that range from bliss to mystical, and from eerie to spiritual.
Hi This Is Flume is a sonic representation of awe and wonder.
Flume somehow encapsulated sublimity – that feeling when you see a truly magnificent sunset for the first time in a while, or when your plane drops below the clouds to offer you a snapshot of the world at large, or when you finally make it to the top of the mountain after a long hike –  and converted the feeling to sound.
Check out the album and video below:
---
Featured images via artist's page.