The beaches of Hangout Music Festival will open a day early for their Thursday Kickoff Party on March 26.
Before the gates open for the three-day festival this March, a  Kickoff Party will rock the beaches of the Gulf Shores. This year's high variety lineup includes something for everyone looking for an extra day of sun and dance at the Alabama-based music destination.
Check out the lineup below.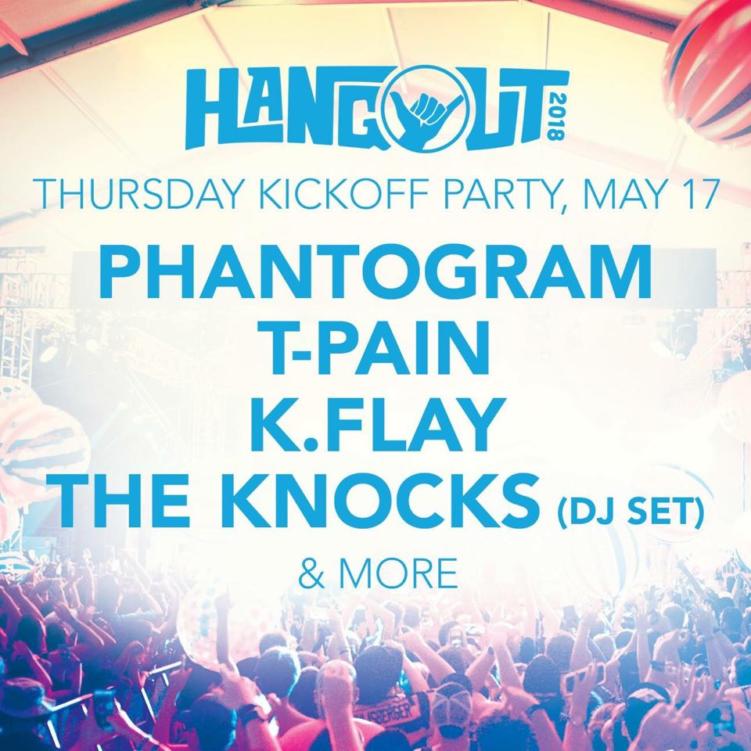 Phantogram was originally known as known as Charlie Everywhere when they were recording in a barn in upstate New York. The duo consists of Josh Carter and Sarah Barthel. Their latest and third studio album Three released in 2016 and debuted at number 5 on the Billboard charts. Their sound falls somewhere between electronic dream pop and swirling, light R&B. Catch some of their classic tunes "Fall in Love" and "Don't Move" alongside new album hits like "You Don't Get Me High Anymore."
T-Pain will also help open the gates of Hangout Festival this year. The Floridian rapper has been making music since he turned his bedroom into a studio at age 10. Now 32, his crowd-pleasing hits "Buy U a Drank" and "Bartender" have been circulating the club playlists since 2005. His fifth studio album Oblivion was just released last year, so expect his performance to feature some new tracks like "Classic You" and "Textin' My Ex."
K.Flay finds an interesting blend of alternative hip hop and lo-fi indie rock. She originally began recording hip hop music to combat the "simplistic, misogynistic" hits she heard on the radio. Somewhere between Grieves and Yeah Yeah Yeahs, Kristine Flaherty has been catching ears since her debut mixtape Suburban Rap Queen in 2004. She was nominated for two Grammys this year, and has been taking the charts by storm. Listen for killer tracks like "Blood in the Cut" and "High Enough."
A DJ set from The Knocks will also appear at the Hangout Festival Kickoff Party. Get a fix of soul, funk, pop and groove with James "JPatt" Patterson and Ben "B-Roc" Ruttner. The NYC pair have one album under their belt alongside slew of EPs and collaborations. They've supported pop megastars like Ellie Goulding and The 1975 on tour, and also released a collaborative project with Skylar Spence entitled Amelia Airhorn. Make sure to check out their beach dance party at Hangout Festival.
Tickets for the Hangout Festival Thursday Kickoff Party are sold separately. Those who have purchased GA tickets will receive an email with a special promotional prices for tickets.