Four years ago, HAIM emerged on the airwaves with their critically acclaimed, debut album Days Are Gone. Exactly how successful was the LP? Successful enough to earn the Haim sisters a Grammy nomination and keep them touring for years.
Do not overlook their extensive touring, and their slot opening up for Taylor Swift. It's pretty unbelievable that three girls could spend 4 years consistently touring, with less than 15 original tracks to their name.
Expectations were high upon their return. Now we find out if Something To Tell You rises to the occasion, or falls short.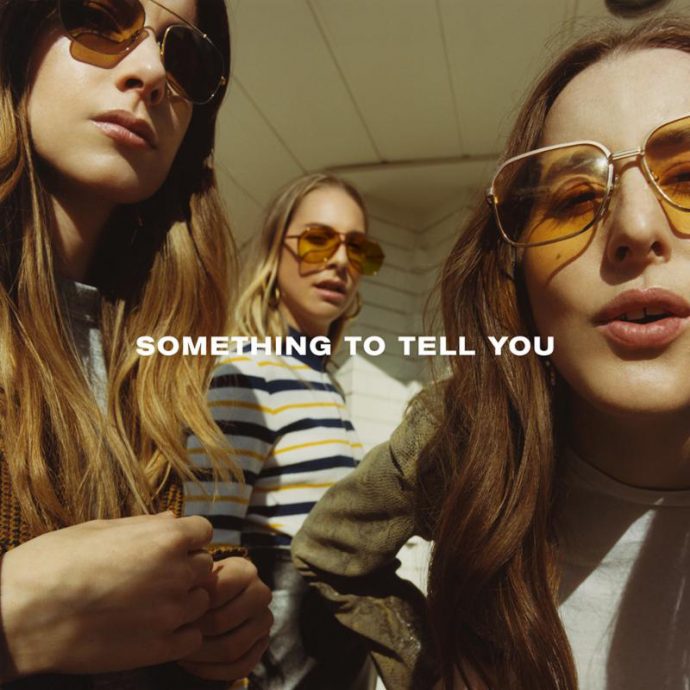 The curse of the sophomore album has plagued many great artists over the years. It can be a debilitating pressure to try and top the breakout success and fandom that follows a colossal debut. And, as HAIM fans waited and waited, those expectations grew higher and higher.
If you want Something To Tell You to sound just like Days Are Gone, don't bother listening. You will be disappointed. That's not what this is.
HAIM creates a sonic landscape that transports you back to a simpler time. Some tracks, like "Nothing's Wrong," will make you feel as if you are hearing The Beatles' "Here Comes The Sun" for the very first time.
At times, Danielle, Este, and Alana Haim sound like the millennium's Fleetwood Mac. At times, the songwriting on Something To Tell You mirrors the beautiful simplicity of John Mayer's Continuum. All in all, these three sisters from Los Angeles completely redefine what you thought you knew about "pop music."
Individually, each Haim sister showcases her own masterful instrumentation to accent the layers of vocal harmony that embody all 10 tracks on the LP. The trio demonstrates how to create sonic complexity without sacrificing raw accessibility for even a moment.
Something To Tell You is nothing like Days Are Gone…and that's what makes it great.
"Right Now" showcased every ounce of that masterful musicianship and artistry, which was brought to life in its video directed by Paul Thomas Anderson. This live studio performance invites you into the world of HAIM and its many moving parts.
Not only a driving force vocally, Danielle Haim also plays the drums on every recording. However, all three sisters are strong drummers on their own–a skill they fully embraced in a special performance of "Right Now" at Glastonbury 2017.
It's difficult to tease apart the many elements of each track and appreciate each isolated nuance. Songs like "Ready For You" might leave you wondering, "how will three people be able to recreate this live?" But, that is HAIM.
They are this multifaceted, multi-talented chaos effortlessly harnessed into unconventional harmonies, delicate melodies, and wildly innovative percussion. Their versatility is undeniably awe-inspiring, but that's only the half of it. Some of HAIM's most powerful moments come when they exercise the most restraint.
On Something To Tell You, HAIM delivers the catchy hooks and emotive lyricism of "pop"  while simultaneously demolishing the standard pop formula.
It is everything fans expected and more. It is the side of pop music that you may not know exists. You know now.
Listen to the album in its entirety and decide for yourself. Something To Tell You is available on Spotify, Apple Music, and more now.
---