Australia has gifted the rest of the world iconic electronic artists such as Flume, Allison Wonderland, What So Not, Pendulum and Knife Party.
Now, with his debut album, SECT, Golden Features is joining those ranks of outstanding electronic Aussie artists.
The producer typically ventures towards the darker, deeper side of house music. His debut 4-track EP put his name on the map and landed him an official remix of Porter's "Years of War."
In 2016, he released a dreamy 2-track EP on ODESZA's label Foreign Family Collective. Now, with this cohesive 10-track debut album, Golden Features, aka Tom Stell, seeks to solidify himself.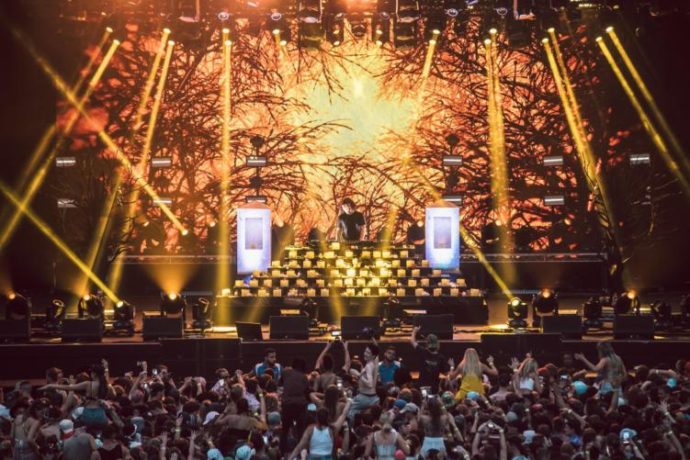 SECT opens with "Always," a haunting track featuring heavily vocoded vocals by Tom that brood over the beat. He sings, "I'll try/cry, all day, all night, always." The try/cry is up to interpretation, according to Tom's team. One can hear both depending on how you interpret the track as a whole: somberly defeated or encouragingly resilient.
"Always" provides an overview of the concept and tone of the album. Hauntingly beautiful lyrics, broodingly deep beats and masterfully composed production present a redefined Golden Features.
While nearly all ten tracks are unmistakably house, "Pyre" takes a different route. After a 2-minute long sonic ascension, Tom burns everything he once knew with an epic, orchestral-like drop of minor chords.
However, "Pyre" is followed by "Renewal," a track that does just as its name suggests. Tom reminds listeners that his heart still resides in a dark house with bass-synth stabs that'll make any house-head shuffle.
"Everything" opens in a chaos that quickly mediates into a musically accepted balance. Tom sings, "You know everything," as beeps and whirs are subtly panned above a distinctively deep house beat.
Accompanying the deep and dark house rhythms are lyrics like "Medicate, separate," in "Medicate," "I can see the dark in everyone," in "Falling Out" and "When I'm done, let them take me/Lift me up, soon they'll erase me," in "Worship." As Tom weds his lyrics to his beats, he paints an evocatively ethereal listening experience.
SECT is the product of growth that Golden Features has undergone over the last two years…and it shows. The cover art of his last three projects depict a masked Tom Stell. This stunning, cohesive project rips the mask away and presents Golden Features in all of his glory and maturity as an artist.
Dive into SECT below!
---
Featured Photos: Artist Facebook Page