WRITTEN BY BRIANNA IRVIN.
There were no tricks, all treats at this year's Get Freaky festival. Celebrating the 15th anniversary of the event itself, V2 Presents lived up to their top-notch reputation as the leading promoter in Utah's growing dance music scene.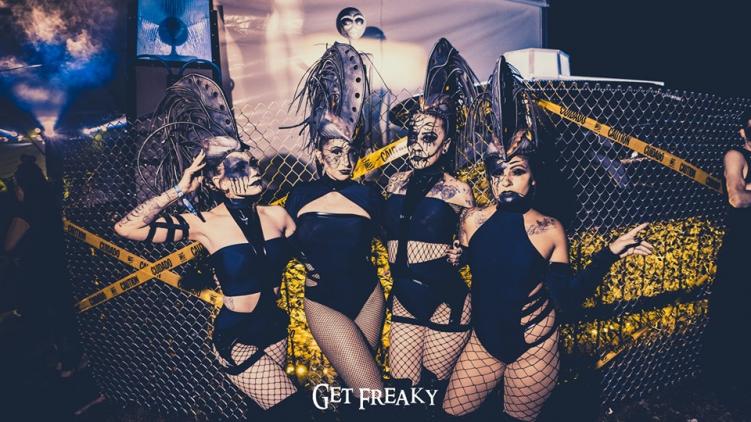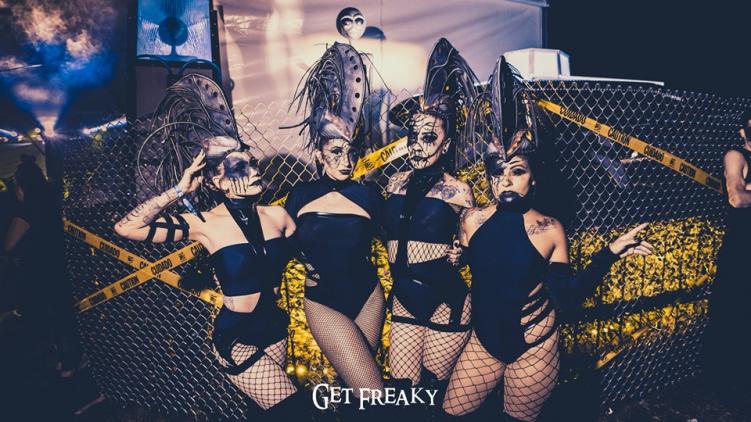 GETTING THERE
Get Freaky is located directly outside of Salt Lake City, Utah at the Great Saltair. The unique location of the beautiful, other-worldly salt flats sets it apart from other contenders and is a driving reason of visiting for local residents and out-of-state attendees alike.
V2 offers a variety of reasonable travel packages for nearby hotels. Parking at the venue is $10, but you can also choose to purchase shuttle packages to avoid long lines. For first timers, be prepared for chillier temperatures! Be sure to bring a jacket and take advantage of their coat check inside.
THE STAGES
The music is spread out between two separate stages. Inside, there's the main stage: The Tomb of Doom. Coming from someone who has been to more than a handful of V2 festivals, the main stage design of Get Freaky 2019 may have taken the cake as my favorite one yet.  The diamond shaped stage had multi-dimensional LED screens with lasers surrounding it as far as the eye could see, and anyone who went can vouch that the entire production team deserves a round of applause.
Their 21+ bar area wraps around the upstairs perimeter of the building. Or, for a more spacious section and the best view in the house, you could opt into their VIP lounge.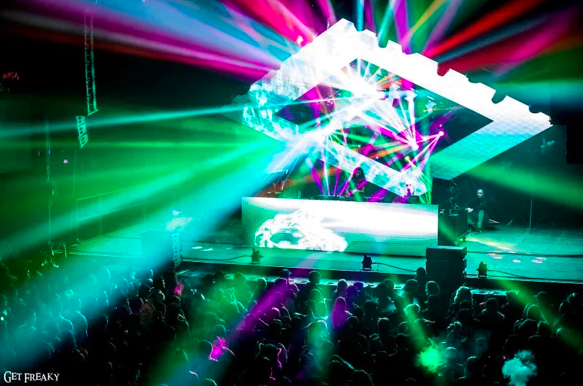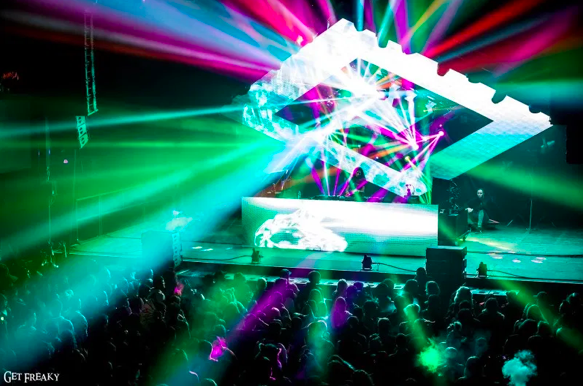 Within a short walk, there's the Tent of Terror outside. The tent this time around was a massive upgrade from the year before and much larger than the last, which was definitely more adequate for the amount of people it was holding.
Although Get Freaky is smaller scale than V2's beloved annual summer festival Das Energi, it's definitely used to an advantage. The stages are conveniently close to each other with no sound bleed, and you would've never guessed that both days were 100% sold out by how intimate the crowd felt.
NIGHT ONE
Thanks to how diverse the lineup was, you couldn't go wrong no matter which stage you ended up at. In addition, the set times were staggered perfectly and made it easy to split sets rather than having to choose one artist over another.
The Tent of Terror was transformed into a house-lovers sanctuary the first day. We practically danced to our graves during Noizu, Russian Style: Volac b2b Phlegmatic Dogs, and Drezo's dark house music that fit the Halloween energy perfectly to close out the night. You could catch spine-chilling performances inside from artists like Whipped Cream, Joyryde, and Alison Wonderland.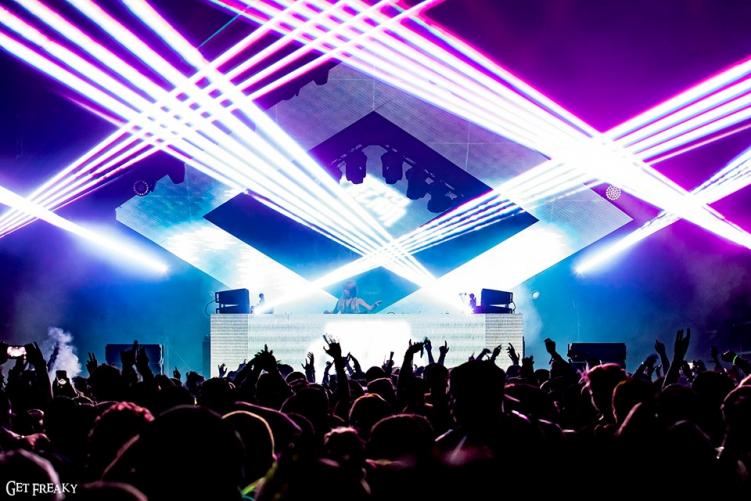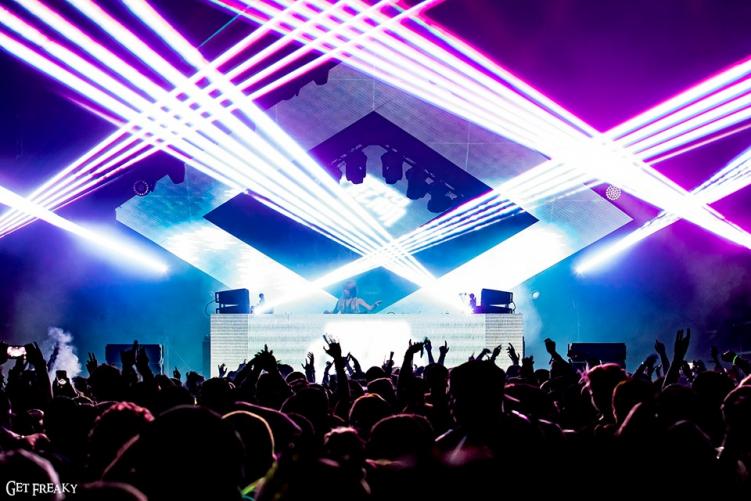 NIGHT TWO
The buzzing energy from day one carried seamlessly over into the second night. Night two, The Tent of Terror was the place to be for all your bone-rattling bass music needs. We started the night off with Salt Lake native SHSTR, Australian-based Blanke who took the crowd on a journey through emotions and annihilating bass with an unforgettable set, and Hekler… and that was only the beginning.
Later in the evening Sullivan King collided the worlds of metal and dubstep, followed by Bear Grillz. Meanwhile in the Tomb of Doom, I finally checked hearing "Satisfaction" live by the legendary Benny Benassi off my bucket list.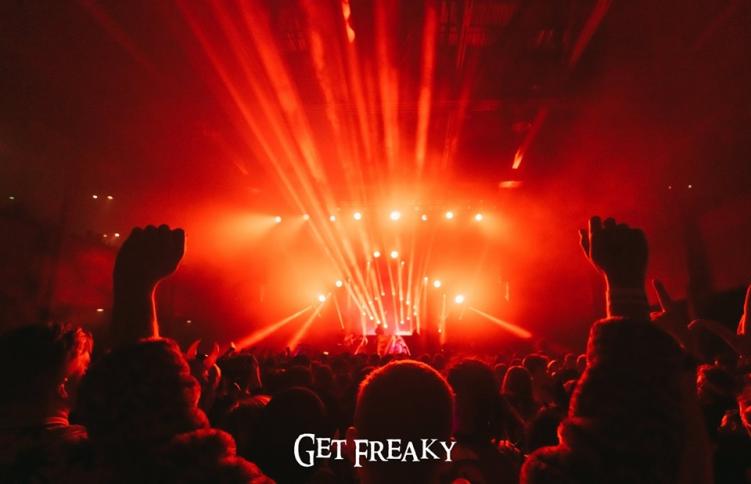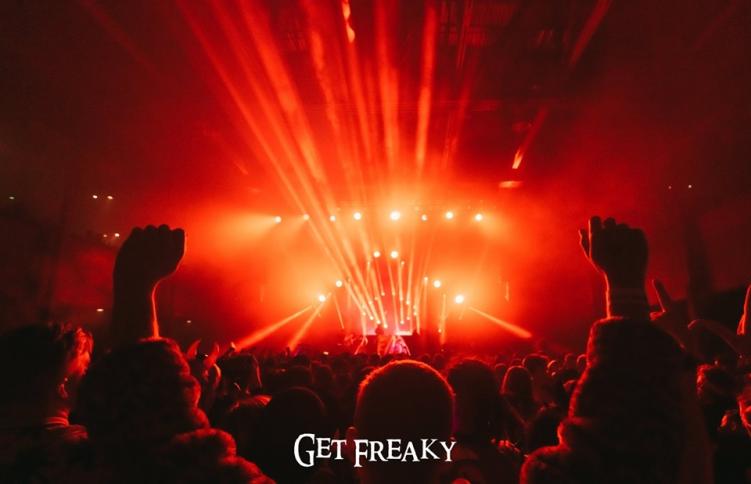 My most anticipated set was Porter Robinson's DJ set. Confetti falling while he played "Language" was hands down the best way to end such a memorable weekend.
TAKEAWAYS
Overall, Get Freaky was well executed and the perfect size Halloween festival. Up next on our radar from V2 Presents is their well-known St. Patrick's Day festival: Get Lucky.
With a recent announcement that Decadence would not be returning to Salt Lake City to celebrate the countdown into the new year, they've invested their efforts into making Get Lucky bigger and better than ever for March 13-14 of 2020. Mark your calendars because we can't wait to see what's in store!