Prepare to immerse yourself in the ultimate electronic music experience at Get Freaky 2023, the foremost festival of its kind in the Western United States. Anticipate embracing the rhythm as V2 Presents reveals an unparalleled celebration of bass and electronic music, spanning three electrifying days at The Great Saltair.
The meticulously curated lineup for Get Freaky 2023 guarantees an unforgettable journey, showcasing an impressive array of leading artists and emerging talents from the electronic music realm. This year's Get Freaky transcends the boundaries of a mere music festival, offering a multi-sensory extravaganza that will captivate fans like never before. Whether you're a devoted Get Freaky enthusiast or a newcomer to the scene, the 2023 edition of the festival promises a distinct and enriching experience tailored to all.
TICKETS AVAILABLE: Starting Friday, August 18th at 10 AM (MT) WHEN: October 27th, 28th, 29th, 2022 WHERE: The Great Saltair • Salt Lake City, Utah, USA. Grab them HERE!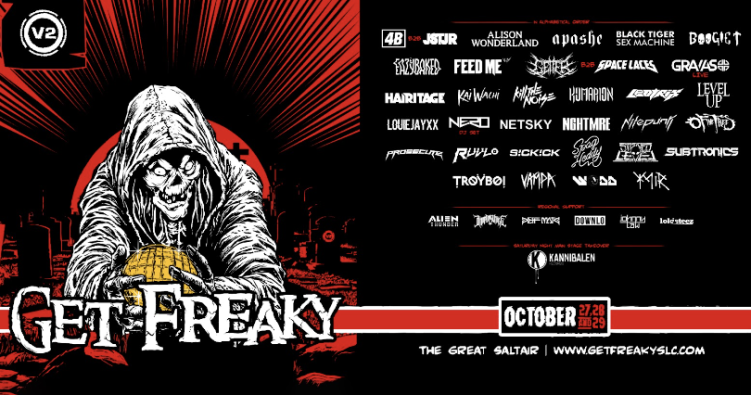 ABOUT V2 PRESENTS V2 Presents stands as the premier dance music promoter in Utah, at the heart of Salt Lake City's thriving dance music landscape. With a legacy spanning over two decades, V2 has orchestrated the state's largest dance music events, spotlighting the globe's most esteemed DJs within a dedicated framework of quality.