FOLLOWING HIS U.S. DEBUT IN MARCH, U.K. ARTIST GAWP IS TRAVELING BACK TO THE STATES TO TOUR SOME OF THE COUNTRY'S TOP RATED VENUES.
Kicking off this Tuesday with a doubleheader at Space Yacht and Sound Nightclub in Los Angeles, GAWP's "Mind the GAWP: Part 2″ USA tour is set to be bigger and, dare we say, better than the first. With a lineup of legendary clubs like Q Nightclub, Spybar, and Grasshopper Underground, it's obvious that GAWP's first tour solidified his name as one of the best new producers in House music.
"After such a wicked month back in March with my previous Mind the Gawp tour, I'm super stoked to be returning for part 2. Not only did I have an amazing time, but there were so many people who couldn't catch me on the first tour… so I'm back again for another 'go large' portion of GAWP!​"

GAWP
GAWP's unique sound and masterful production style has garnered the attention of some of House music's most notable artists including Claude Vonstroke, Justin Martin, Chris Lake, Billy Kenny and Eric Morillo. Having already signed with impressive names like including Dirtybird, Elrow, This Ain't Bristol, Get Twisted, Night Bass and, most recently, Perfect Driver, he is certainly one to watch.
---
Listen to GAWP's Most Recent Track "Candy and Cleavers" Below:
---
Keep an eye out for upcoming releases, including an EP coming out on Treasure Fingers' Psycho Disco in August and another EP on option4's Hot Boi Records later this year.
If you want a sneak peek of his unreleased tracks, make sure to check out one of his upcoming U.S. shows! From the sounds of it, this is a tour you do not want to miss.
"As usual I have loads of unreleased and unheard music that I will be premiering in my live DJ sets. I'm starting to feel like America is becoming my second home. The people are so welcoming and there's nothing but love for the music and scene. America; I've never been so ready! Are you?"
For more information and tickets, visit GAWP's Facebook page.
View the Full Mind the GAWP: Part 2 Tour Schedule Below: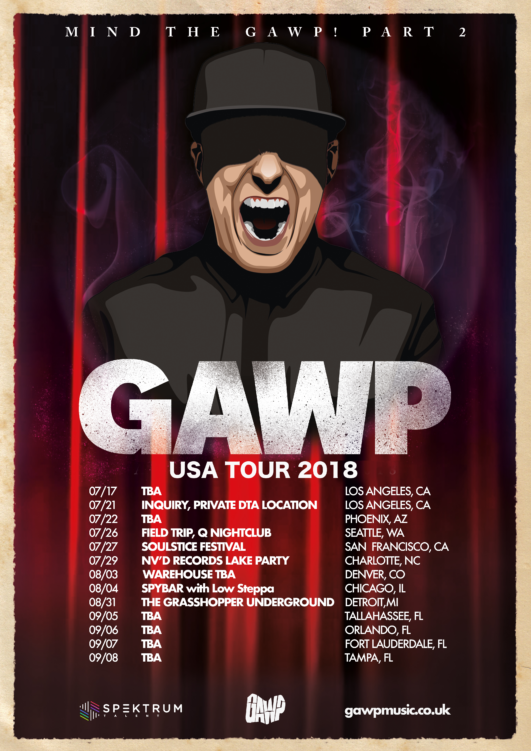 ---
Connect with GAWP:
Facebook | Twitter | Instagram | Soundcloud
---
📸: Artist Facebook Page