After 2016's Mr. Wobble LP catapulted the Belgian duo into bass festival ubiquity, the Ganja White Night boys have returned with The Origins, their most visceral and crushing release to date.
Ganja White Night have made a name for themselves on producing a style of riddim that's dense and unstoppable, like a stone golem marching through a village. They've played up this rumbling momentum with their orange mascot Mr. Wobble, a round giant who stomps buoyantly through GWN's album art and stage visuals.
Unlike the mechanical chaos of their American peers, Ganja White Night plays on a heavy halftime reggae/dub influence that nods to dubstep's roots, while keeping the one-two chop of their wall of sound molasses thick.
It's impressive to see the duo take that primal punch and experiment with it so joyfully on The Origins. Even more than Mr. Wobble, the soundscapes are massive, enveloping and surprisingly cinematic.
The title track creeps in with faint Bulgarian chants, there's caustic Eastern string plucks on "Wobble Buds" and "Ferity," standout track "Chak Chel" has delicate guitar harmonics and airy female vocals that contrast nicely against the soul-shredding heights of the main bassline. If it wasn't for risks like these, the album would come off as a rumbling slog, but it's exciting and cohesive.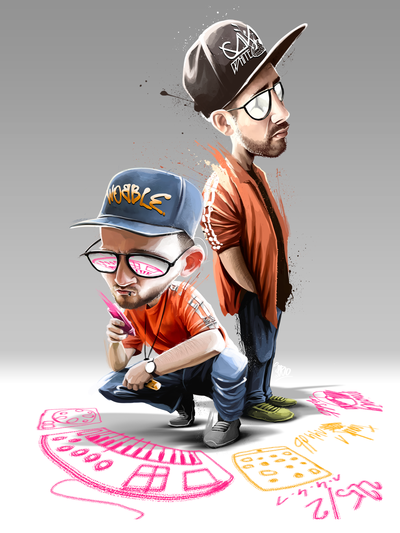 The collaborations on this album show an immense amount of range for the duo, far deeper and orchestrated than your average riddim fare. "Unique" with U.K. dubstep pioneer Caspa is a dark, dreamy spiral. "No Escape" with Dirt Monkey is downright bizarre and explosive, and Boogie T's hazy "my only medicine is greeeenery" on "Reminisce" is a match made in heaven.
The closer is the real kicker though: Who knew ZEDS DEAD or Ganja White Night could make a song so layered and intense. The lighter evocative elements touched earlier in the album are condensed to one haunting simple piano melody, and the vocals ache and swirl before a mounting kick careens the rhythm straight into hell. One of the heaviest songs penned by either duo.
The Origins can hopefully help change the notion that albums of this genre are random fodder for live performances, because against all odds it's a focused, daring and vicious ride.
The Origins Tour is set to kick off on February 8th, with Subcarbon Records labelmates Subtronics and Dirt Monkey as well as Caspa, Downlink, and Opiuo. Check out all the dates below!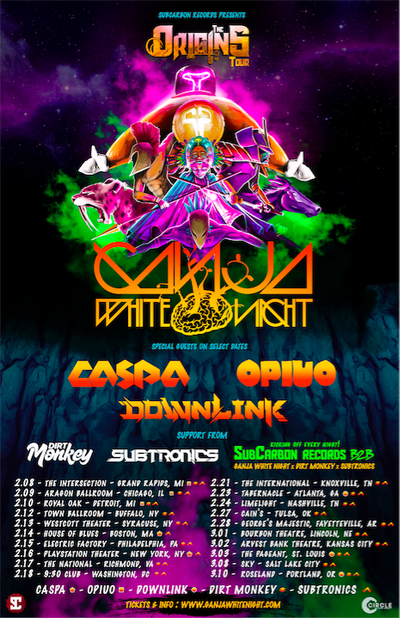 ---
Featured Photo: