Have you ever wanted to sail away on a cruise to Belize while listening to your favorite DJs? You're in luck, because you can do just that aboard Friendship, presented by AMFAMFAMF!
Created by Destructo, known for his 30 years of producing events and as the pioneer of sea-bound electronic festivals, Friendship 2024 is sure to be another amazing year of music aboard the Norwegian Joy. Following its $50 million revamp in 2019, the ship boasts features like a state-of-the-art racetrack, VR pavilion, and the scenic Waterfront promenade.
Setting sail from Miami on January 6th, 2024, the voyage will offer attendees a picturesque journey through the Caribbean, making a stop in Belize for the 24-hour island party at Harvest Caye, before culminating back in Miami on January 11th, 2024.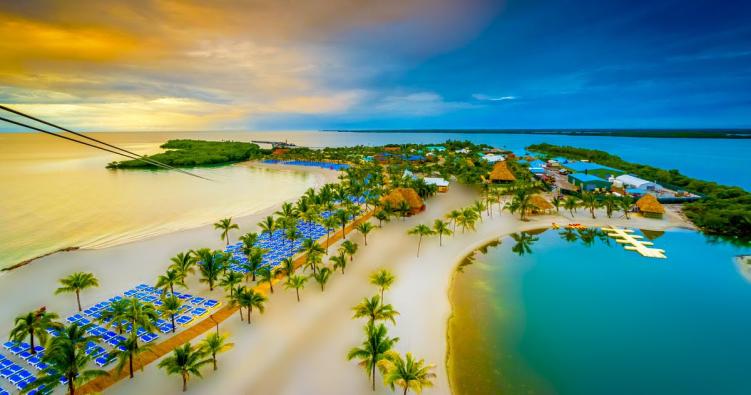 The Lineup
The 5-night festival/cruise experience includes a 24-hour private island party (the first of its kind for any of Destructo's previous sailings in the past 12 years) with a special performance by SKRILLEX; Destructo's signature Sunrise Sermon on the island, the first time-ever for of one of his sailings; and a harmonious blend of world-renowned artists and emerging talents, with heavyweights like Chris Lake, Bob Moses, Boys Noize, and Chris Lorenzo leading the pack.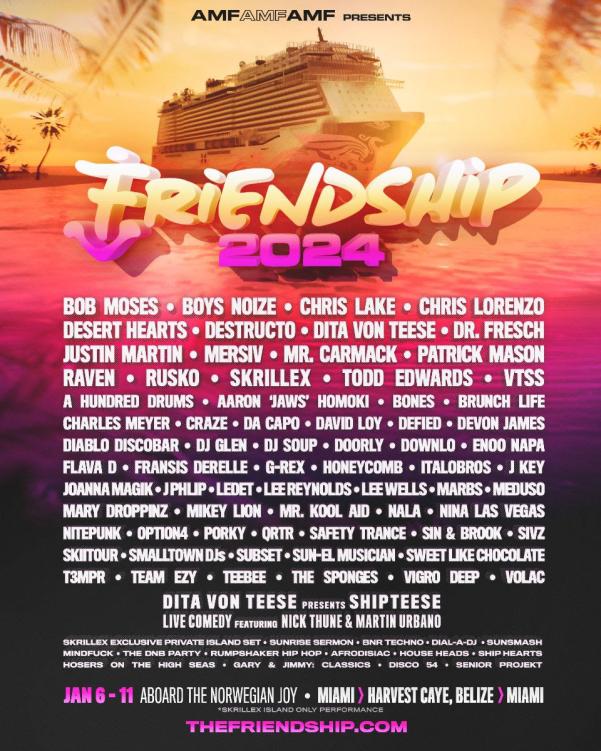 Note that Friendship is about more than just the music, however. Adding a vintage flair, Dita Von Teese pays tribute to the Golden Age of Cinema with her celebrated cabaret. Adventure enthusiasts can witness the breathtaking stunts by the Friendship Pro Skate Team, including Aaron 'Jaws' Homoki and David Loy. Meanwhile, onboard comedians Nick Thune and Martin Urbano promise a dose of humor.
Embodying the Friendship ethos: "There's a place my friends and I go to do fun things—the kind of fun that creates everlasting memories, moments that are priceless and irreplaceable. When I look back and reminisce about the experiences that shaped me, I'll think about all the friends I made along the way. They are more than ALL MY FRIENDS; they are my family!" The Friendship legacy is an evolving symphony of music and camaraderie, each year adding a distinct rhythm, always centered around unforgettable experiences and enduring bonds.
The Ship
The Norwegian Joy, a magnificent vessel of the Breakaway Plus class operated by Norwegian Cruise Line, offers an array of captivating features and amenities that ensure an unforgettable voyage. This remarkable ship boasts an exhilarating two-level go-kart race track, inviting passengers to indulge in high-speed excitement while cruising the open seas.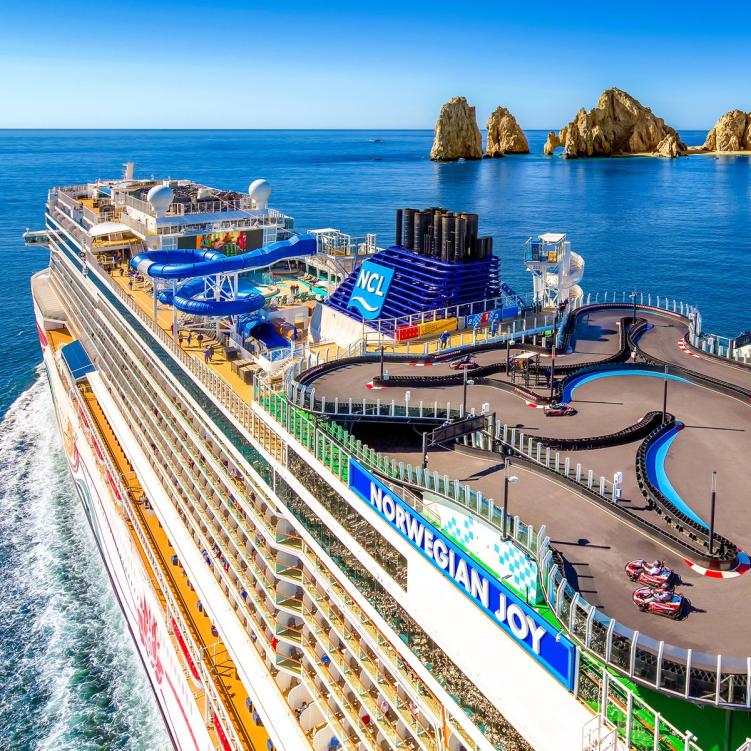 For those seeking immersive experiences, the ship's cutting-edge virtual reality complex offers a realm of interactive gaming and thrilling simulations. A serene oasis awaits within the ship's observation lounge, where panoramic vistas provide the perfect backdrop for relaxation and contemplation. As the sun sets, passengers are treated to a spectrum of entertainment, including live shows, musical performances, and themed parties.
Culinary delights abound with a diverse selection of dining venues, ranging from specialty restaurants to casual eateries, ensuring a gastronomic journey for every palate. There are three main dining rooms, the buffet, and the Local Bar & Grill included with your fare.