One hour of unreleased music from Flight Facilities… for free? Say less. One time only, you can join in on the immersive audio-visual experience NEVER FOREVER, streaming globally on June 9.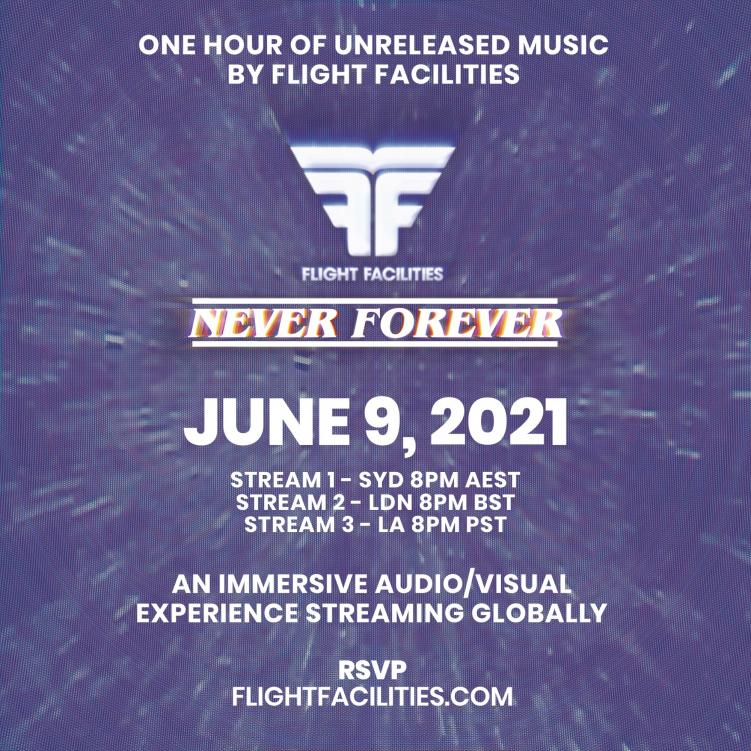 Joining in on the stream will be Babekuhl providing visuals. The broadcast kicks off at 8pm PST on Wednesday, June 9 with all the material the duo have been working on in the past few years – "some to be released and some to never again see the light of day."
"Everything is forever now, and yet there's still so much value in the finite. The nostalgia of a memory is so much stronger than a present reality. Never Forever is about chasing the magic of the moment, with no guarantees of repeats. We came to know that feeling in the club, on the dance floor, and even on the radio. It meant embracing a limited point in time, for what it was. There is something super special in that moment for us."
To ensure a place at Flight Facilities NEVER FOREVER voyage, head to flightfacilities.com for free registration, and make sure to tune in, Wednesday, June 9 at 8pm PT / 8pm AEST / 8pm BST.