Euphoria Music Festival
completes their
2017 Lineup
with their third and final announcement. As usual, the final installment brings with it a diverse range of musical talent. From rap to electronic and from established headliners to up-and-coming must see artists, Euphoria has you covered.

The headlining standouts include Moby, the dance music legend, and Chromeo, the Montreal electro-funk duo. Other must see acts you won't want to miss include the minimalist dutch house maestro, Bakermat, the 2016 breakout rapper, Russ, the west coast bass phenomenon, Minnesota, and rising star, Chet Porter.

Euphoria covers all the bases this year by ensuring there is something for everyone at their intricately curated festival in Austin, Texas. Ticket prices go up on December 16, so grab them at the discounted price while you still can to make sure you don't miss any of the world class music, art, or experiences this great festival offers.
Here is the full lineup for 2017 all in one place for your convenience.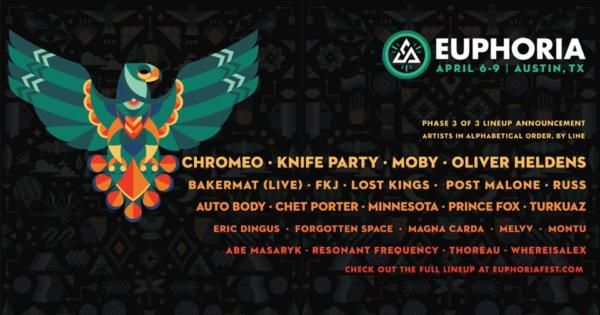 CONNECT WITH RIVER BEATS
facebook | twitter | instagram | youtube | soundcloud | mixcloud