Chicago Bassheads rejoice! For the first time in a long time (7 years, to be exact), Bassnectar is set to return to Chi-town for a massive spring gathering. The event is the first of four seasonal events for the 2018 year.
"For this first seasonal gathering we will celebrate the dawning of Spring: rebirth, regeneration, and a radiant gratitude for life. And the whole team is amping up on all levels: art, music, interactivity, and community."
Set to take place on March 30 and 31st, the lineup boasts a range of artists that have never opened for a Bassnectar curated event before. These artists include Rezz, Troyboi, TOKiMONSTA, Ivy Lab, Danny Corn, and Andrelien. Bassnectar and team have a huge full-scale event in the works for the Stephen Convention Center. Who knows what they have in store?
Pre-sale tickets for the event go on sale this Wednesday at 12pm EST. Otherwise, general tickets go on sale this Thursday.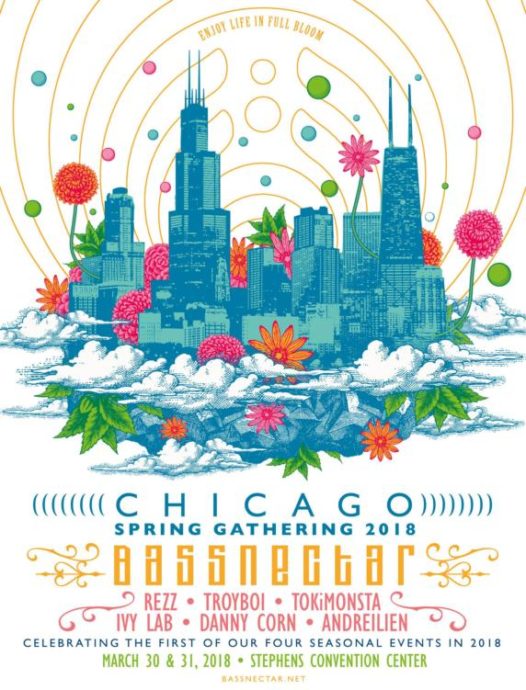 Clues pulled from the Bassnectar website to piece together where the other seasonal events will take place are below. It's not much, but it's enough to get you excited for what he has in store for next year!
SPRING: Midwest —> Chicago —> A Bassnectar Family Gathering (see below!)
SUMMER: ????? —> ????? —> rhymes with We Smile
AUTUMN: East Coast —> ????? —> ?????
WINTER: ????? —> ????? —> rhymes with New Years Weave