Dutch duo DROELOE just dropped the impressive official visual for their EP hit "Broken Bricks" ahead of their LA headline date and European tour.
There's just no rest for the wicked. The DROELOE boys are back with one more surprise ahead of their last US show performing as a duo this Saturday 11/9 at The Novo in Los Angeles. Today, the bitbird duo dropped an incredible visual for their single "Broken Bricks".
A few weeks back, DROELOE dropped their stunning EP A Promise Is Made featuring the standout single "Broken Bricks". Kalulu's enchanting vocals sway over a stripped down synth before building into a drop full of eerie synth melodies and heavy percussion. The official visual released today encapsulates the track's ominous energy perfectly; a kidnapped soldier makes a daring escape to rekindle with his lover, which as YouTube user Moksha points out, may allude to the Hans Christian Andersen fairytale The Steadfast Tin Soldier.
This Saturday, November 9th, at The Novo in LA marks their last US duo performance before hitting Europe for their final shows as a duo. Thereafter, producer Vincent Rooijers will tackle live performances solo while visual artist Hein Hamers continues to bring the heat to DROELOE's creative. Fellow bitbird producer EASTGHOST and Foreign Family's MEMBA open up the show for this "can't miss" night. More information and tickets are available here.
Check out the new visual and tunes from DROELOE and let us know what you think!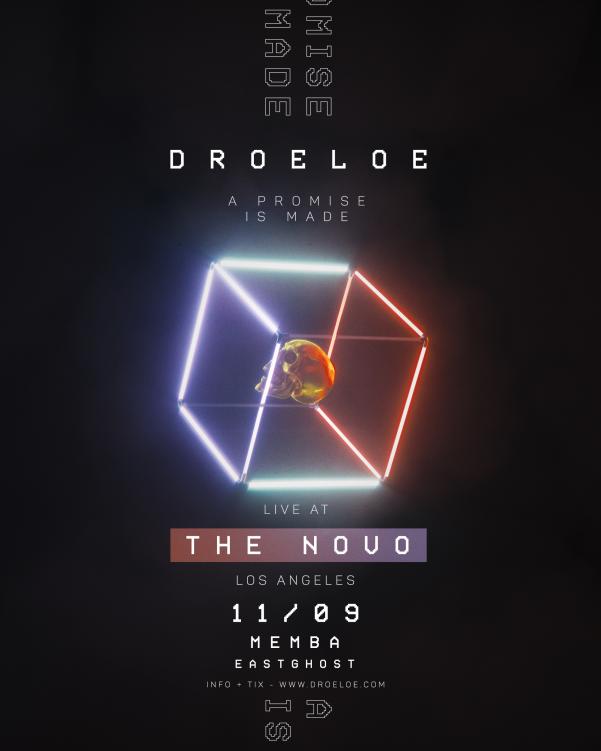 ---
Featured photo courtesy of artist.
Connect with DROELOE: SoundCloud | Facebook | Twitter | Instagram | Website