In the midst of their biggest headline tour to date, River Beats caught up with Vin of Dutch duo DROELOE, to discuss their evolving live show, their standout EP A Promise is Made, and more in an exclusive interview.
After an insane 2019, just remember that DROELOE is still only just getting started. Last year, the duo, comprised of visual artist Hein Hamers and producer Vincent de Rooijers, dropped massive collabs with Gryffin and Zeds Dead and official remixes for A R I Z O N A and Petit Biscuit. Amid the rapid rise, the duo also announced and performed their last live shows together, opting to delegate live show duties to producer Vin, thus enabling Hein to expand DROELOE's unique virtual world from afar.
There was understandable curiosity about what the future of DROELOE looked like as the duo delivered the follow up to their 2018 The Choices We Face EP with A Promise Is Made, but the vision and intention for DROELOE couldn't be more clear. Tracks like "Oath", "Grind & Hustle", and "Push Through" are eerie yet hopeful — as is the way DROELOE approach the truth hidden in the unknown, embracing change and approaching hard decisions with the resolve to grow from them.
On a blustery night in early March, I got the chance to catch up with producer Vin ahead of their first ever show at Majestic Theatre in Madison, WI, where Taska Black and Quiet Bison served up two of the most energetic and engaging opening sets imaginable. As if the evolving live show wasn't enough, Vin's thoughtful perspective on the limitless ceiling for DROELOE's intertwined visual and auditory storylines made it clear that DROELOE are well in pursuit of their promise.
Check out the exclusive interview with Vin of DROELOE below!
---
Your latest EP, '
A Promise is Made'
, opened the door for a lot of growth and experimentation, and this is the first tour you've introduced live elements. How did you decide now was the right time to make that jump?
"It was kind of in the same vein as the 'A Promise Is Made' concept and the power that's behind it. I wanted to improve what I do and make a promise to myself. Sometimes you just have to jump and start doing it — I had been making excuses like 'it's going to be too hard — live instrumentation and mic'ing it out is going to be too much', but following the whole thought process of 'A Promise Is Made', it actually came pretty naturally."
"It's pretty funny — the premise of APIM actually came when I wasn't feeling in the best of spirits. I felt like I wasn't worth the attention we were getting and was feeling guilty — a lot of lack of confidence. And then my mom told me, 'everything that you pay attention to grows', and I realized that if I create this message, I would become part of it along the way."
With that, how has the reception to the new live show been thus far?
"The first time that I played even one note on my trumpet, the crowd in Seattle started roaring and I was like 'what the fuck, this is so sick!' I was trembling with my trumpet but I still kept playing, and it was an incredible feeling — to stand up there and play not even really technical stuff, but just long notes — it feels awesome to blow into the trumpet with the speakers and everything mic'd out."
"Trumpet was one of the first things that came to mind [for the live show]. I played trumpet for 7 years, but then really stopped playing when I went to composition school because I started living on my own and there were really no good practice places around at the time…
My attention also shifted from wanting to become a trumpet player to wanting to become a producer, but trumpet still had a piece of my heart. So when I thought of doing some live stuff, I chose to incorporate percussion — which I already did when we record our music — combined with the trumpet; it was a natural one-two decision".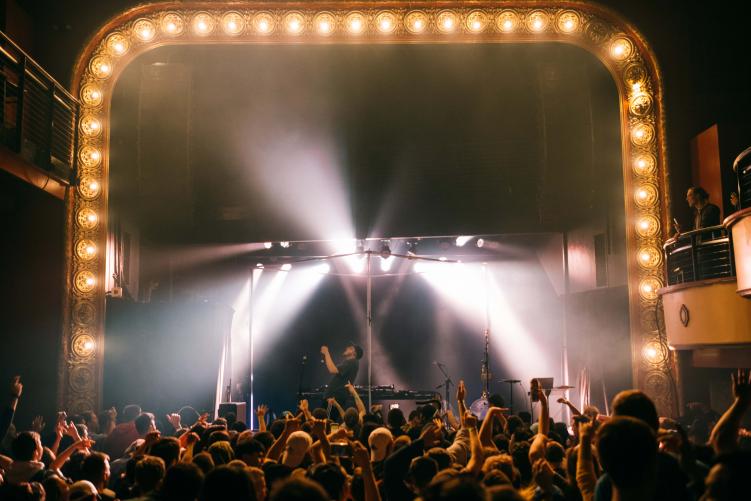 This tour is your first time playing in some new cities, like Madison! How does it feel visiting places that might have never been on your radar until you began touring?
"It's enlarging my worldview for sure — especially driving to those places on this tour for the first time. You see the whole scope of the country and how big it is, and you never really realize that when you just fly over it, you know? Also – the places that are the most unknown to me are also the places where I've met the nicest and most authentic people.
The bigger cities like LA and New York have their own flavor and vibe and it's obviously just part of how big the music scene is out there, but it's really refreshing to go here and just say hi to people in the streets. I lived in a small village in the Netherlands for a while, and it kind of feels like that — seeing the community itself in addition to the city."
What's been your favorite
'A Promise Is Made'
track to play live on the tour?
"I really like vibing and dancing a little bit on stage during "Grind & Hustle." It's a really fun vibey track, and it doesn't really "go off", but it doesn't have to and isn't really supposed to. People should just vibe to it, and that's a feeling that I get back from the crowd when I'm on stage."
'A Promise Is Made' is all about sticking to your guns to pursue your dreams. You and Hein made the choice to further split your focus on production/touring and visual art, respectively. How has that empowered you both to push the project to new heights?
 "These two weeks have been the first test run of what that would look like. From my end at least, I'm actually really enjoying it — not for the reason that we are apart but that I can really focus on the parts of the project that I need to focus on and he can focus on the parts that he wants to focus on and build. Then, in our conversation we come back and say 'yo I had this cool idea today' and share them openly. 
When we were still touring together, we were in each others' faces all the time and sleeping in the same hotel room and stuff like that. At some point, you just don't really have that much to say to each other anymore, and even if you have an idea or some sort of inspiration, it might not come out because you feel like you've said it already.
I think it's going to be great — I think we're going to get more stuff done and create bigger projects. For me and Hein as well, the end goal is to not do only live shows, but also other art related projects — say something that you can show up to at a specific location or something else entirely, whether it's digital or AR/VR. We don't want to limit ourselves. All kinds of ideas are in the works right now."
In what other ways have you embodied the message of
'A Promise Is Made'
to stay true to yourself in your personal lives, hobbies, routines, etc.?
"Like I said earlier — everything that you pay attention to grows. So also the way that you perceive yourself in relation to other people.. I try always to be mindful of what my presence does to other people and I try to be as real as possible…
When talking to fans, I don't want to come across as an asshole or like 'I'm above you'. I want to show them that everybody is just anybody — and it's what we do and how we relate to other people that can make a difference. Even the smallest things, like having a conversation with someone having a cigarette on the street, just asking someone how their day is going — even though it might not be the most comfortable question, but we're all human. It's small acts of kindness and treating other people how you want to be treated."
From what I understand we'll get a little taste of that human connection during Virtual Friends (Reimagined) — not to spoil any surprises, but..
"Honestly, that is the most amazing feeling when you see people connecting in that way. It actually didn't hit me as much when I was standing on stage at the time, but when I looked back at the footage and saw people meeting each other, I got a little bit emotional, man. It was sick."
Outside of music and digital art, where do you and Hein draw your inspiration from?
"Life and time.. Time especially, and how malleable our perception of life and time is. It's hard to explain. I have a really bad memory, but with music and sound I have a really good memory. Sometimes I listen to music from a different period in my life and it inspires me just thinking about that time — and I can only visualize those memories when I listen to that music. Listening to music and looking out into the world — and seeing shit — bad or good — that inspires me in a weird way as well."
You guys have had a breakout year with massive collabs and remixes as well, teaming up with Gryffin and Zeds Dead for originals and dropping an incredible remix for Petit Biscuit. How is it working on these versus your solo originals?
"I definitely work with more of a goal in mind — like what part of our sound do I want to have it represent? With my own tracks, I'm more concerned about what story I want to tell with the whole of the track and the vibe in general. On collabs, I try to find what will be the best of both worlds — so with Zeds Dead, more so the bass-y realm, and with Gryffin, more so a poppy sound. With our own music, almost sometimes to the point of frustration, everything has to have a conceptual purpose — whether it's a single or an EP or something else."
This time around, you've brought Quiet Bison and your bitbird-brother Taska Black on tour. What does it mean to you to have a family like bitbird on your side?
"It feels really great that there are people in the music industry that believe in creativity without any restrictions and the authenticity that is behind that. They've been super supportive throughout our whole career that we've built with them. Without them, we wouldn't be where we are now and they'll always have a big spot in our hearts.
It's like the best playground where we can do pretty much wherever we want. There's nobody we have to convince with a certain track. There are artists and producers out there that have that issue sometimes, and I can only imagine how hard it must be where you can't do something that you really want to do. That's why bitbird is the MVP."
What does the future look like for DROELOE?
"The future definitely looks bright. From our perspective, there are a lot of cool stories left to tell and a lot of things that we haven't tried out yet. Now that we have the resources and the means, I think it's going to be a really exciting time over the next couple years.
This tour with the bandwagon is just a little taste of what it can be — not that I'm not grateful for where we are right now — not at all, I'm very fucking grateful, but it definitely feels like there's some momentum.
I'm super excited to play these shows and show as many people as possible that we're evolving in terms of the project and what we're doing with the show. And I hope that everyone buys tickets (laughing)."
---
NOTE: Since speaking with Vin, COVID-19's impact on society as a whole and the music industry has taken a sharp turn. While the DROELOE tour and Night With Bitbird at Miami Music Week are currently postponed, we look forward to the day we can all celebrate the joy of live music together once more. In the mean time, be sure to support your favorite artists through streaming, merch, etc.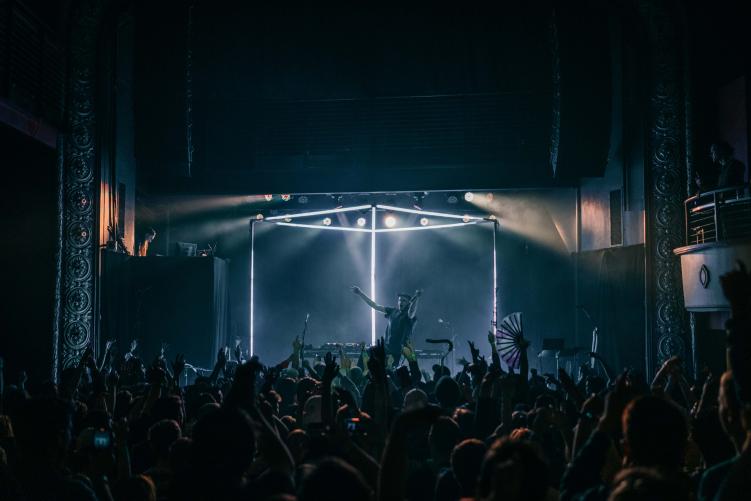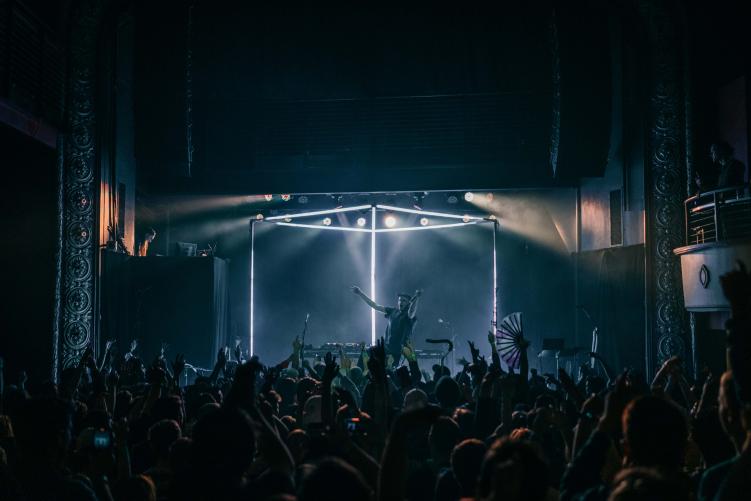 ---
Media courtesy of artist by Brandon Densley (@dnz_media)
Connect with DROELOE: SoundCloud | Facebook | Twitter | Instagram | Website