Well, IHOP officially took over the news today as it announced its name change from International House of Pancakes to International House of Burgers. Yah, burgers.
And the internet had an absolute field day over the questionable name change. Not exactly known for making burgers, IHOB announced that the move is to promote their brand new line of burgers slated to hit the restaurant soon.
Our NEW burgers are so burgerin' good, we changed our name to IHOb. For burgers. Go ahead, burger one today. #IHOb pic.twitter.com/lyciVZxAuH

— IHOb (@IHOb) June 11, 2018

Let's just say the world didn't really see the name change as being fitting. Maybe International House of Breakfast, but burgers? We don't think so either. In true troll fashion, dozens of big name brands, including Burger King, Wendy's, Netflix, and others ripped IHOb(p) to shreds.
Check out the exchanges below. They are too funny.
👦: Grandpa, do you remember the Great Burger Wars?
👴: lol no I was chillin drinkin milkshakes and trying to make sense of Westworld

— Denny's (@DennysDiner) June 11, 2018
Dear internet thanks to everyone asking me this but no not every brand is having an identity crisis so I'm gonna stick to Pop-Tarts https://t.co/L6NsUR6WP9

— Pop-Tarts (@PopTartsUS) June 11, 2018
brb changing my name to Netflib

— Netflix US (@netflix) June 11, 2018
We are excited to announce that we will be switching our name to Pancake Castle.

— White Castle (@WhiteCastle) June 11, 2018
So we're thinking about rebranding. pic.twitter.com/GBd2ZuY6CR

— American Bar Association (@ABAesq) June 11, 2018
*clears throat*

Ok, everyone we have an important announcement.

*puts on corporate voice*

It was a long meeting today, but in the end we decided that we will not be pivoting to burgers.

— Little Debbie (@LittleDebbie) June 11, 2018
And you gotta love Wendy's and Burger King reaction. Priceless.
Remember when you were like 7 and thought changing your name to Thunder BearSword would be super cool?
Like that, but our cheeseburgers are still better.

— Wendy's (@Wendys) June 11, 2018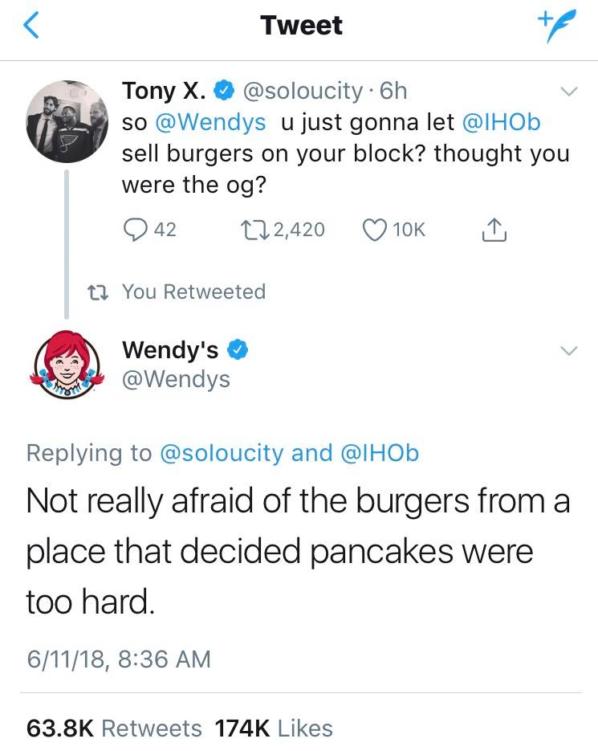 Burger King even changed their name on Twitter. Troll level 100.

Even some celebrities got in on the action
IHOb is the guy who gets a face tattoo of the girl's name after 1 date

— christine teigen (@chrissyteigen) June 11, 2018