Guy and Howard Lawrence, the brothers behind Disclosure, announced an indefinite hiatus over Twitter last Thursday. In a handwritten letter, the duo thanked their fans for supporting their music over the course of a career that has already spanned 7 years. Although the wording of the announcement was rather cryptic, the artists assured readers that they'd make an appearance at Wild Life Festival in June, as well as "a few other bits" this year.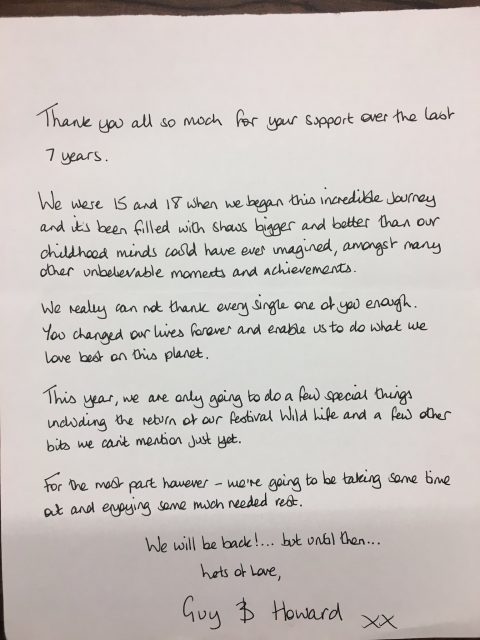 At the ages of 18 and 15 respectively, Guy and Howard began a journey in 2010 that led to a meteoric rise to success. After the 2013 release of their debut album Settle, they cemented their signature sound, which featured careful percussion, reverberating melodies, and a diverse cast of contributing vocals.
This stunning debut not only catapulted them to the top of UK's charts, but also led to success in the US, where electronic music did not enjoy as much popularity. With the unmistakable hit "Latch", Disclosure led the vanguard in popularizing a new wave of electronic music in the US.
The duo's sophomore album Caracal released in 2015 enjoyed moderate success but did not garner as much acclaim. Whether or not Caracal made its way to year-end lists, there was no denying that in the lead-up to the release, Disclosure faced immense pressure, especially after such a memorable debut.
Given this context, the duo's letter to the fans serves as a reminder to the music world of how young they still are. In a genre where artists enjoy careers that span decades, the Lawrence brothers were right to take a step back from the studio and touring in order to prevent burnout.
Good for them for realizing that they needed a break. Here's to hoping they return to the music world with newfound energy, and more releases that show off their immense talent.
CONNECT WITH DISCLOSURE:
Website | Facebook | Soundcloud | YouTube
CONNECT WITH RIVER BEATS:
Facebook | Twitter | Instagram | YouTube | Soundcloud