DIRTYBIRD FANS FROM ALL OVER WILL FLOCK TO A NEW LOCATION ONCE AGAIN FOR THIS YEAR'S DIRTYBIRD CAMPOUT WEST COAST.
Located in Central California, the scenic Modesto Reservoir Campgrounds will serve as the new venue for this year's event, which is set to take place from Oct. 4-7.
With the location change, the festival will be easily accessible by birds from across the globe. The venue is just a short few hour drive from major international airports. Additionally, it's only a two hour drive from Oakland and four hours from Los Angeles.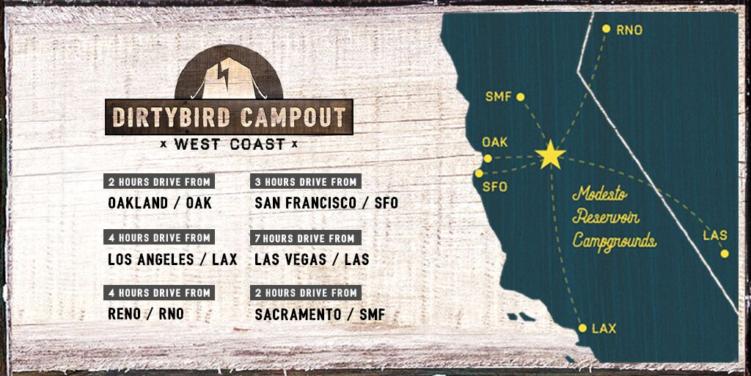 Because the site is home to an actual campground, attendees will have access to RV hookups, picnic benches and a variety of other amenities. The new location will also feature a swimmable lake and lush, green fields for activities, which (hopefully) means less dust. Click here to view photos of the venue.
Tickets will be available on Dirtybird Campout's website on June 15 beginning at 10 a.m. for their flash sale, which will offer the lowest tier prices of the festival. Members of the Birdfeed, the label's subscription service, will receive exclusive access to tickets before the flash sale.
RSVP on the event page on Facebook and sign up for the West Coast Campout newsletter to stay up to date.
Watch the announcement on Dirtybird's Youtube Channel below:
If you need even more of a reason to buy tickets, take a look at our review of Dirtybird Campout West Coast 2017 here.
---
Connect with Dirtybird Campout:
Website | Facebook | Twitter | Instagram
Connect with Dirtybird Records:
Website | Facebook | Twitter | Instagram | Soundcloud | Birdfeed
---