Desert Dwellers is currently touring across the country with gigs in both intimate venues and large festivals! Check out the full touring schedule here.
---
The creatives behind Desert Dwellers strive to make music beyond borders. Brought together in the late '90s by the legendary Moontribe gatherings, Amani Friend and Treavor Moontribe have carried their worldly, prolific, and cleansing blend of electronic music to terrific heights. This weekend, Desert Dwellers and Poranguí will play The North Warehouse in Portland, Oregon, as part of their continuing 2022 tour.
Originally performing under the moniker Amani vs. Teapot, Amani and Treavor pioneered a unique genre in the electronic music scene. Upbeat tribal tech, psytrance, yoga dub – describing their sound feels just as mystical as the songs themselves. Their music feels equally at home in clubs as it does in yoga studios, in the jungles, or on stages of international festivals. It's a sonic incense for the mind and body.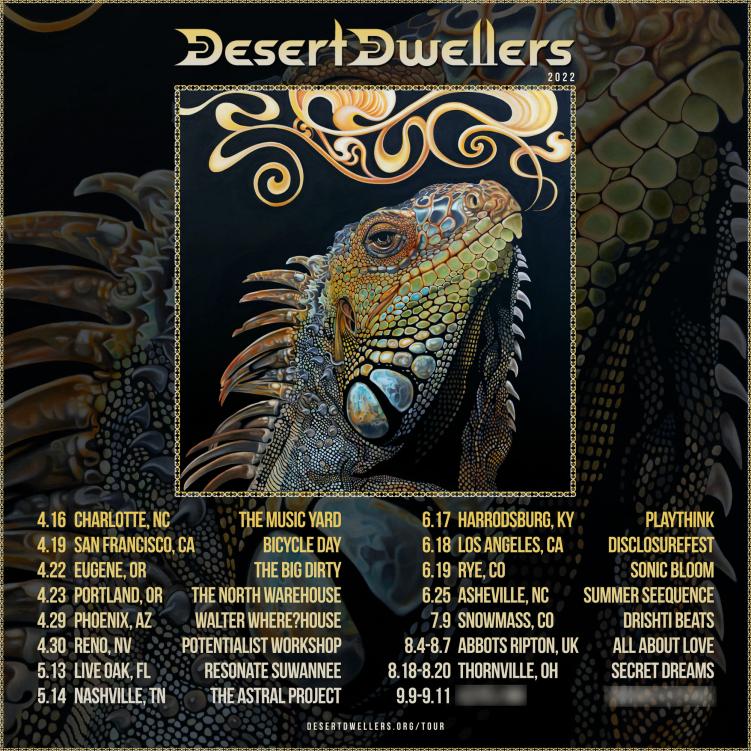 Desert Dwellers started by producing the Downtemple Dub series in 2006 – a series of albums intended for yoga practices. Their combination of earthy percussion, tribal dance, and chilled-out dubstep led them to create their label Desert Trax in 2005.
Their last signature release, Breath, is the fourth elemental installation in their DownTemple Dub Series. The previous Wave, Flames, and Roots explored the elements of water, fire, and earth, respectively. With Breath, the group took a more spacious approach when conceptualizing the air element. In 2020, the duo released a series of three Breath remix albums across the BPM spectrum by a host of major figures in the industry.
"We wanted to make an album that appealed to many listeners, and could be played at a big music festival, or at an ecstatic dance or a yoga class," the group said in an interview with EDMIdentity.
This Saturday, April 23rd, Desert Dwellers and friends are returning to PDX with a show at The North Warehouse.
One of their fellow Desert Trax artists – Poranguí – will be joining the duo for their Portland performance. As a multi-instrumentalist known for his solo improv, Poranguí has known traditional forms of music, healing, and ceremony since birth. For their upcoming Portland show, the Dwellers and Poranguí will also be accompanied by Bogtrotter, Drrttywulvz & Sylph.
With cross-cultural performances that often includes fire performers and aerialists, Desert Dwellers create a breathtaking show that bridges the gap between movement, mindfulness, and music.
---
Desert Dwellers and Porangui | Doors: 9:00 PM | THE NORTH WAREHOUSE – Portland | Saturday, April 23, 2022