deadmau5 has unveiled the most complex production he's ever presented. The artist is now in full swing on his cubev3 U.S. tour, which just wrapped up 5 sold-out shows at the Hollywood Palladium.
For his third installment of the cube, deadmau5 introduced a 360-degree rotation feature. With his booth and equipment set up in the center, this massive structure rotates, tilts and completely comes to life with mind-bending visuals and custom selections of mau5 tracks.
The original cube debuted at Coachella in 2010 and made deadmau5 one of the most in-demand live acts in the world. It was 15 feet tall and sat Joel Zimmerman (deadmau5) at the very top. His follow-up cube 2.1 took him 7 additional years to complete. His "lots of shows in a row" tour showcased the new structure throughout 2017.
Now his third installment features custom deadmu5 programming and was made completely in-house by the deadmau5 production team. To put in in perspective, every second of cube v3 visuals requires 691,200,000 executions of 100+ lines of code. That's close to 169,120,000,000 individual calculations per second.
Cube v3 Takes L.A.
During his Los Angeles shows the producer played a heavy-hitting set of both mau5 classics and brand-new material. The stadium pleasers "Ghosts 'n' Stuff" and "Monophobia had the 5,000-person venue singing at the top of their lungs.
___ singer Lights made an appearance onstage to perform her deadmau5 collabs "Drama Free" and the iconic "Raise Your Weapon." Always the jokster, mau5 thanks her by asking the crowd to "give it up for Liggets!"
After a 2-hour performance deadmau5 spun the cube around to come down and greet the crowd. They hollered for an encore. For his final song he brought out the infamous Sofi. Mau5 fans know her as the iconic voice of "One Trick Pony" and "Sofi Needs a Ladder," the latter being their finale as a duo. The crowd screamed as the kickdrums began to build. The tech-house beat dropped and Sofi nailed her vocals. She never missed a beat. By the time they were done an exhausted crowd hauled their ecstatic and sweaty bodies out the doors and on to the Sunset Strip.
During the weekend, his mau5trap record label also held a special pop-up shop in Hollywood. Fans could stop by for special signings and Q&A panels with deadmau5, i_o and other various label artists. Special mau5 head galleries and an immersive musical installation from Specdrums made it a tech-savvy prequel to the evening's cubev3 shows.
New deadmau5 music
The multi-Grammy nominated artist is an icon for pushing the boundaries of house music. Across his seven critically acclaimed albums his fan base has grown to over 15 million listeners.
This week, deadmau5 will release here's the drop! – a collection of remixes of material from his 2018 orchestral album where's the drop? Through 15 tracks, plenty of house music stars and mau5trap artists lend their talents. Morgan Page shares his version of "imaginary friends," Matt Lange tackles "superbia" and Spencer Brown reinvents "fn pig." The album drops on October 4th.
Catch deadmau5 on the rest of his cubev3 U.S. Tour and get tickets here.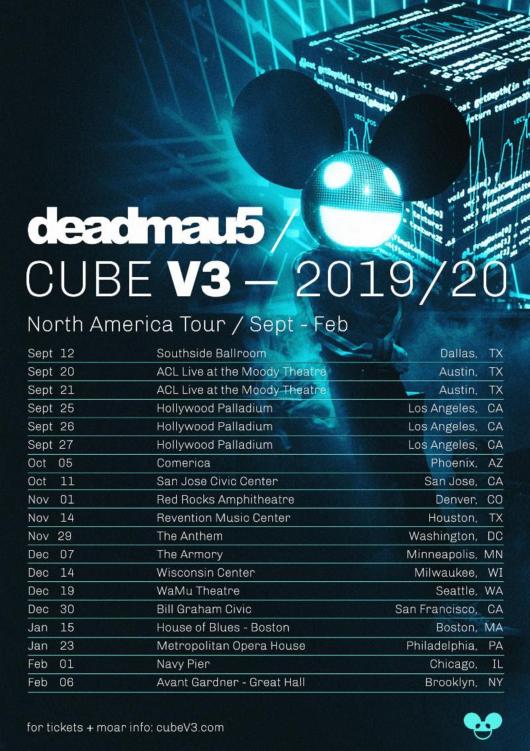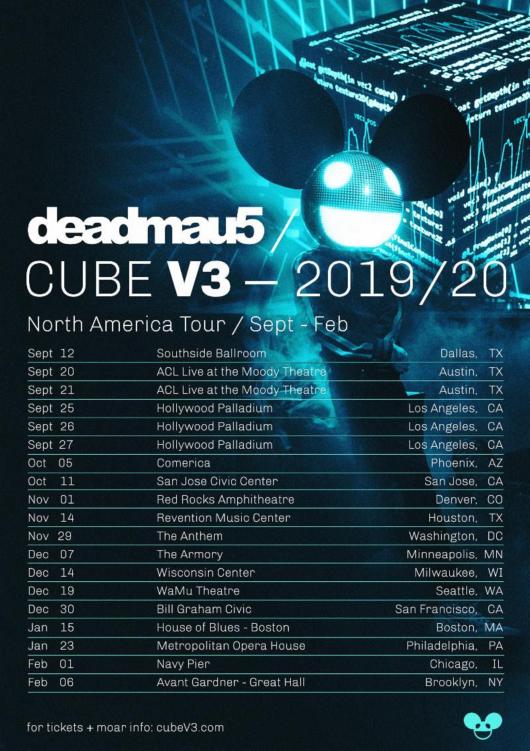 Follow River Beats to stay up to date on all your favorite Music.