The Second Annual Day For Night just wrapped up this past weekend and wowed fans by presenting an eclectic mix of both visual and musical artists. As one of the premiere festivals in the circuit, Day For Night is pioneering a new wave of festival culture.
To keep in tune with Day For Night's innovative nature, we decided to mirror their strategy and have highlighted what makes this festival so great: the incredible artists that bring it all together.
Here are the fifteen things that we thought set Day For Night apart from the rest:
Houston rappers will never die. They sure proved that right on day one. Some of  "country" raps earliest roots began in the city of Houston, and what better way to kick off the festival by having this extraordinary group of names "Welcome" all the guests of the festival to Houston.
Here is a list of just some of the names on stage during their opening hour set — Z-Ro, Lil' Flip, Slim Thug, Bun B, Mike Jones, Devin the Dude, Paul Wall, Lil' Keke, Yungsta, Big T, E.S.G., and J Dawg.
Paul wall even hung out signing autographs with fans for well over an hour.
Paul Wall — Chad Wadsworth
14) Anklepants is realllllllllly weird. But, we kinda love it.
Yes, there is an animatronic d*ck on his/her face. Yes, they look like they just stepped out of a psychedelic Mardi Gras parade. And yet, we can't stop watching. It's like a bad car wreck. You can't take your eyes off it. The sounds are out of this world, and the dancing looks like something a space alien would do. I routinely asked myself, "What am I watching?". Overall, we think that's the look Anklepants is going for. You either love Anklepants, or you don't. And we definitely do.

Anklepants— Julian Bajsel
13) NONOTAK's "SHIRO" was hands down the winner of Day For Night.
So inspiring and immersive.
"SHIRO" acted as a live performance stage and an art installation. It was truly next level. We have never witnessed something as breathtaking as this performance. This truly captured what the festival was all about. The true combination of light and sound.

Even the crowd sensed how special this performance was. Every member present sat on the ground and openly watched Nonotak.

From the depths of the 2nd floor of the Jordan Barbara post office, the setting and placement of this exhibit were truly special.
📹: Stephen Ridgeway
12) Little Dragon is one of the most versatile bands on the planet.
Arriving to Day for Night approximately 12 minutes before their scheduled set time, Little Dragon front-woman, Yukimi Nagano, announced they barely were able to land in Houston due to weather, but were playing with another groups instruments. To make matters worse, temperatures were below 30 degrees for most of their set. It didn't matter though. The Swedish group was flawless during their hour set. Talk about clutch.
11) We can't stop listening to Tycho.
Seriously though. We can't stop.
It's no surprise that Tycho plays sunrise sets at Burning Man. Their sounds at Day For Night consisted of smooth and melodic bass, mixed in with heavy guitar solo's, and a small dose of insistent percussion. By far some of most beautiful sounds of the weekend. What an amazing set. The absolute perfect place for their brand of music.

10) The festival logistics were a total nightmare.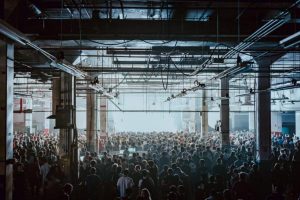 So unfortunately, not everything was perfect. We understand it takes a while to work out the kinks in a new festival. In Day for Night's defense, this was only their second year, and changing venues after year one is also very challenging. So, in retrospect, here is the main issues we had with the logistics of the festival.
— Uniformed security and staff members, plumbing problems, soccer moms running the bars, lack of entrances and exits to the Barbara Jordan post office, sets times were off, ZERO water filling stations, and just a general lack of communication between festival, staff, and media.
With that being said, ALL of these problems are easily fixable after some searching and reflection. There is no doubt they will figure it out.
Photo: Julian Bajsel
9) Chet Faker aka Nick Murphy is a bonafide rockstar.
If you didn't know Chet Faker already, its time to get to know him. With very little exposure in the States, 2017 is Nick Murphy's year to explode. The man is officially headed towards rockstar status. Day For Night was the perfect feel for his amazing voice and sound. What a great way to open for ODESZA. This is our Staff pick's set of the weekend. Enjoy :).
When an artist is 30 minutes late for their set, fans are normally a little restless, but for Travis Scott, the aesthetic was absolutely perfect. Jumping on stage 34 minutes after his scheduled start, the hour long set was chalk full of high energy. From having a security guard escorted out, to cursing our several fans, Scott did not disappoint.


and BTW. It's not that 2015 or 16 weren't his year, we are just poised to say he will absolutely slay the festival circuit in 2017.
7) Bjork was by far the Biggest Disappointment of the festival.
Talk about a total let down. The festival and Bjork promised some high and lofty goals. They surely delivered for some fans, but for most, the bitter taste of defeat was at hand. Bjork Digital had over 6-8 hour wait times to view the 80-minute experience, and her DJ set was one of the strangest things at the festival. While on stage Bjork was barely visible, hiding behind fake plants. No visuals and lights were used, and the mood was very un-inspiring.
Bjork—  Roger Ho
6.) Soulection is destroying the competition.

Soulection out of Los Angeles identifies itself as an entity that "exists to inspire a shift in passive consumption placing value on community, discovery, transparency, DIY growth and the artistry of music"
And boy did they. This felt like the best house party you have ever been to. Soulection sound, brand, look, feel and aesthetic were not matched all weekend. Inviting their entire crew onto the stage, the rotating group of DJ's kept the kept the energy levels high for the majority of their 2+ hour set. Soulection prides itself on being called the "sound of tomorrow", and we couldn't agree more. Using a combination of beat-oriented electronic grooves with vocal samples and chops that often reached back into the early 90's and 2000's this group is changing the way we look at labels.


Soulection— Julian Bajsel
5) Kaskade is Still Kaskade.
No words necessary. Just enjoy.


Kaskade— Julian Bajsel
4.) Aphex Twin disrupts weather patterns.
Picture this: It's 75 degrees outside, the sun has just gone down, Aphex Twin is laying down some of the coolest/weirdest sounds we have ever heard and BOOM, a drastic shift in the status quo. Aphex Twin drops EPROM, the wind kicks up, the temperature drops to sub 50, and the rain begins to fall. Talk about an unreal setting. This set will go down as one of the craziest moments in festival history. Aphex Twin's first performance in the U.S. since 2012 didn't disappoint.

Kaskade— Julian Bajsel
3.) ODESZA finally drops new music.
THANK GOD.
New Music had been previously teased in the group's return to Red Rocks video, which was released in early December. ODESZA brought several changes to their set at Day For Night, mixing in some incredible live edits of their original track "Sun Models" and using some of the music from Clayton Knight solo project BeachesBeaches.

2.) The Jordan Barbara post office was far from perfect, but we loved it.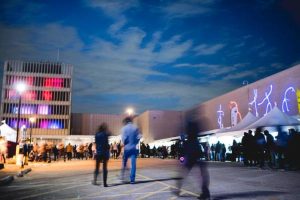 The venue needs lots and lots of work. The plumbing and overall vibe needs some serious TLC. But seriously, how cool was that space? Two floors of immersive music and art. The 2nd floor felt like time and space didn't exist. The entire festival felt like a warehouse party you stumble on at 3am in a foreign strange place. The building was perfect for such an immersive selection of art and music.
Photo: Sara Marjorie Strick
1.) Day For Night is truly the festival of the future.
Photo:  Greg Noire
Like we stated before, we get the festival needs to work out its kinks, but overall we rate Day For Night an overwhelming success. It is very hard to find any other festival inside the United States that is putting on this type of event. The combination of world-class visual artists with unique and special musicians give fans the opportunity to see sights that not many others will witness. The festival was tucked into the massive cityscape of the downtown Houston area but gave the attendees the feel of another world.
We have full confidence that 2017 will be an even better year for the ever-growing festival. Until then, please enjoy the sights and sounds of such a remarkable experience.
CONNECT WITH RIVERBEATS
facebook |twitter | instagram | youtube | soundcloud