Written by Caleb Beck.
Canadian dubstep mainstay Datsik brought his "Shogun" visual production to New Orleans' Joy Theater, and didn't let up his hip-hop laden bombast for a second. "All my ninjas with me?" echoed loud and clear over a rumbling LED-paneled dojo stage. All I saw for about four hours was thrashing hair, lasers and middle fingers raised in approval.
Opening for him on this stop of the Ninja Nation Tour were Firepower Records labelmates Wooli and Riot Ten, along with Wakaan's own Space Jesus.
Wooli mixed an impressive range of low-end bangers in his 45-minute set. I heard Eptic's "Nightshade" and Nero's classic "Innoncence" woven in, along with a huge remix of Bassnectar's "What". A new collab made with Funtcase sent the crowd into a frenzy.
Riot Ten hit the decks next and played whatever the hell he wanted, which paid off! That was everything from high-BPM brostep to Migos' "Bad and Boujee" to Jimmy Eat World's "The Middle." I mentioned to the guy next to me I like hearing metal artists sampled and on a dime System of a Down's "Chop Suey" was layered in. Bewildering.
Space Jesus is an absolute madman, and has amazed me in this venue before. His zoned out, intense sound design is more surreal than aggressive, more X-Files than "break your neck, headbangers." His remix of the Grateful Dead's "Looks Like Rain" song with Bleep Bloop, "Ichabod Crane," and the forever unreleased "Space Jam" theme remix were all highlights.
"I remember freezes, I remember hurricanes, I remember UFOs," Space Jesus said wryly over a beautiful downtempo song that closed his set before Datsik brought the house down.
After a ten minute intermission that curtain dropped, and the glowing Shinto shrine roared impossibly loud to life. Datsik came out donning a full Mortal Kombat-style ninja getup and launched into over two hours of relentless, classic 2009-era dubstep with some new twists.
Originals from this month's Master of Shadows EP like "You've Changed" and "Warriors of the Night" thumped so satisfyingly on the stage's infamous PK sound system. The ceiling under the balcony rattled in protest, hippies that grew up in mosh pits threw their backs and grit their teeth.
He teased fan-favorite "Swagga" before launching into Moody Good's remix of Noisia's "Get Deaded," blending old and new school firepower seamlessly.
Dubstep's ninja is a huge fan of 90's hip-hop, by way of DJ Kool's "Let Me Clear My Throat" and his song with Snoop Dogg, "Smoke Bomb." Solid gangster rap acapellas played out over his heaviest tracks, which synced all too smoothly with the visual stage production.
Even going beyond set time, fans cheered "Datsik" for an encore more than once, a testament to the staying power of the pioneering ninja producer.
View the photo gallery below:
This slideshow requires JavaScript.
If Datsik is headed to your city, don't miss out!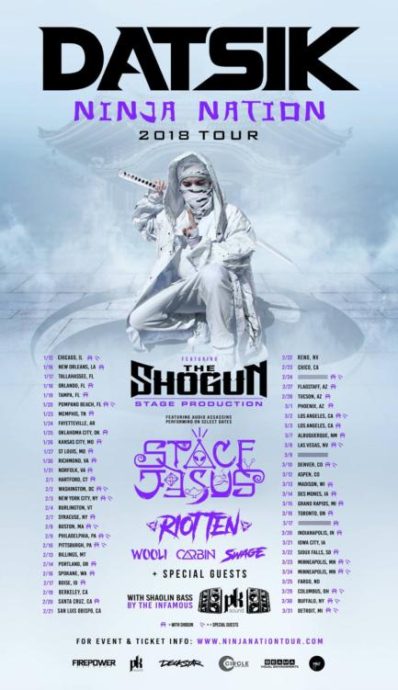 Space Jesus photos: Kelsey James
Datsik photos: Caleb Beck & Sammy O'Dell