Revealed: The Spectacular Full Lineup for Das Energi Festival 2023. Tickets are officially on sale, you can grab them here. 
---
The stage is set for an extraordinary celebration of dance music as V2 Presents proudly announces the highly anticipated full lineup for Das Energi Festival 2023. This year's roster is a testament to the festival's commitment to showcasing a diverse range of talent, featuring renowned artists such as DJ Snake, Excision, Porter Robinson, and Zeds Dead, among an array of other exceptional performers.
Adding to the excitement, a dynamic selection of emerging artists including INZO, Emorfik, Kaivon, Kream, Ravenscoon, Tape B, Disco Lines, Crystal Skies, Evan Giia, Godlands, and more will introduce a fresh wave of sonic exploration to the festival's lineup. These rising talents will complement the seasoned festival veterans, such as Jauz, Valentino Khan, Deorro, Tchami, Timmy Trumpet, Audien, Dabin, Whethan, and many others. Meanwhile, the house sounds will be skillfully delivered by Anna Lunoe, Aluna, Noizu, Dombresky, Nostalgix, Omnom, and Chapter & Verse, while the heavier spectrum of Bass and Dubstep will be represented by artists like Ghengar, PhaseOne, Liquid Stranger, Peekaboo, Tvboo, and more.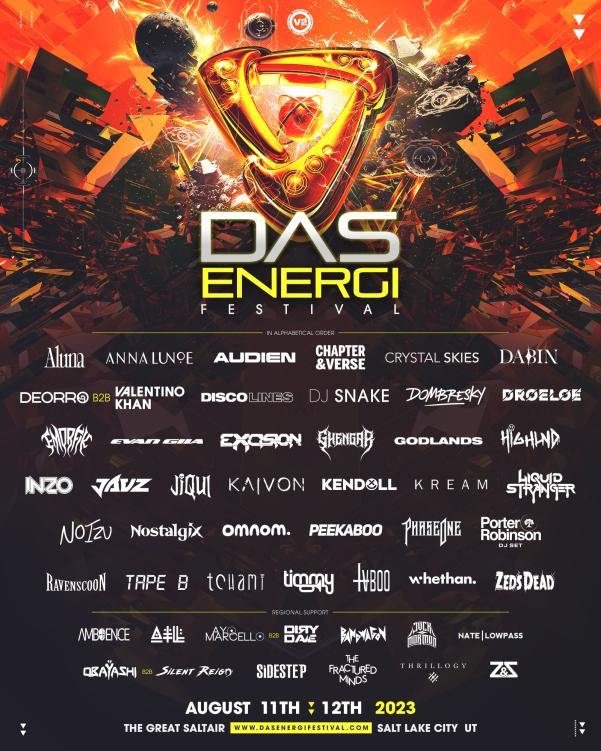 Prepare for an unforgettable journey into electronic music as Das Energi Festival 2023 takes place on August 11th and 12th, nestled on the outskirts of the breathtaking Great Salt Lake. The Galactic Flats will reach new heights, the Synergy Station will amplify its energy, and a state-of-the-art main stage will make its debut, promising an immersive and exhilarating atmosphere for the festival's 11th-anniversary celebration. With its commitment to delivering a boutique festival experience that defies the ordinary, Das Energi Festival 2023 is bound to captivate and enthrall its attendees.
Reflecting on the festival's ethos, V2 co-owners Jeremy Moreland and Brandon Fullmer expressed their excitement, stating, "Das Energi Festival stands as a beacon, celebrating the evolution of dance music and honoring its deep-seated roots from which V2 was conceived. Each year, we strive to create a diverse and harmonious lineup that mirrors the essence of our music community, bringing together the industry's brightest stars and rising talents. Enhancing the overall festival experience and refining the production quality remains our unwavering commitment. As we gear up for another year, we are brimming with excitement to reveal the latest chapter in the Das Energi Festival saga, alongside our incredible community!"
Prepare to be swept away by pulsating beats and electrifying performances as Das Energi Festival 2023 showcases the very best of dance music, solidifying its place as an extraordinary celebration of the genre's rich heritage and vibrant future.