What began as small gathering in the Mojave Desert grew rapidly to become a way of life. A record label, a series of festivals, a nationwide tour, and an ethos came to fruition over the years.
But what is it that sets Desert Hearts apart from any other west coast party crew?
First, it has the adulation of the press. The now-defunct THUMP (let's briefly pour one out in memory of this integral media platform) named Desert Hearts the "West Coast's fastest-growing party squad."
Second, it promotes openness and accessibility. All of the releases on the Desert Hearts label are available for free. These tech house tracks, which range from acidic excursions to bouncy, gritty dance numbers, are not only good but purposeful. Any DJ will attest to how DJ-friendly these 4-to-the-floor tracks are.
Third, the ethos. Everyone in the collective loves to party with a purpose. The carefree, easygoing attitude is just a facet of the grander goal of promoting acceptance, creativity, and passion.
But don't just take our word for it. Take a look at some footage below.
Here, a Desert Hearts DJ plays a game of Connect Four while spinning tracks. Look at that concentration. [Footage courtesy of @technoandchill]
The official aftermovie for the 2017 iteration of the Desert Hearts camping festival shows costumed-out revelers, free expression, and a love for good music.
As they embark on the City Hearts tour, the collective seeks to bring the camping festival to a club near you.
It truly is something you have to experience for yourself. If you're in doubt, take the leap of faith and experience City Hearts. Look to the tour dates below and mark off your calendars.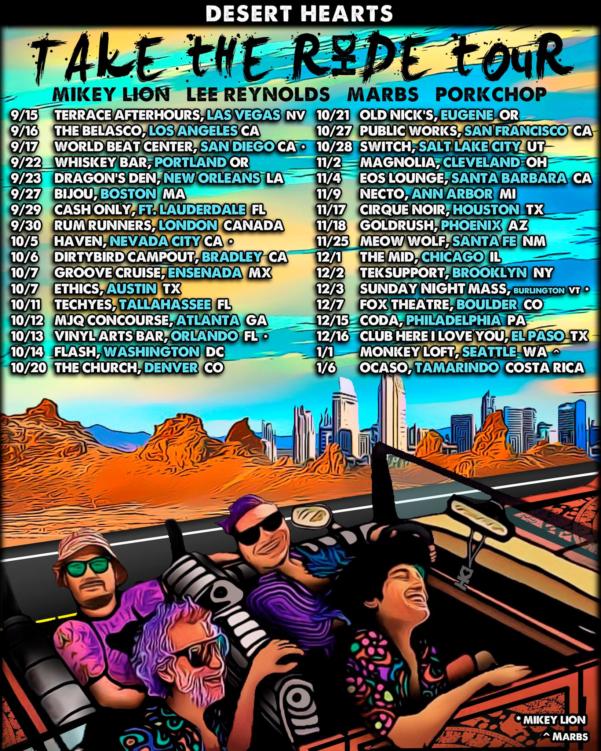 ---
Follow Desert Hearts:
Web Page | Soundcloud | Facebook | Twitter | Instagram
---
Feature image courtesy of Desert Hearts.