ALTHOUGH THEY'VE ONLY BEEN IN EXISTENCE FOR A YEAR, WASHINGTON D.C. LABEL CHUB RUB IS ALREADY MAKING WAVES IN THE HOUSE MUSIC SCENE.
With a signed track from Dirtybird newcomer Danny Kolk, over 1 million streams on Spotify and no signs of slowing down, these self-proclaimed weirdos are ones to watch.
River Beats was able to chat with label founder Zach Eser (zacheser) to find out more about Chub Rub. Read about where the idea for the label came from, their goals and what's in store for their near future in our exclusive Q&A below.
---
Most of the team have produced/messed around with DJing on the side…When and why did you guys decide you wanted to create a label?

"We are all part of the same community in D.C. and Baltimore and one of the conversations among our scene for the last five years has always been about how our city is on the cusp of being the next big place for dance music…But the only way to finally get over, to borrow a phrase from wrestling, was for us to band together and get everyone to actually play each other's stuff out and collab and rep each other. Not to say that the people in our scene didn't support each other before, but I feel like nobody was really taking responsibility for bringing our scene to the next level.
So, last summer I built a private Facebook group and added all the people I knew who were interested in producing House, Techno and Disco and stuff and was like, 'Hey guys – we're all in here now. Let's start trading what we're working on so we can play each other's stuff out, take control of our scene and curate the sound that we want our community to be known for.' Long story short, that Facebook group quickly turned into a very specific group of people and the label just kind of came naturally from that."
Who is on your core team and what are their positions?
"I am the founder of Chub Rub and the Chief Creative Officer, I guess. I listen to all the records we get in, tell the team what we should sign, make all the artwork and promo materials and come up with the overall creative vision and aesthetic.
The rest of the team consists of Eric (from RaceCarbed) who acts as the GM and CFO for the label. He is one of my primary sounding boards and uses his many years of nightlife experience and knowledge of brand building to help execute my vision.
Rawle (Rawle Night Long) is our community manager and assists me with A&R. His job is to work with Kyle and myself to keep an ear on the ground and a pulse on our fan base. He is also a critical part in helping me with PR.
And last, but not least, Kyle (SarasBrodir) is our Label Manager. He helps me out with A&R and networking with the new artists we sign. He handles contracts, assists me in working with artists for their creative vision for what we sign so we can highlight their inner weirdness when it comes to promo. He's also easily the most focused and even keeled out of all of us, so he's crucial to keeping everything from burning down."
Where did the idea for the name come from?
"I have been involved with the body positive community for over a decade and I always joked about how 'Chub Rub' would be a perfect name for a weird little side project or party or something that was all about building positive vibes and preaching self-love. So when it came time to make a name for that private Facebook group of producers, and we started to get the idea that it could maybe grow into something more, Eric basically was like, 'Dude – you should just call it Chub Rub. Who cares.' And the name stuck – especially with all of the burgers and Chuck [the label mascot] and what not."
---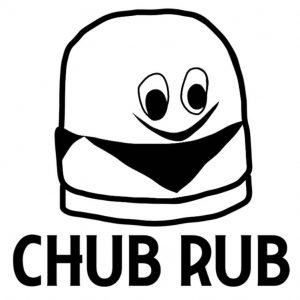 ---
What is your guys' vision for the label?
"We want it to showcase the nutty, weird, chunkier side of House music and Techno and we want it to be a resource for positivity, inclusiveness, and general feelings of goodness.
One of our taglines that we always try to remember is 'Weird Music for Weird People.' We want everything we do to feel like the nerdy table in a crowded high school lunchroom – without any hint of irony."
What is one or two initial main goals you guys have for the label?
"It would be nice for all of us to tour together at some point or do a crazy event somewhere, but our main priorities now are to build a great catalog of music that feels authentic, unique, and dynamic and to create a community feeling around what we're doing. House music now, more than before, needs more quirky, fun weirdos and we want that to be part of what we're known for bringing to the table."
Even though you guys are fairly new, you already have some impressive accolades under your belt. That must have taken a lot of hard work from the team. Can you elaborate on how you reached those goals?
"Luck. In all seriousness though, because we've been DJ'ing for so long and we've made so many friends and met so many peers over the years, as we were prepping to launch Chub Rub, we just reached out and said, 'Hey – we're doing a thing.' And people responded positively. And some of our homies we've met online, like Danny, just happened to be like, 'I like what you're doing. What do you think of this?' And we signed his demo. And the moment that came out, and some of the tracks from the first compilation went viral on Spotify, the ball just started rolling.
I should emphasize though that we take pride in really just wanting to have a good time and put out music we fuck with and that we think people will like to get weird to. So we know this has been a huge blessing and we don't take that for granted. We want people to know we have worked really hard to try and make something special. The reaction we've gotten so far still baffles me as well as everyone else on the team."
---
Listen to Chub Rub's Fancy Sauce Vol. 1 Compilation Below:
---
You said that today's House music and dance music, in general, can use some "quirky, fun weirdos." Can you elaborate on that?
"Dance music was made by social outsiders in the 70s and 80s. After EDM blew up, and the music industry realized they could capitalize on it, the mainstream dance scene washed away a lot of that legacy to appeal to conventionally attractive, hetero, largely white suburban young people. But thanks to EDM fatigue and the hustle of some of our peers, much of what was conventionally underground 5 years ago has started to filter into the mainstream.
We still need more weirdos, though. More people willing to be different. More people willing to re-institute diversity on a larger scale. We need people willing to take risks creatively. More people to educate the new generation of House heads on where Techno and Disco and House originated from – and to educate them on how to respect that legacy."
Tell me more about the "musical renaissance" happening in D.C. right now and how Chub Rub is playing a part in that.
"Between Moombahton, the fact we have multiple nationally and internationally recognized dance music venues in a 3-mile radius, and the sheer volume of talent coming up between the cracks in the sidewalk, D.C. is ludicrous. Aside from us, there's Ghetto Ghetto, Good Buddies, ROAM, The NeedlExchange, DMV Deep, promoters like Nu Androids and Glow and Steez Promo. Literally insane amount of dance music muscle at the moment in our little slice of the East Coast.
The part we've played in this short amount of time, I feel, is I think we've made it clear that for something to prosper, we need to communicate a strong sense of community. That whole idea that a rising tide lifts all boats. It also helps that we like to be goofy and goofiness, for a long time I feel, has been kind of missing from our scene."
Tell me more about the vision for the "community" you guys as a label are trying to build in D.C.
"Serious parties and labels can be fun, but it's nice to have something fluffy and ridiculous to balance that out. That's where I think we want our niche to be. And we want it to feel inviting and organic and real as opposed to some highly plotted scheme of marketing and webs or whatever."
Is there a particular sound that Chub Rub is looking for when signing tracks?
"We like what we like to call 'the chunk.' We want it to move, groove, and not be afraid to be freaky. But overall we want demos sent to us to feel like it captures what you as an artist would consider your inner weirdness. We like Techno, Tech House, vibey shit, thick Disco, big kicks, 808s, breaks. As long as it feels good and would sound killer on a set of Funktion One speakers."
Tell me about what's fans can look forward to in the near future from the label?
"We have another compilation coming up, Fancy Sauce Vol. 2, featuring some crazy stuff being produced by some of our friends in South America and abroad. We have a two track EP from Rawle Night Long and 35mm on the heels of fan favorite 'Tembo.' There's a single from our friend Rewak based out of Brooklyn. I have some singles coming up with a big project I'm not at liberty to discuss quite yet. Our very next release is coming from UK based artist Ed Lee: an EP called Phenomenalism. We loved his contribution to Dirtybird, 'Down the Rabbit Hole,' so we're happy he asked us to listen to his demo. It's an absurd release. And that's just the tip of the iceberg."
What is/are one or two main takeaways that you would like readers to know about Chub Rub?
"This has been a really crazy ride over the last few months and we want to thank everyone who has supported us so far and who will discover us the future. We don't take your support for granted.
And it's really corny, but House really is a feeling. We should feel loved and included and special on a dance floor and we want the music we make and the shows we do to highlight that idea. It's okay to be weird – just look at us!"
Connect with Chub Rub:
Facebook | Twitter | Instagram | Soundcloud
---