Following the release of her jaw-dropping mixtape this past Friday, Chelsea Cutler announced a massive European and North American tour in support of Sleeping With Roses II (SWRII).
Singer-songwriter Chelsea Cutler made waves in 2018. From her incredible sophomore EP Sleeping With Roses, to taking the leap from student-athlete at Amherst College to pursue music full-time. Cutler sold out every single date of her first headline tour that followed, marking her debut in many cities around North America. During that same time, Cutler laid the framework for what would become SWRII, stating:
"I wanted to find peace while writing Sleeping With Roses, and I wanted to find peace after I released it…I knew I had more to say, and I couldn't move on from Sleeping With Roses until I moved on from that part of my life."
-Chelsea Cutler
This past Friday, Chelsea Cutler returned with the second installment of her Sleeping With Roses series. The mixtape features eight beautifully produced tracks abound with tales of heartbreak and wavering emotions. Co-produced by Andy Seltzer, SWRII brilliantly balances indie-pop and electronic elements with Cutler's catchy warm hooks and unique vocal tone. Throughout SWRII, Cutler's confrontations with her inner thoughts are perfectly offset by the brightness of the underlying production.
Sleeping With Roses II Tour
Building on this momentum, Chelsea Cutler announced a 34-date tour covering January to April 2019. The tour features her first eight European dates with an additional twenty-six dates with Anthony Russo across North America.
Things kick off on January 26th in Stockholm and continue through Europe before reaching North America in early February. In the same spirit as her first headline tour, SWRII's dates are deliberately reasonably priced. Most dates are set between fifteen and twenty dollars, to ensure her shows are accessible to as many fans as possible. Ticket sales go live this Friday, November 16th, at 10 am local time. You can find additional information on all dates here.
It has been incredible watching Chelsea Cutler's career grow exponentially over the past year, and this is only the beginning. Check out Sleeping With Roses II below and catch Chelsea Cutler in your city in 2019!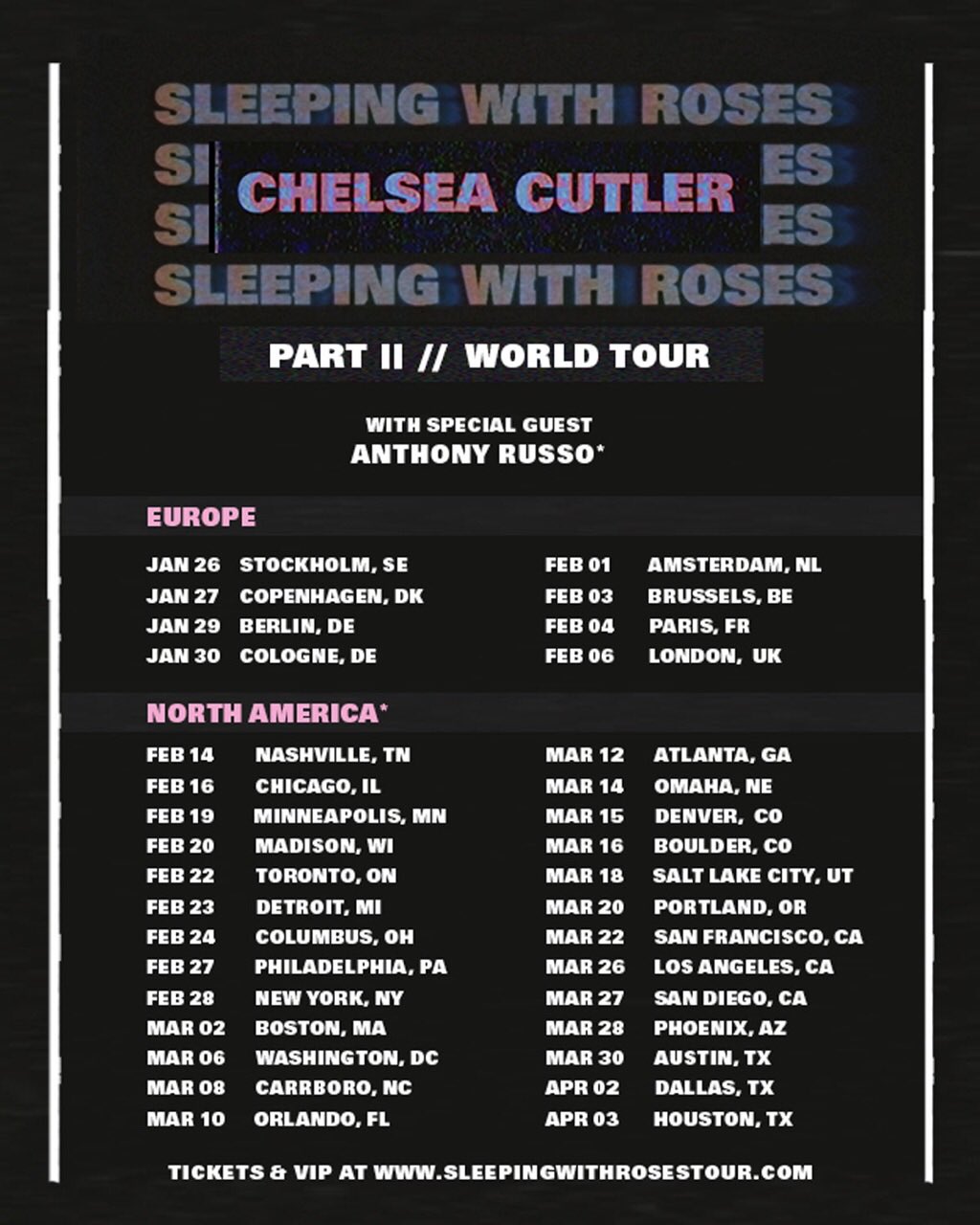 Connect with Chelsea Cutler: Facebook | Instagram | Twitter
Sleeping With Roses II Tour: Tickets & Info
---
Featured image via artist Facebook.