Guest Contributor: Anthony Alongi
Last May, the BUKU Music + Arts Project proudly donated $17,000 to the Upbeat Academy Foundation, a non-profit that provides at-risk youth with opportunities to study hip-hop and dance music.
The donation included proceeds from a portion of BUKU 2016 ticket sales as well as proceeds from select art painted live on-site during the festival by New Orleans based artists.
Director of Operations at the Upbeat Academy Foundation, Matthew Zarba, said that the donation allowed them to enhance the school in many different areas.
"We had one workstation before and (with the donation) we were able to buy four new workstations, more software licenses, MIDI keyboards, hire more qualified instructors, extend our hours, and hold holiday and summer sessions," said Zarba.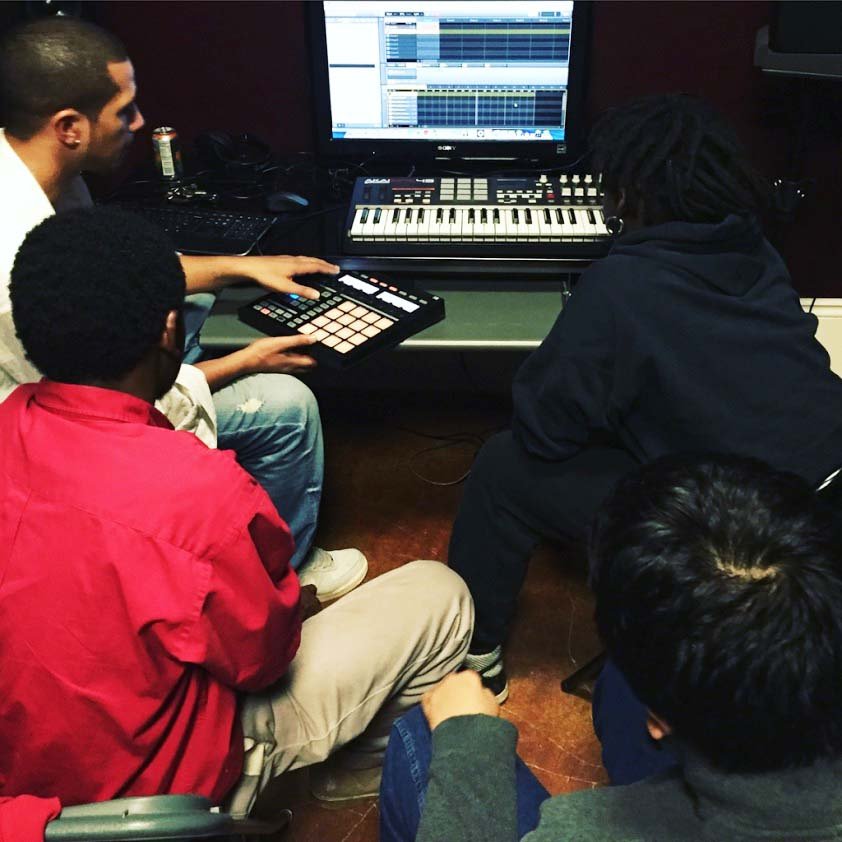 The Upbeat Academy Foundation, founded in 2013, was a collaborative idea that came about through two separate tragedies.
Winter Circle Productions and Meat Camp Presents both lost a member of their team when WCP's Jeff Milne died of a brain aneurysm and MCP's Patrick Edwards from complications due to ulcerative colitis.
In response to the death of their friends the two companies started their own separate efforts to honor them. When the two companies caught wind of each others similar efforts, they united to form Upbeat.
. The academy introduces the students to the industry at large by giving them access to the latest equipment and software as well as inviting special guests and teaching them the business side of music.
Zarba, who also performs as an emcee under the name M@Peoples, knows how tough it can be to get involved in learning the ins and outs of music.
"It can be expensive and intimidating at first so we provide the arena for them to learn from our instructors and work on the equipment. It takes about five or six classes for them to get comfortable. Any kid who shows up consistently to learn, we have our doors open to them," said Zarba.
Zarba, a Loyola graduate, said that one of the most rewarding aspects of the foundation is seeing the kids grow from their experience there.
"You can really see the change and difference in their self-esteem and confidence and that's a big goal of ours," said Zarba.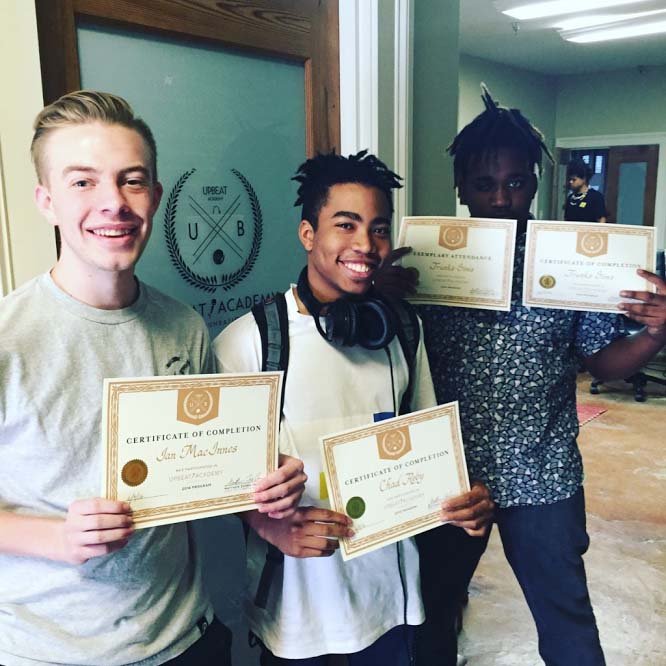 Former Upbeat student Albert Charles III, now a freshman at Nicholls State University, said that his time at the academy allowed him to grow as a person and a musician.
"I learned how to be more responsible with balancing school and working on music. It put me on the right track and I started meeting people and networking and I feel like I started showing people who I am as an artist," said Charles III.
Charles, who goes by the moniker Ziggmonster, said that learning to listen improved his ability to apply the knowledge he learned.
"I had good mentors at Upbeat and that taught me how to be a good mentor. They taught me how to listen. When you sit down and listen to what is being taught it can take you a long way," said Charles III.
Also contributing to the donation were some New Orleans based artists that painted murals throughout the weekend at the BUKU 2016 live-gallery.
At the end of the festival, the murals were auctioned off with 40% of the proceeds  benefitting Upbeat Academy and Parasite Skate Park, and the remaining 60% went to the artists.
Kelly Boyett, an artist that was stationed on BUKU's VIP Boat, the S.S. BUKU,  painted two pieces that were auctioned off with 100% of the proceeds going towards Upbeat Academy.
Boyett said that the experience of being able to create art in a like-minded environment and donate to a good cause is the most rewarding thing she can do.
"Being surrounded by other artists is the most creatively inspiring experience one can imagine. Working with those artists to contribute to something much bigger than ourselves is almost euphoric. The feeling you get when you see the happiness it brings to the people around you, and the people it will benefit, is beyond stimulating for your mind, body, and soul," said Boyett.
Co-Founder of Winter Circle Productions and BUKU, Reeves Price, said that seeing the program expand because of the donations from festival patrons and artists is something that he likes to see.
"We love to see the program grow. It's rewarding to see the kids grow and be stoked about what they're working on," said Price.
At BUKU 2016, the festival invited students from Upbeat to perform a one-hour showcase on the Front Yard stage. The students also held a panel board discussion with  artists including Pell, Boyfriend, and Suicide Year.
Former Upbeat student Ian MacInnes , AKA ANSWRS, performed at BUKU 2016 in March and said it was one of the biggest moments of his life.
"It was an absolutely surreal experience. I had never even had a gig before that other than playing at a house party or something. It was absolutely incredible, almost indescribable, really," said MacInnes.
The Upbeat students will be back at BUKU again in March 10-11 2017 to continue to display their talents live on-stage
"BUKU basically adopted us. There's no better feeling than to see the students get off the stage with that ear-to-ear smile," said Zarba.
Benny Dills, CEO of River Beats, an online music and arts publication, attended BUKU this year and said that he is happy to know that his money went towards something that he loves: music.
"Music programs are being taken away from schools at an alarming rate due to budgeting and reallocation of funds, kudos to BUKU for realizing this and doing something about it. I hope to see a lot more of this happening in the future," said Dills.
"One day I will be 80 years old still bumping that hip-hop and dubstep. It's good to know there will be kids making new music for years to come because of programs like Upbeat," said Dills.