2018 is wrapping up to be a successful year of bumping new music from Brazilian house heavyweight Bruno Furlan. His latest EP on Perfect Driver Music is no different.
With a theme centered around the many cherished road trips that Bruno has taken, the two-track Stop the Car EP holds fast to the Furlan sound. Featuring a plethora of strange effects, distorted vocals, and driving bass, both records equally demonstrate his knack for impeccable sound design.
Read what label boss Matthew Anthony had to say about the release below!
"The timing was right and when Bruno approached me with a two track EP made specifically for drivers of a particular perfection, I couldn't say no. Turn up the bass on these!"
The title track, 'Stop the Car' is a brilliant mix of tech-house and just the right amount of weird. Chopping vocals are flawlessly layered over sizzling snares and a bouncing bass line. And once you get to the first break around 2 minutes in, you'll understand where the record gets its name from.
The second track, 'What A Hit is That' is a 5:44 cut of nothing but funky house sounds. Featuring a warped, catchy vocal sample, sharp snares, and a driving bass line, this track perfectly rounds out the EP.
Stream the 'Stop the Car' EP on Spotify:
Purchase the EP here.
---
Just this year, Bruno has released on impressive imprints like Audiophile, Sony, Confession and more. Not to mention the countless other labels that he has graced over the stint of his career so far – Dirtybird Records, This Ain't Bristol and Relief Records just to name a few.
But it's not just his music that makes Bruno one of the most sought-after house producers by both fans and artists. According to Matthew Anthony, it's his positive demeanor and strong work ethic as well.
"We love the guy, not only for his music but his down-to-earth attitude, work ethic and all around positive vibes. A role model to follow for new and old artists alike. Work hard, foster those relationships and stay in touch throughout the year. Even when on the go."
Unfortunately for us U.S. fans, he just kicked off his Everyday I'm Whistling tour in Brazil today. If you want to catch him on tour, you'll have to make a trip. But for Bruno, we think it's worth it. Here's to hoping he makes his way back stateside again soon.
Full Tour Details Below: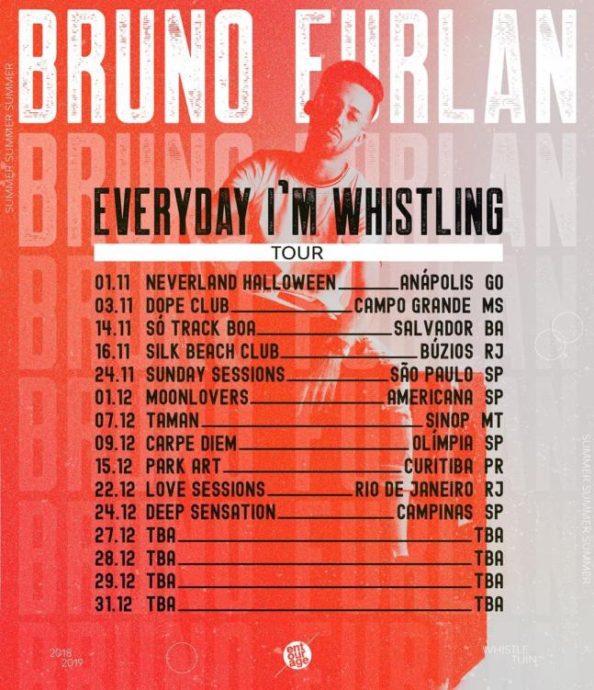 ---
Connect with Bruno Furlan:
Facebook | Instagram | Twitter | Soundcloud | Website
Connect with Perfect Driver:
Facebook | Instagram | Twitter | Soundcloud