Boston Calling Music Festival, now in its fifth year, will take place on Memorial Day weekend, May 26-28, 2017 in Allston, Massachusetts. The powerful lineup features Grammy award winning alt-rock bands such as Mumford & Sons and Bon Iver as well as Chance the Rapper and metal acts such as Tool. The star power does not stop there. This spring's edition of Boston Calling also features fan-favorites such as the XX, Weezer, Major Lazer, and The 1975. This diverse lineup draws in fans of all genres from alternative to electronic to hip-hop. With a total of 45 performers, Boston Calling continues to be a beloved New England festival.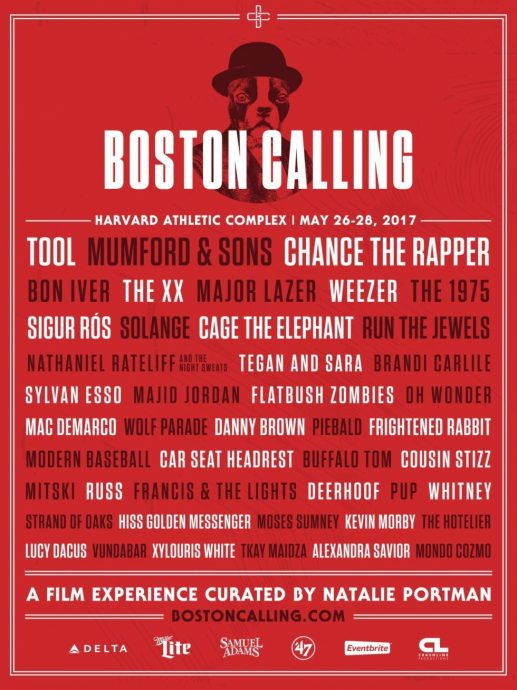 The star-studded lineup is not the only draw to the Boston Calling Music Festival this year. The creators of the festival have also added a film experience, curated by actress Natalie Portman, a component that sets it apart from other similar events. Film is not the only new aspect to Boston Calling this year.
The organizers have found a different venue to hold the festival this year: the Harvard University athletic complex located just outside Boston in Allston. This setting allows for easy access to a major city while letting the festival expand in a way that the reasonably small City Hall Plaza could not. Traditionally, Boston Calling had two stages with performers alternating sets on them. This year, due to the new venue and large lineup, Boston Calling will feature three stages.
While there are many festivals along the eastern seaboard, Boston Calling remains a fan favorite. It is a medium sized event, appealing to those who love live music but are intimidated by massive festivals, such as Bonnaroo, that may be daunting. In essence, Boston Calling is a unique festival that features a location reminiscent of Governor's Ball in New York City while retaining the spirit and pride of Boston.
This article was written by Guest Contributor: Lauren Fuchs