Music Midtown, a 2-day festival in Atlanta, Georgia, is getting a performance from Billie Eilish tonight. With headliners including Panic! at the Disco, Lizzo, and more, Billie is standing out in a big way. Yesterday, she announced via Instagram that she will be donating a portion of her earnings from Music Midtown to Planned Parenthood Southeast.
Billie is one of over 100 artists that have endorsed the "Band Together, Bans Off" campaign, in collaboration with PP's #BansoffmyBody initiative. The initiative works to educate and elevate opposition to state abortion ban laws, which Georgia recently passed earlier this year.
Check out the post in her IG story below: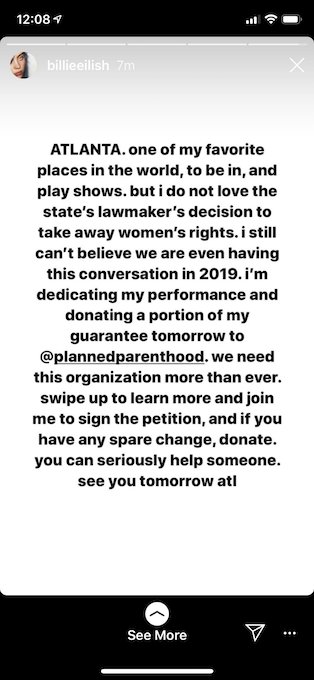 In May 2019, Georgia Governor Brian Kemp signed the most restrictive abortion law in the country into effect. The law banned abortions after six weeks of pregnancy, when many women typically find out they are pregnant. Other artists, including Ariana Grande, have followed similar suit as Billie, donating proceeds to Planned Parenthood. Multiple tv and movie directors/producers that were filming in Atlanta also pulled from the state and moved elsewhere due to the law.
Featured image by Debbie Hickey/Getty Images.