Big Wild came hard onto the scene several years ago with his unique production and over-the-top live performances.
While his success has been fast as he racked up over 200+ million streams in as little as 3 years, we were still without a true album to call his own. Today, that all changed as we are finally gifted with a debut album from the producer and it doesn't disappoint. Superdream features vibrant sounds that transcend through several genres, as funk and modern disco merge to form a unique soundscape of songs.
Superdream sees Jackson Stell, aka Big Wild, as the featured vocalist throughout most of the album. The producer revealed several months ago that the album reflects a unique time in his life, and the emotions of every track are his own. Read about his inspiration from this LP below.
"Superdream was inspired by a need to create music that was a greater reflection of who I am now, leading me to feature my voice and songwriting as the main focus for the first time ever, which came from a very instinctual and subconscious space. With Superdream, I created a surreal music environment that challenges & pushes not only my own personal boundaries but also those of my contribution to electronic music. It marks a new chapter in my music, one that is more 'me' than anything else I've released."
The Superdream Tour kicks off in California on March 6th with support from Robotaki and Mild Minds.
Check out the full tour below: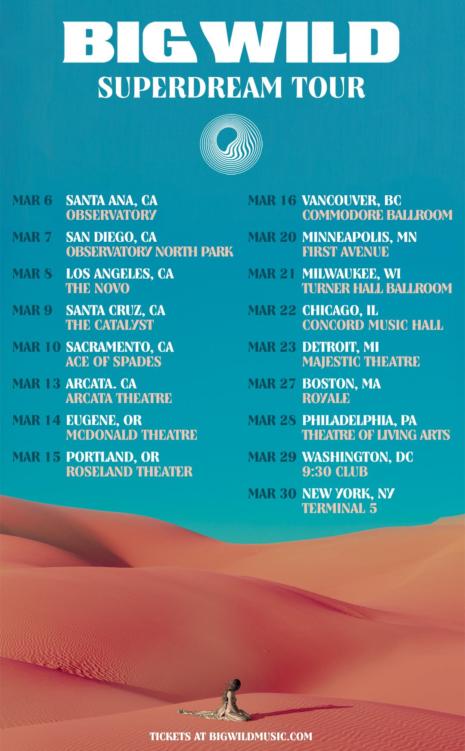 ---
Featured image via Big Wild Instagram.